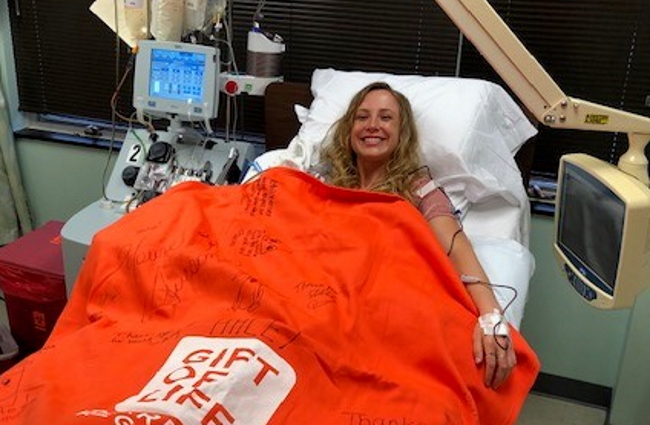 Saginaw Valley State nursing student donated stem cells to save man battling leukemia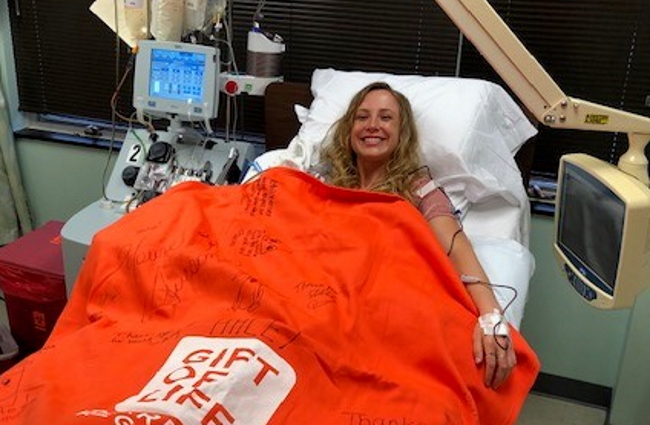 When Saginaw Valley State University Nursing student Haley saw the Gift of Life Marrow Registry recruitment table set up in the university center in October 2015, she immediately decided to swab her cheek and join the registry. She had learned about bone marrow transplantation in high school, and wanted to help someone if she could.
In 2018, Haley got her chance: Gift of Life called to say she was a match for a 54-year-old man battling acute leukemia. Haley was at her nursing internship when she got the call, and everyone was excited for her. Her professors moved her schedule around to accommodate the time she needed for her medical exam and day of donation at Apheresis Associates of Northern Virginia, outside Washington, D.C.
"I appreciated the chance during my medical exam to meet the nurses and tour the collection center," said Haley. "It helped to ask them questions and learn details before I came back for the donation."
For the four days before donating, peripheral blood stem cell donors receive one shot per day of Neupogen to mobilize stem cells from the bone marrow into the circulating blood. On her collection day in June 2019, Haley's boyfriend accompanied her and as her stem cells were being collected by the apheresis machine, they spent the time catching up on comedies from their "movies to watch" list.
Haley posted about her donation on her social media accounts, and at a professor's prompting, the university newspaper, the Valley Vanguard, featured her story.
Haley said she would absolutely donate again. "It was an awesome experience to save a life, even before I became a nurse. I want others to know how easy it is to do the donation, and how simple Gift of Life makes it to become a donor – it's smooth and straightforward, and you're helping someone."
Haley graduated from nursing school in December 2019 and is looking forward to beginning her career. In her free time she enjoys Crossfit, reading and craft projects.