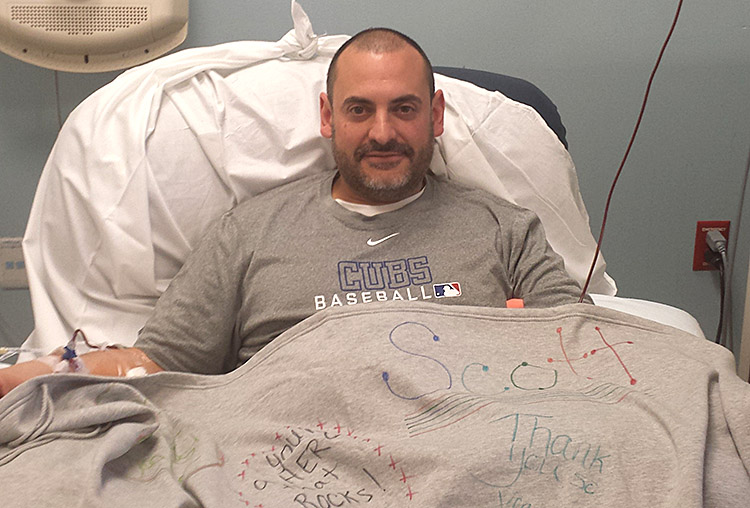 Scott took the chance to help beat cancer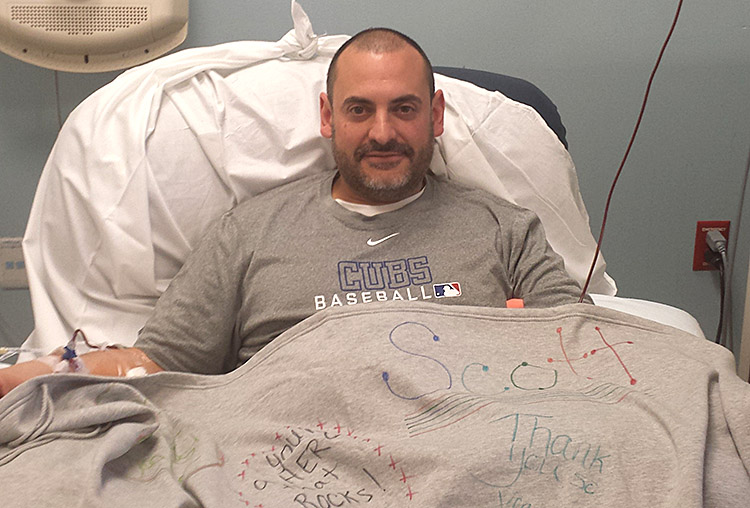 Scott joined Gift of Life's registry 13 years ago while attending the United Jewish Communities Washington Leadership Convention. He felt the chances that he might be a match for a patient were slim, but he did eventually get the call informing him that he was a potential match for a 62-year-old woman suffering from acute myelogenous leukemia. She needed a transplant to survive, and Scott was her best hope.
"I cannot imagine what it would be like to be facing death and your only chance of recovery is finding someone in this world who is willing to help," said Scott. "It gives me chills when I try to put myself in her shoes. I would hope that she never gave up on the dream of finding someone who could help her."
Initially, he was hesitant. Concerns about work and family obligations as well as unknown risks of donating weighed on him, but after learning more about the donation process and considering the patient on the other end who so desperately needed him, Scott agreed to proceed. "Every time I had doubts or concerns, I reminded myself that someone might die if I did not go through with it," he said. "I also felt that I would want someone to do this for one of my loved ones. You cannot let the inconvenience and brief altering of your life stop you. You cannot let your fear or your family's fear stop you. You must donate because a person is fighting for their life and you have a chance to help him or her live." He added, "Donating presents a rare chance to defeat cancer, a disease that took many people that I love from me, including my father. I felt that if this patient survived, it was kind of like me getting back at this horrendous and evil disease for taking my dad."
Scott explained that he had great support from his wife, sisters, friends, and colleagues, all of whom made him feel even better about donating. He was also impressed with Gift of Life's staff, noting, "They did a great job. I never was denied any request. I was very impressed with their hard work and support."
Though he has not yet communicated with the recipient of his bone marrow, Scott said it would be "very special to meet her one day." And, "I would simply want to congratulate her on beating cancer and tell her that I couldn't be happier for her and her loved ones."
Scott lives in Concord, NC, with his wife, daughter, and step-daughter. He is an attorney, and, in his free time, he enjoys good food, dirty martinis, and rooting for the Chicago Cubs, Carolina Panthers, and Alabama Crimson Tide.