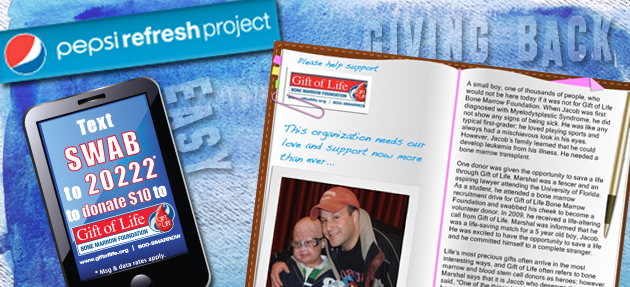 Simple Ways to Give Back to Gift of Life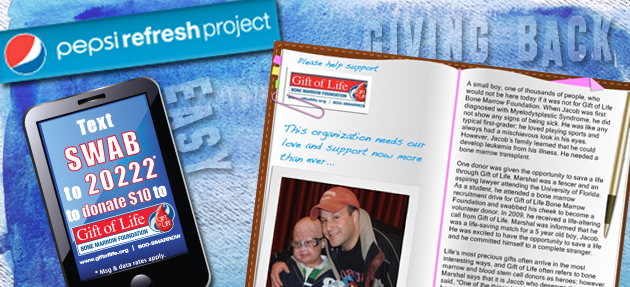 Amidst the hustle and bustle of holiday activities, there are quick, low to no cost options of helping out and giving back to Gift of Life. Our social media and marketing team has been hard at work creating opportunities for you, our supporters and friends, to get involved and give back. We have entered two contests, the Pepsi Refresh Project and Brickfish's "Tell Your Story and Make a Difference" contest, that have substantial prizes that could greatly benefit Gift of Life, if won. There is also the Text2Give campaign, which is an easy way to donate a small amount of money, $10, through texting. All three opportunities will help us process the donor kits that are on the waitlist because of lack of funding.
Gift of Life is participating in the Pepsi Refresh Project. Every month, Pepsi gives away millions of dollars to fund ideas that change the world. This month, Gift of Life has the opportunity to win a $50,000 grant. 70% of patients in need of a bone marrow transplant rely on complete strangers for their second chance at life. Winning the grant would mean being able to process over 900 potential donor kits. Participating is easy and can be done either online or via your cell phone. You can visit our refresh project page and vote via facebook or text 110643 to PEPSI (73774) to vote from your mobile phone. Voting is open until December 30th, so make sure you log on or text and cast your vote!
We are also participating in the "Tell Your Story and Make a Difference" campaign, hosted by social media marketing company Brickfish. Charities from across the nation have the opportunity to share how they are making a difference and could potentially win a $50,000 social media makeover. Brickfish is offering the winning organization a social media campaign that will help us become a social media leader in the non-profit sector, as well as help fuel donations. Participating in the campaign is easy and it costs nothing to cast your vote. Round 2 will end on December 30th. Simply vote here to help us win the prize!
Last, but certainly not least, we have launched a Text2Give campaign focused on benefitting bone marrow donation. Texting SWAB to 20222 makes a one-time $10 donation to Gift of Life. The tax-deductible donations appear on your cell phone bill; it is a simple way to make a huge difference, and all proceeds will benefit the Foundation. Text2Give campaigns give supporters of non-profits a low-cost option of helping out. We know times are tough, and we appreciate any amount our supporters give because it all helps save lives!
We're making giving back easy and fun this holiday season. It is our hope that we clear the waitlist by the end of 2011, which has over 16,000 unprocessed kits. Among those kits could be a patient's life-saving match. You can help by simply click on the links provided and vote daily or text SWAB to 20222. As always, we thank all of you who have supported us and help us with our mission of finding a match anytime, anywhere, for anyone.