Conor was in his freshman biology class at Case Western Reserve University in Ohio when his professor said something intriguing: she was inviting people in to make a presentation about Gift of Life Marrow Registry, and any student who joined the registry would get extra credit.
"I thought it sounded like a win-win," said Conor. "I got the chance to help people out while benefitting myself a tiny bit." After hearing how rare it is to actually match with a patient, Conor figured his odds were very low, and he'd probably never get to donate.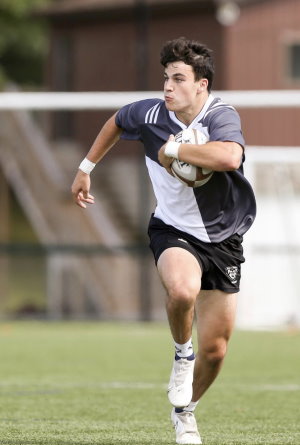 "I decided to transfer to St. Bonaventure University before my sophomore year," said Conor, who is on the school's rugby team. "I got a call while I was at work one day. It was someone from Gift of Life letting me know I was a potential match for a patient battling leukemia. I had to take a blood test to see if I was the best match for her, then waited to learn what would happen."
Conor also told his parents who thought it was an exciting and thoughtful thing for him to be doing, but when he didn't hear anything right away, he thought maybe it wouldn't go through after all. But in late June, he learned that he would have the opportunity to save a life.
"Even though I'm a biology major I had not heard of this transplant process before, so it was pretty cool to learn about it," said Conor. "I told my professors I'd be out for a few days, and went to a collection center in New York, and my mother, Katie, came as my companion."
Before traveling, Conor had several shots of Neupogen to help mobilize his stem cells into his circulating blood for collection. Donors receive five shots, one per day for four days, and then one right before donating. "During the collection I chatted with my mom, watched some videos on my laptop, and listened to some podcasts," said Conor. "I donated the day before my birthday, and then mom and I went out to dinner and did some shopping."
Conor's mother posted about him on Facebook, and he was surprised to read hundreds of comments congratulating and supporting him.
"When I was going through the process, at first I didn't grasp how rare it is to be a match for a patient," he said. "I did the swab in October and was called only a few months later in April, so I thought it must happen to a lot of people. When I talked to my parents about it more, they're in the registry and said they know people who have been in it for 20 years but were never called as a match. It made me realize that I'm actually making an impact on someone."
That someone, a woman battling leukemia, now has a second chance at life, and Conor hopes he will be able to meet her in person someday. In the United States, donors and recipients must remain anonymous for the first year, but afterwards, if both agree, the can exchange contact information or meet in person.
"I can say there is no downside to joining the registry and donating," said Conor. "The people working at Gift of Life are super accommodating, and the entire process was smooth, and I recovered quickly. It was just a positive experience."
Conor is majoring in Biology at St. Bonaventure University in New York State, and previously attended Case Western Reserve University in Ohio. He aspires to become a medical doctor and looks forward to medical school in the future. In addition to playing rugby for St. Bonaventure, he also played football for the Case Western team, and enjoys other sports. He is a big fan of Star Wars and the Marvel superheroes. We think you're the superhero, Conor!
---
Conor's swab kit was sponsored by the Campus Ambassador Program and Case Western Reserve University CAP Program Donor Circles.