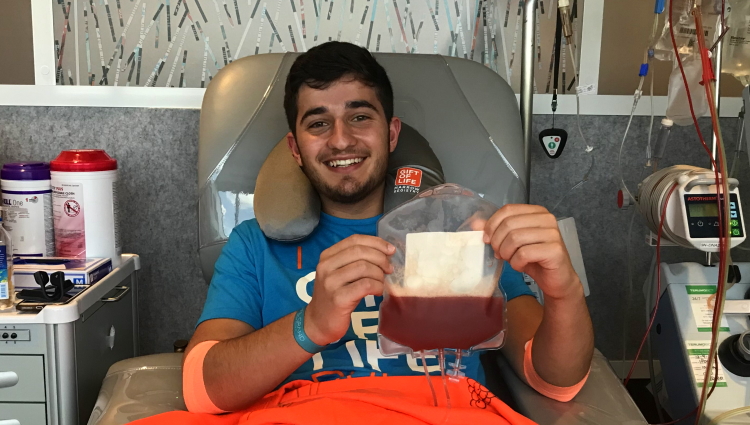 Stem cell donor returns to U.S. to donate just as international travel closes due to pandemic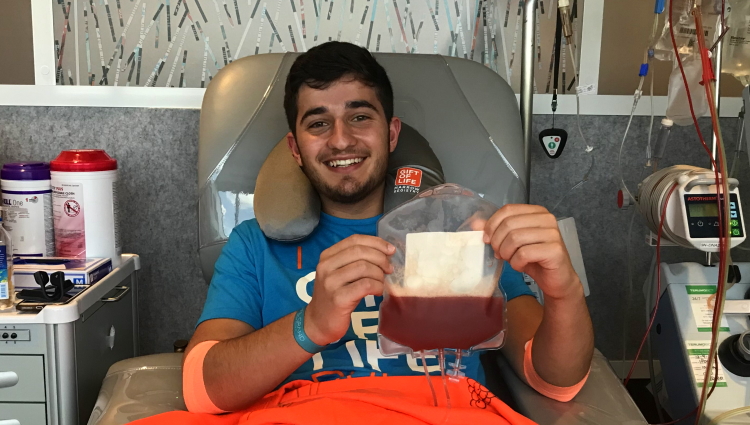 Raphael was at a Stand With Us event in California when he picked up a funny sticker off a table and put it on his water bottle. It said, "Will you marrow me?" He didn't really know what that slogan meant, but it wouldn't be long before he found out.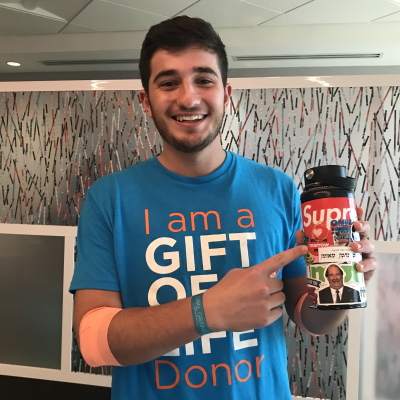 He went on a Birthright Israel trip with Israel Free Spirit in August 2019, and a Gift of Life representative came in to talk to his group. After explaining the mission, the light bulb went on and the sticker about donating bone marrow suddenly made sense – he decided to join the registry. And yes, he still has the sticker on his favorite water bottle!
Raphael also decided to spend more time in Israel studying at a yeshiva.
"My phone was turned off for shabbat when Gift of Life tried to call me on a Friday night, Israel time, to tell me I was a match," said Raphael. "Since they couldn't reach me, they called my backup numbers, so my dad and my brother both learned I was a match before I did. On Sunday I got a text from my brother saying, 'That's so cool!' 'What's cool?' 'The match!'" Raphael was wondering "What match?" when he remembered joining the registry.
"I pulled up my email in class and jumped up," he said. "I said, 'Rabbi, I need to leave class for a few minutes!' but I could hardly talk I was so excited. Everyone at yeshiva was so happy for me, nearly all of the rabbis and students are on Gift of Life's registry, yet I was the one fortunate enough to be called as a match."
When his Gift of Life coordinator reached him, he learned that he was the best match for a 40-year-old woman battling myelodysplastic disorder, a type of blood cancer. She needed a transplant to survive, and because Gift of Life is located in the United States, Raphael would have to fly home to donate.
But as his flight arrangements were being made in late February 2020, the COVID-19 crisis began to affect international travel. Gift of Life managed to get him on a flight out of Israel the first week of March, and by coincidence he knew the woman sitting next to him on the flight.
"I sat next to a friend's mom. She had been visiting her son-in-law who had just received a stem cell transplant, and she was blown away that I was traveling to the U.S. to make the same donation for someone else," said Raphael.
His family in San Francisco was incredibly excited for him, with mom telling everyone that he was a donor, and dad taking time off work and booking a flight to Florida to be with him on his day of donation.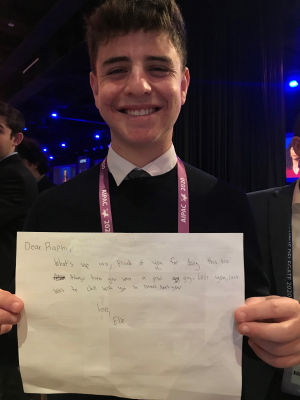 Little did Raphael know that while he was traveling, Gift of Life's donor concierge was at the AIPAC conference where she ran into his best friend, Elie. He posed for a photo with an encouraging message, and when Raphael arrived at the Dr. Miriam and Sheldon G. Adelson Gift of Life–Be The Match Collection Center, Elie's photo was hanging in his donor pod to greet him! With his dad there in person, and his best friend there in spirit, Raphael had a great donation experience.
"The entire collection center staff are great, they answered all of my questions and constantly checked that I was comfortable and had what I needed," said Raphael. "I even asked if a donor is ever a match for a different patient, because I would love to donate again. I am blown away by Gift of Life as an organization – everyone I met is passionate about the mission of saving lives."
He is also thinking of his recipient, sending her wishes for her recovery to go well, and hopes he will be able to meet her. "She has given me an opportunity to change my life, and I want to recognize her for what she has given me," said Raphael. "I gave her cells for her health, but she has changed my life."
Before he was able to fly back to Israel, international travel closed down, so Raphael returned home to California with his father. He's finishing up his semester online and his credits will be transferred to Yeshiva University in New York, where he will begin his studies in business administration this fall.
"The procedure to donate is very simple, and Gift of Life accommodates every need you can think of," said Raphael. "It may be scary to think of donating right now with the pandemic going on, but the feeling after you donate is incredible. So many people would give up so much to be in your position, donating to help someone."
In his free time, Raphael plays basketball, edits videos, is a photographer and spends time drawing.