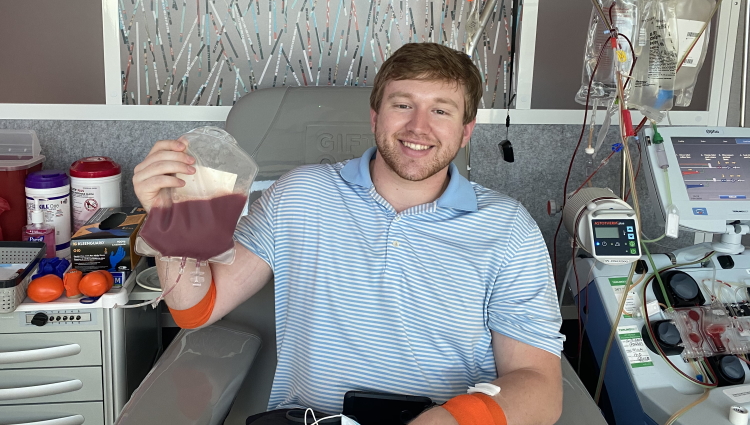 Stem cell donor drives to Florida during pandemic to help save patient battling lymphoma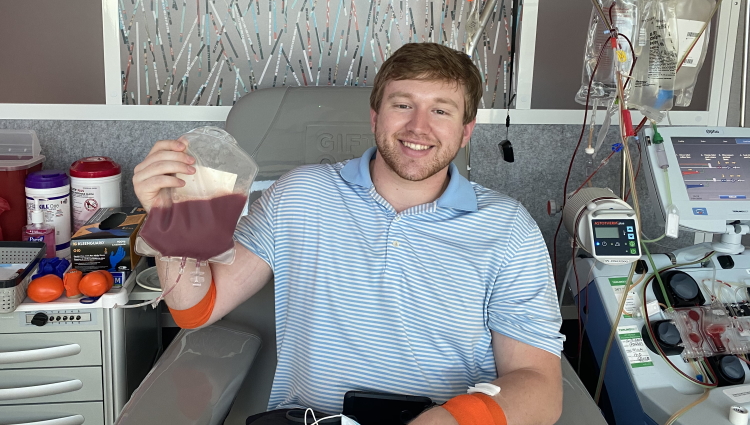 Moments after he learned that he was a match for a patient and would be able to donate stem cells to save his life, Jack went to look for one of his fellow lifeguards: the man's wife had lost her battle with blood cancer because she could not find a matching donor.
"When I told him I would be donating stem cells to a man battling lymphoma, he was elated," said Jack. "It was a very emotional conversation."
Jack, 21, joined Gift of Life as a volunteer donor during a philanthropy week event at Kappa Sigma fraternity at University of Alabama. He currently attends Kennesaw State University, where he is majoring in business management. At the time he was called to donate, students had been sent home, and because the area's network of aquatic centers was closed his usual summer job wasn't available.
"It's a fun job, we have annual lifeguard competitions, but not this year," said Jack. "They put me to work patrolling some of the community parks to make sure people are wearing masks and staying apart." He said he's seen more wildlife than people on the trails most days.
When it came time to arrange for travel to Florida for his donation in early May, Jack decided to drive with his mom from their hometown of Marietta, Ga., rather than flying.
"I was aware that someone else's chance for recovery depended on me staying healthy," said Jack. "We wore masks and gloves the whole way, and tried to stay away from people. It's a long drive, but we stayed busy by listening to a true crime podcast and playing trivia games."
When collection day arrived, Jack was settled into his donor pod and the nurse connected him to the apheresis machine – blood is drawn from one arm, the stem cells are selected out, and the rest of the blood is returned to the donor via the other arm. "That thing is wild!" he said. "It warms your blood up before returning it into your arm. It's pretty amazing!" He was also fascinated to learn that his recipient would most likely receive his allergy to pine tree pollen along with his stem cells.
His mom brought her laptop and worked while Jack was donating, and he watched a few movies, including an Indiana Jones film and then the first Star Wars movie. He also spent some time chatting with his mother and they used the Nintendo Switch to play a game of Mario Kart – mom won.
"My mom and dad were so excited for me to donate, and my cousins and grandfather called to talk about it," said Jack. "But it's not something that takes courage. Gift of Life is so organized and arranges everything to be easy for donors."
Jack is looking forward to graduating from college and joining the Marine Corps. "I plan to go to officer's school and have a career in the military," he said. "My grandfather was a naval commander in World War II, and later a U.S. diplomat."
"Donating is a wonderful experience," he concluded. "You are just doing the right thing, it's not some heroic effort. Helping others is very important and I encourage anyone to get swabbed."
Jack loves outdoor activities, was on the high school swimming team, and jokes about his love/hate relationship with golf. "I really look forward to play it, but when I'm playing I get angry and hate it! It's a difficult sport."