When Raphaela joined Gift of Life's registry in 2018 during her gap year studies in Israel, she hoped to help someone in need, but never expected it would happen so soon.
"My twin sister Rebecca and I both joined the registry at the Tiferet Center for Women," said Raphaela. "Everyone there swabbed at the same time and there was a buzz of excitement in the room. I joined the registry because if I could do something so small and painless and have such a tremendous impact on someone else, I would do it in a heartbeat."
Just over a year later, Raphaela received that incredible phone call that she was a match for a patient. Her sister was also a match.
"I was with my sister when I got the call," said Raphaela. "Just a few days before, she had also gotten a call from Gift of Life and was excited about the prospect of being a match. It was cool being able to experience this together."
Although they were both matches for the same patient, even identical twins have slight differences in their genetic profile. When transplant centers have the rare luxury of two possible donors, they look at several factors to help them choose one.
Raphaela is a psychology major at Yeshiva University, but had no difficulty getting time away from her studies to donate, as she had just completed her last final of the spring semester. The donation day was scheduled during June at Gift of Life's state of the art collection center in Boca Raton, Fla. Her mother, Tova, accompanied her as her companion.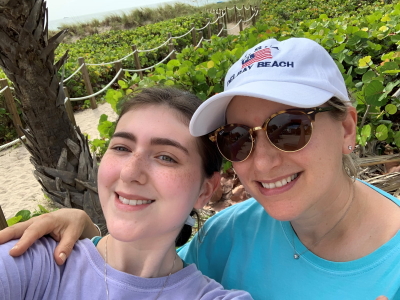 "Before getting to Gift of Life I was looking for a show to watch while I donated," said Raphaela. "However, my mom and I got so much enjoyment from talking to the extremely kind staff and just being present that the time flew by without it."
Raphaela was also thankful for being pampered by the collection center staff during her donation.
"From the adorable sign based on my hobbies that was hanging on the wall to my favorite treats being offered, I truly felt like this donation experience was tailor made and customized for me," she said.
She is also thinking of her recipient and is amazed that something so easy to do could help give a stranger a second chance at life.
"I am so thankful that organizations like Gift of Life exist, to connect people all over the world for the sake of saving lives," she said. "I feel blessed I was able to play a part in it. This was one of the most rewarding days of my life and I will always cherish the experience."
Raphaela hopes to enter social work after graduation. In her free time she loves healthy baking and cooking, trips to the beach and reading