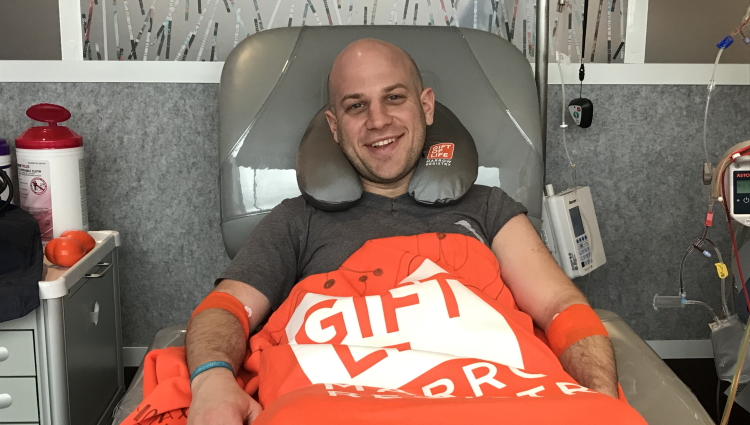 Stem cell donor travels 1,500 miles during height of pandemic to save a stranger's life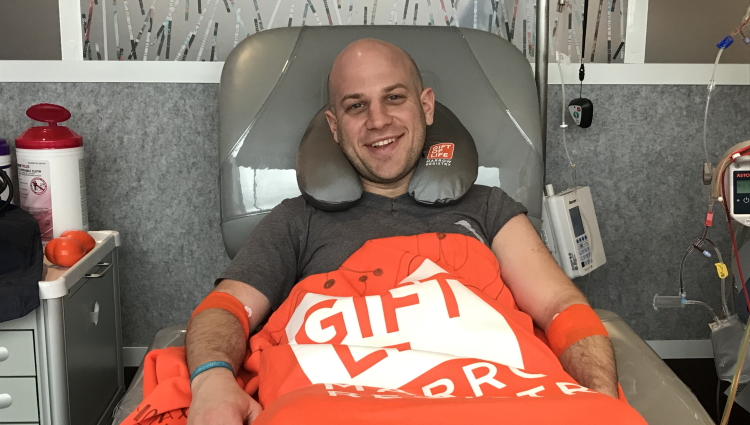 When a stem cell donor is given the opportunity to save a cancer patient's life, a series of preparatory steps take place first. During the COVID-19 health crisis, the process for completing these steps had to be adjusted so the health of the donor is protected and the collection process remains safe.
Andrew learned this first-hand when he donated peripheral blood stem cells at Gift of Life's collection center in April. This 27-year-old from Madison, Wis. joined the registry in 2011 in New York.
"When Gift of Life called me last November, I remembered that I had joined the registry, as I get the annual check-in calls," said Andrew. "This time they told me I matched a man battling lymphoma, but that he wasn't yet ready for the transplant to take place. They asked me to stand by. I really didn't think about it after that, and never expected to hear any more."
In March, Andrew was surprised when Gift of Life called him again and said the patient was ready now and asked if he was still prepared to donate.
"I had no reservations about donating but was concerned about traveling with everyone under stay-at-home orders," said Andrew. "I talked to Gift of Life's medical director, and after we spoke I knew I would do it."
Andrew's entire family are doctors, and he said his brother jokes that he has wanted to be a match and donate for years, so of course it's Andrew who turned out to be a match.
Normally at this point a donor would fly to Gift of Life's collection center for a thorough medical exam, to be certain that they are in good health and can be cleared to donate. But traveling to Florida twice with a pandemic underway might have put the donor and, subsequently, his recipient at risk. Gift of Life arranged for the medical exam to be done remotely, via a health care center near his home.
"They also gave me all the gear I would need to travel safely," said Andrew. "I was given an N95 mask, gloves, hand sanitizer and so on." A nurse visited his home to administer Neupogen shots a few days before donating, to help mobilize Andrew's stem cells from his bone marrow into his blood stream where they are easier to collect.
"There were only four people on my flight to Florida, and the stewards were incredibly nice to me," he said. "At the hotel they said I was the first guest in three days to check in."
When Andrew arrived at the Dr. Miriam and Sheldon G. Adelson Gift of Life-Be The Match Collection Center, he was greeted by the donor concierge and a customized pod featuring his favorite team, the New York Jets.
"It was a nice experience and my family and friends reacted very positively," said Andrew. "They were much more concerned about whether it was safe to travel than about the procedure itself, which is very straightforward." Some friends also contacted him afterward to learn how to order a swab kit.
"I would definitely donate again, and I recommend joining the registry," said Andrew. "If you are called as a match, become a donor. Gift of Life makes it comfortable and convenient."
Andrew also helps save lives in another way: he founded a company that helps individuals who are recovering from substance abuse by using technology, coaching and care coordination to help them recover. He spends his free time with his fiancée and dog, likes to read, and regularly trains for and participates in triathlons.