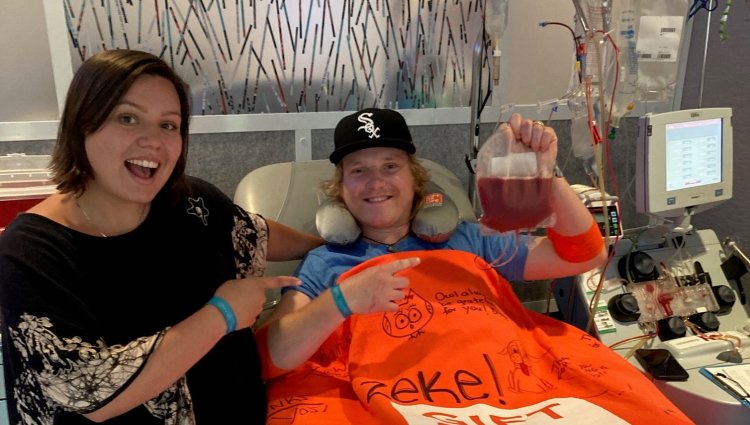 Stem cell donor travels 3,500 miles in pandemic to save patient battling leukemia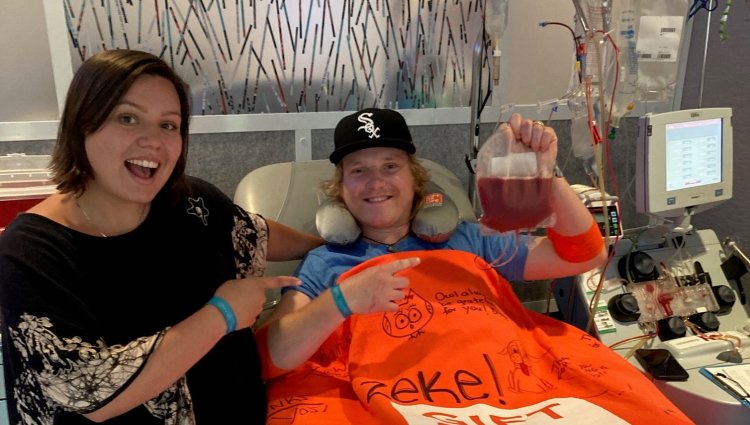 Zeke was accompanied by his fiancée Tessa on his donation day.
When Ezekiel "Zeke" went to Israel on a Birthright trip in 2019, he knew it was the right time.
"It was amazing, one of the best things in my life and I'd do it again in a heartbeat," he said. "I felt that 2019 was really the year for me to take on that journey. When Gift of Life came in to speak to our group I was actually a little bit skeptical, but I went ahead and swabbed in case there was someone I could help." The date was June 21, 2019.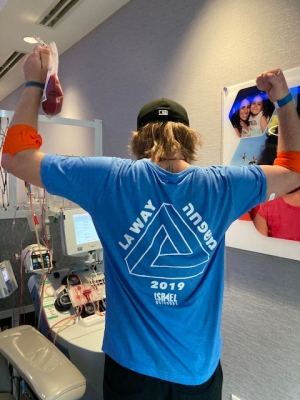 Just over a year later, on June 24, 2020, Zeke was driving a mower across ten acres of land near his home in Grass Valley, Calif. when his cell phone rang.
"This is weird," thought Zeke. "I don't usually answer out of area phone calls, but something said to me 'Pick it up.' It was Gift of Life. They told me I was a match for a 59-year-old woman battling acute myelogenous leukemia, and I could donate stem cells and possibly save her life. My jaw dropped. I was so surprised, almost in tears. Chills ran down my back it was so incredible. I had joined the registry in the hope of matching someone, but I didn't expect it to happen that quickly."
Zeke immediately told his fiancée, Tessa, and then his parents and future mother-in-law. They were all amazed, supportive and encouraging of this incredible opportunity to help give someone a second chance at life.
In the four days before donating peripheral blood stem cells, donors receive a shot of Neupogen each day to help mobilize their stem cells into the circulating blood, where they can be collected through the apheresis process. With the pandemic going on, Zeke chose to arrive early and receive these shots at the collection center in Gift of Life's office.
"I had traveled in late May to see my father," said Zeke, "So I had a preview of what it was like to fly during the pandemic. Going from California to Florida at that time involved travel restrictions and changing planes, but Tessa and I still got to Florida in one day. I had such a feeling of excitement and no doubts that I was going to do it -- I was just so excited to have this opportunity."
When Zeke and Tessa arrived at Gift of Life's collection center in late July for Zeke's Neupogen shot, the first person they saw was the organization's founder and CEO Jay Feinberg.
"Jay was getting ready to go down to the new facility in development [Center for Cell and Gene Therapy] on the ground floor," said Zeke. "We went right over to talk to him. He was excited for me having the opportunity to donate, and Tessa was amazed to hear about all the new things he and the organization are doing."
Zeke and Tessa also enjoyed their "mini-vacation" while waiting for donation day to arrive.
"The hotel was so nice, and we spent a lot of time outside walking around Delray Beach and trying the appetizers at some of the restaurants," said Zeke. But when you live on Pacific Time, mornings seem to arrive unusually early in the Eastern Time Zone.
"On donation day I was very jet-lagged and tired, so after I was hooked up to the apheresis machine, Tessa and I just took a nap," said Zeke. "I've never even donated blood before, and I was interested in all the science behind it. I love science, mathematics, space, anything mechanical. I was so curious they gave me a tour of the lab where the stem cells are counted."
He and Tessa also watched a movie and were touched by the personalized decorations the collection center staff put in the donor pod, including a poster of a man kneeling before his girlfriend asking, "Will You Marrow Me?"
"The staff is great, full of hospitality, and there is so much excitement in the air. I felt a whole mixed bag of emotions. It's an amazing experience," Zeke said. Back at home after donating, he has been telling others about his experience and encouraging them to join Gift of Life.
"I'm trying to spread the word about the need for donors. People are amazed when they hear how great donating stem cells was," he said. "I also am thinking about my recipient and hope that someday I will be able to meet her."
Zeke, 24, loves creating his own businesses and hopes to earn his pilot's license in the future. He and Tessa grow much of their own food in their garden. In his free time, Zeke loves outdoor activities including surfing, fishing, hiking and snowboarding, as well as traveling and trying out local cuisines. He is also constantly learning and strives to "be a better version" of himself every day.