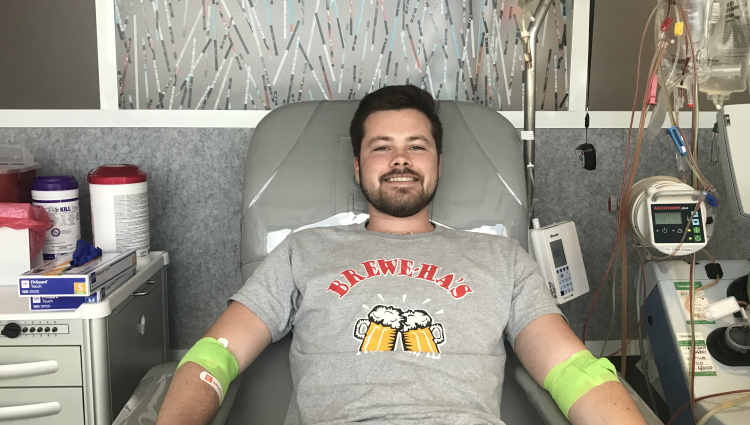 Stem cell donor travels during COVID-19 crisis in hopes of saving leukemia patient's life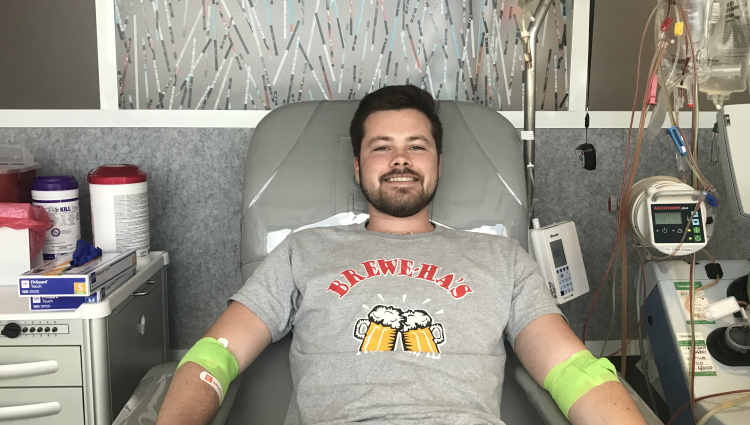 Drake was an undergraduate at Illinois State University when he heard about a professional baseball player who donated bone marrow. In 2009, outfielder Matt Szczur learmed he was the perfect match for an infant girl in Ukraine who was battling leukemia. Szczur did not hesitate to donate and ultimately saved little Anastasia's life.
Realizing that he, too, might be able to help someone survive blood cancer, Drake searched the Internet and found a link to Gift of Life Marrow Registry's "Get Swabbed" page. On November 1, 2016, he ordered his swab kit, and three years and six days later, on November 7, 2019, he got an incredible phone call: "This is Gift of Life calling, you're a match for a man fighting to survive leukemia, and you could possibly save his life."
Drake was at work when Gift of Life's call came. "I was pretty choked up but composed myself and went right to human resources to request the PTO time I would need," he said. But as his day of donation drew near it became clear that a pandemic had begun.
Drake did not let the growing coronavirus crisis stop him, and he traveled to Florida in mid-March from Illinois with his fiancée Abby. They arrived at the Dr. Miriam and Sheldon G. Adelson Gift of Life-Be The Match Collection Center on St. Patrick's Day, with Drake wearing a beer shirt and a huge smile, eager to give the lifesaving stem cells that would help his recipient.
"My day of donation was great and donating was easy," said Drake. "Overall the experience was really pleasant. Abby was with me. Even though Gift of Life has gaming equipment for donors, we brought our own Nintendo Switches and kept ourselves busy." They also enjoyed the special treatment Gift of Life offers every donor who comes to the collection center, with meals by local caterers, a candy cart, and more. Because Drake is a Lord of the Rings fan, his donor pod was decorated for him with LOTR stickers.
---
I encourage anyone to join the registry, you can order a kit right online like I did, and swab right at home. It's super easy.
---
"My family was super excited I was donating," he said. "Especially when I came home and was perfectly fine – beforehand people acted like I was giving a kidney! It's much simpler and easier than that. I played videogames and ate snacks, that's a great way to help someone."
After seeing how easy the donation process was, Abby ordered a swab kit for herself, and has also joined the registry.
The couple has spent the past year planning their wedding for the first week of May – in Key West. With the Florida Keys on a complete lockdown and no non-residents being admitted, they are working on a backup plan, but being pretty laid back people, they are taking it all in stride, saying, "It is what it is. We'll get married either way."
He looks forward to hearing about his recipient's recovery, and would love to meet him some day. Regulations require that donors and recipients must remain anonymous for the first year, but if both parties agree, they may communicate or even meet after that.
"I encourage anyone to join the registry, you can order a kit right online like I did, and swab right at home," said Drake. "It's super easy, everyone at Gift of Life is amazing. You can bring someone with you, it's fun, they take great care of you, and you get something incredibly emotional from donating. If you're on the fence trying to decide, just do it."
In his free time, Drake has been playing videogames with his six-year-old brother, and keeping him busy during the coronavirus lockdown.