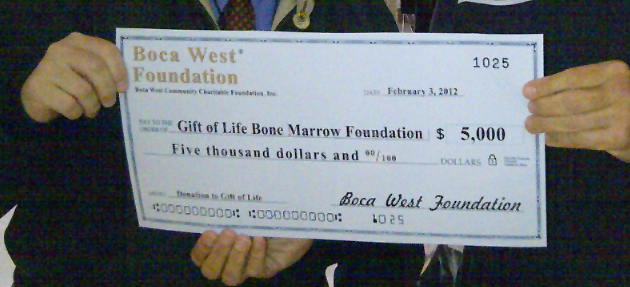 The Boca West Foundation Gives a Gift of Life & Hope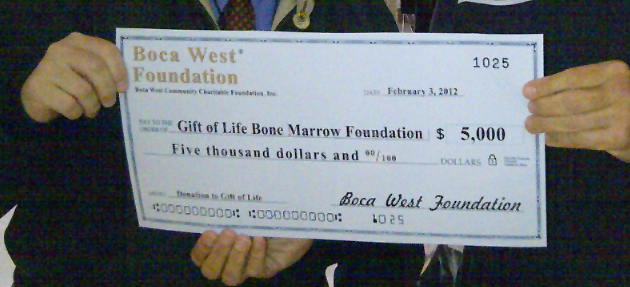 Since 2010, the Boca West Foundation (BWF), a local charitable organization in Boca Raton, Florida, has been dedicated to helping people in the Boca Raton community. Arthur Adler, BWF's Chairman, has a passion for helping those in his own backyard, and in November 2011, Gift of Life's Founder and Executive Director, Jay Feinberg, and Gift of Life's Director of Finance, Gregg Francis, were able to meet him.
Mr. Adler was highly impressed by Gift of Life and it's mission to save the lives of patients around the world. The meeting between Jay, Gregg, and Arthur was a good one, and they discussed how BWF could support and help Gift of Life in their mission to save lives. There was a question of how Gift of Life could align itself with Boca West's mission to help the people of Boca Raton, so the potential partnership was put on hold.
The gentlemen kept in touch, and toward the end of January, Mr. Adler contacted Gift of Life with some amazing news: the Boca West Foundation was awarding Gift of Life a $5,000 contribution for all of the great work they accomplish. More good news came when Jay and Gregg met with Arthur again. Much to their surprise and pleasure, Mr. Adler announced that the $5,000 would be an "annual gift" to Gift of Life from BWF.
This generous gift from the Boca West Foundation will help to save lives. The money will go towards processing waitlisted donor kits, which cost $54 to process. With one amazing gesture, BWF's gift will help clear close to 100 donor kits. Among the kits that will be tested, thanks to this amazing gift, could be the life-saving match a patient in need of a bone marrow transplant has been looking for.
Gift of Life is glad to have the Boca West Foundation as a partner to help save lives, and we know it is just the beginning of wonderful things to come. In the future, Mr. Adler and BWF hopes to sponsor an event to highlight the importance of Gift of Life and it's goal to get as many people as possible to join the bone marrow registry. Stay tuned for more exciting information on this amazing partnership.