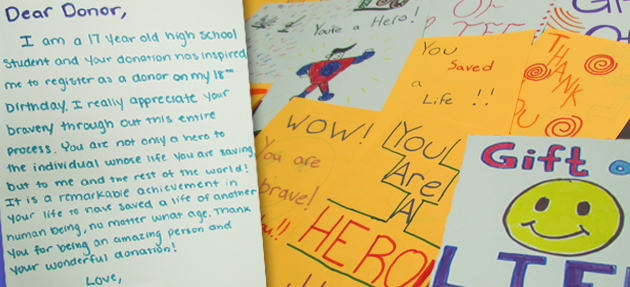 The Card that Changes a Donor's Day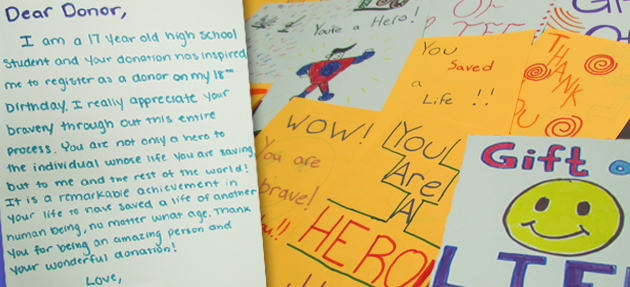 Even the smallest acts of kindness can go a long way. On April 22nd, teenagers from all over the country participated in J-Serve, an International Day of Jewish Youth Service that gives teenager the opportunity to fulfill Jewish values such as tzedakah and tikkun olam. In MetroWest, The Partnership for Jewish Learning and Life organized the community day and included Gift of Life Bone Marrow Foundation in their programming. Students learned about Gift of Life from a volunteer bone marrow donor, Ellen, who shared her experience as a donor and spoke about how easy it can be to save a life.
Mother and bone marrow donor Ellen stressed the importance of becoming a donor, in order to help save the lives of thousands currently suffering from leukemia, lymphoma, other cancers, and genetic disorders. Ellen joined the registry in 2000 and was called as a match in 2006 for an eight year old boy diagnosed with leukemia. Ellen felt compelled and donated without any second thoughts. "I have a boy, who was eight years old at the time, so I completely could relate and understand how his mother felt." When approached by Ruth Miller, Northeast Recruitment Coordinator at Gift of Life, about speaking to students, Ellen accepted the invitation. Ellen was happy to share her story and felt telling it first-hand would have the greatest impact on the young adults. She was right. Two of the boys thanked Ellen for her bravery as a donor, saying she was an inspiration to them.
Seventeen year old Madeline Rosenfeld was one of many who were moved by Ellen's story. "Before J-Serve, I didn't know about Gift of Life. After learning about the organization and hearing Ellen's story, I realized how easy it is to save someone's life with just a swab on the cheek." Madeline plans on joining the registry as soon as she turns eighteen in the coming year.
Programs such as the one held at J-Serve MetroWest serve as an important tool when it comes to educating our youths on the importance of bone marrow transplants for patients battling blood-related cancers and genetic disorders. "I don't think many teens know about the process and it's really important to educate them," said Madeline. Writing cards for donors is just one of the ways that teenagers can give back to their community and play a vital role at the Gift of Life. Though it may seem like a light gesture, these cards are invaluable to our donors, which is evident from the smiles and tears that are shed on their donation days.
Gift of Life offers numerous programs and opportunities for children and teenagers to get involved and make a difference that can potentially save someone's life. If you're interested in getting involved at Gift of Life, please email mfreund@giftoflife.org.