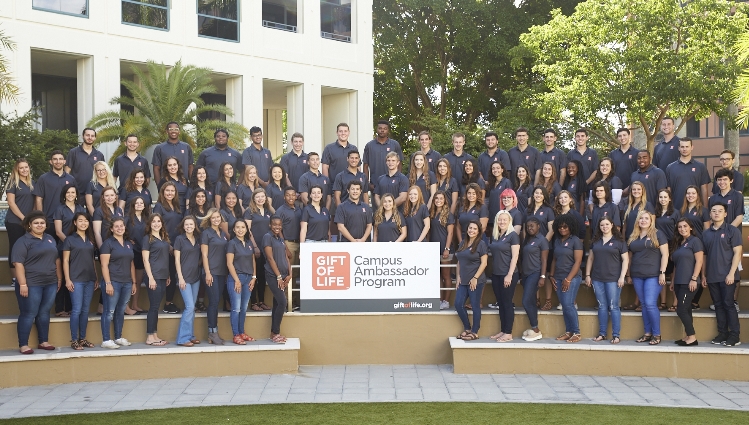 Gift of Life hosts 3rd Annual Campus Ambassador Symposium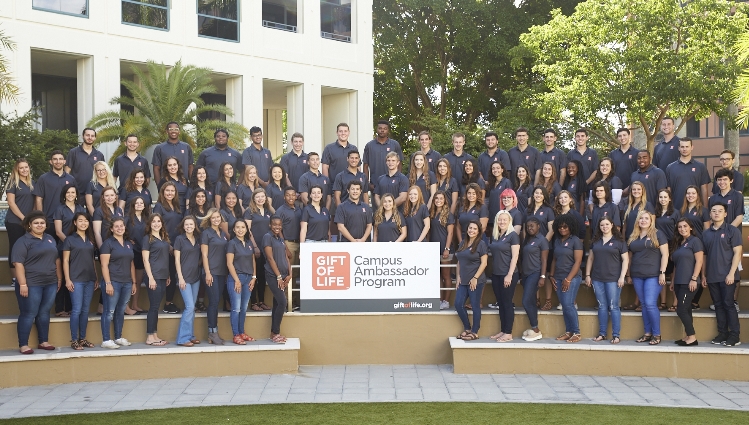 More than 80 students from universities across the United States gathered at Gift of Life's 3rd Annual Campus Ambassador Symposium held in Boca Raton from August 6 – 8, 2017 to train as on-campus representatives for the organization. During three days of workshops, the students learned to organize and promote donor drives, leverage social media and recruit and manage volunteer teams.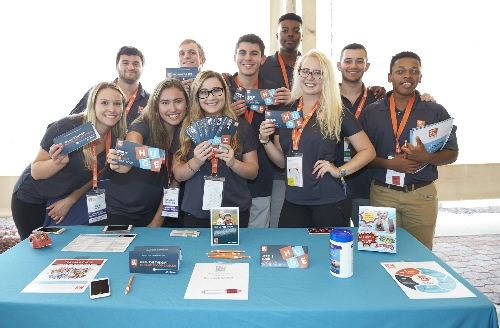 "We are teaching young people to become effective advocates for those in need," said Gift of Life Recruitment Manager Nick Hudson. "They leave our symposium with skills in networking, communications and with a passion for Gift of Life's mission. It's also an opportunity for those who have lost someone or who have a family member or friend suffering from blood cancer to turn that negative experience around and help others."
During the upcoming academic year, the ambassadors, also known as CAPs, will recruit donors to the registry among the demographic most requested by transplant centers, 18 to 25 year olds. Transplant outcomes are known to be better when younger donors are available.
"I'm excited that even though I'm only 19, I can begin having an impact on the world," said Suleika Carlo-Ramos, a campus ambassador for Kent State University. "This is a way for me to give back for my father who suffers from Hodgkin's lymphoma. It has been difficult for him and our family and he's very proud I'm doing this. It's a way to take action so that people with a condition like his don't have to suffer."
Transplant recipient meets his donor at event

The new and returning ambassadors had the opportunity to witness the results of finding a matching donor for a patient when a 68-year old marrow transplant recipient was introduced to his 21-year-old donor, himself a former Campus Ambassador.
Donor Harrison Cohn joined the Gift of Life registry in December 2014 at a recruitment drive held in Short Hills, New Jersey and donated his peripheral blood stem cells just a year and a half later in June 2016. Cohn, who served as an ambassador at Indiana University for the 2016-17 academic year, feels as though he is the lucky one for having the opportunity to share his good health with someone in need.
"Never in a million years did I think that I was going to be a match for a patient", said Cohn. "I was ecstatic to have the once-in-a-lifetime opportunity to save someone's life. It's definitely worth it and it is something you will be proud of for the rest of your life."
His transplant recipient, Sandy Singer of Las Vegas, Nevada, was diagnosed with Myelodysplastic Disorder in 2015 and after a match was not found in his family, he turned to Gift of Life. Singer, who served two tours in Southeast Asia as part of the United States Air Force and worked in aviation for 50 years, has now returned to working full-time as an aircraft mechanic at JetBlue Airways.
"There are no words to describe my feelings for this gift", said Singer. "I have a new found hope for humanity and I am very thankful to Harrison and Gift of Life for all they have done to provide me with a second chance at life."
Most Valuable CAP recognized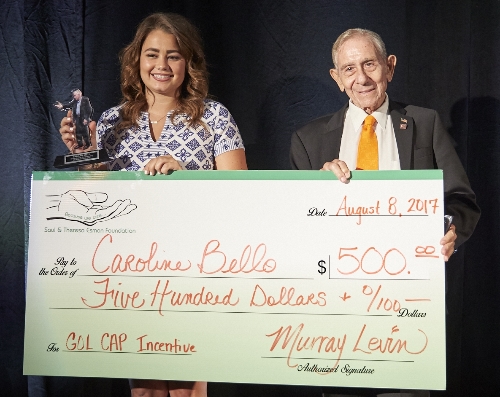 The Saul and Theresa Esman Foundation, sponsor of the Campus Ambassador Symposium, honored George Washington University ambassador Caroline Bello as the 2016-17 Most Valuable CAP. The foundation's Executive Director, Murray Levin, presented her with a $500 check. During her three-year tenure as an ambassador, Caroline organized 43 donor drives where she and her volunteers swabbed 1,165 new donors and raised $2,700 to fund the processing of swab kits. The first marrow transplant from Caroline's donors happened in March 2017, and more will follow.
Caroline is an incredible advocate for the mission to cure blood cancer. "A lot of people will say 'no', and you'll spend time organizing drives where you maybe get a dozen people to register, but getting the email that someone your school swabbed is a match and might save someone's life is one of the best feelings in the world."
To date, the Campus Ambassador Program has facilitated 22 transplants of bone marrow or peripheral blood stem cells for cancer patients.
---
If you're a college student in the United States or Israel and would like to learn more about the Campus Ambassador Program, visit www.campusambassador.org. Applications will be accepted in December for the spring 2018 semester.