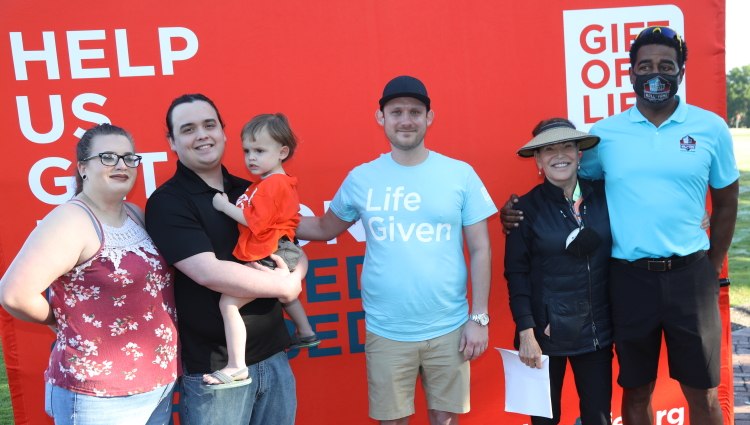 Toddler cured of leukemia through bone marrow transplant from a stranger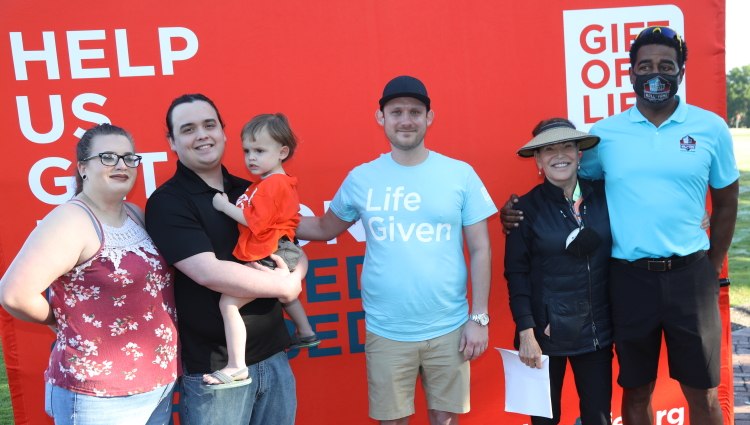 L-r: Bailey Cook, Austin Cook, transplant recipient Avery Cook, bone marrow donor Jamie Lowe, 15-year transplant survivor Evie Goldfine, Pro Football Hall of Famer Cris Carter.
The Inaugural Gift of Life Golf Tournament was held on April 13, 2021 hosted by Gift of Life 15-year transplant recipient Evie Goldfine and Pro Football Hall of Famer Cris Carter. The pair kicked off the golf scramble in support of the organization's mission to save lives. The event featured foursomes with Carter and other former NFL players, including Dolphins greats Mark Duper and Jed Weaver.
The highlight of the event, held at The Breakers West Country Club in Palm Beach, was when tourney participants witnessed the heartwarming, emotional meeting of a bone marrow donor Jamie Lowe and his 3-year-old recipient Avery Cook.
Winter Springs, Fla. resident Jamie Lowe, 31, who donated lifesaving bone marrow to a gravely ill toddler, Avery Cook, joined the registry by ordering a swab kit online. He and best friend Jill watched a segment about Gift of Life's mission on Chelsea Handler's Netflix show, "Chelsea" in 2016 and seeing how easy it was to become a potential donor, became inspired to swab his cheek. Three years later he got the call that he was a match for a toddler fighting leukemia.
"I couldn't stop crying all day," said Jamie, who is a retail assistant at LuluLemon. "My mom passed from cancer at the end of 2012 and there was nothing we could do, we ran out of options. When I heard the news, I called my family and friends right away. Jill, who swabbed with me, was so jealous! I felt really lucky!"
Three-year-old Avery was diagnosed with Acute Lymphocytic Leukemia, the most common type of childhood cancer, when he was a year old. His parents began to notice bruises that became so extreme they could see the outline of his spine, shoulders and hip bones. He went through treatment but relapsed with Acute Myeloid Leukemia, another fast-growing cancer of the blood and bone marrow, shortly after. His parents, both employees at Publix in Spring Hill, Fla., were devastated to learn that Avery needed a bone marrow transplant to survive yet neither of them were a full match.
"Knowing we needed a transplant for Avery's survival was scary on its own, but it was not knowing if we had any matches," said Avery's mother, Bailey Cook. "That alone was very scary for everyone."
In 2019, Avery's doctors turned to the Gift of Life Marrow Registry, which thankfully found that Jamie was his tissue type match and was willing and able to make the donation.
Avery received his transplant at John Hopkins All Children's Hospital in St. Petersburg, Fla. and his parents are relieved to put that chapter behind them. "[Jamie] saved not only our baby, but our whole world," said Bailey Cook. "We will forever be grateful."