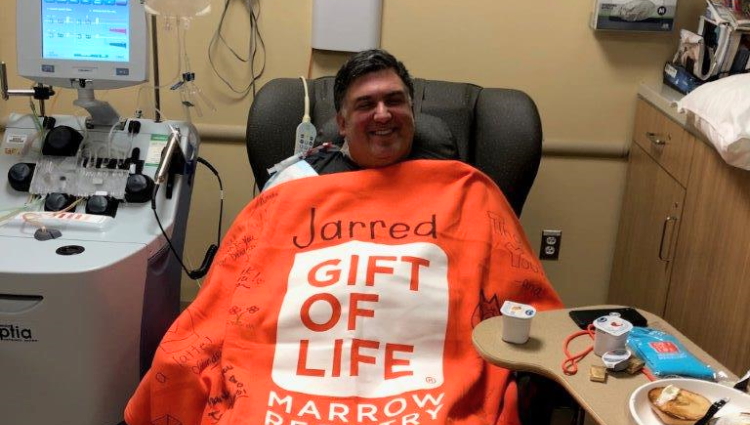 Torontonian donates stem cells to save man battling myelodysplastic disorder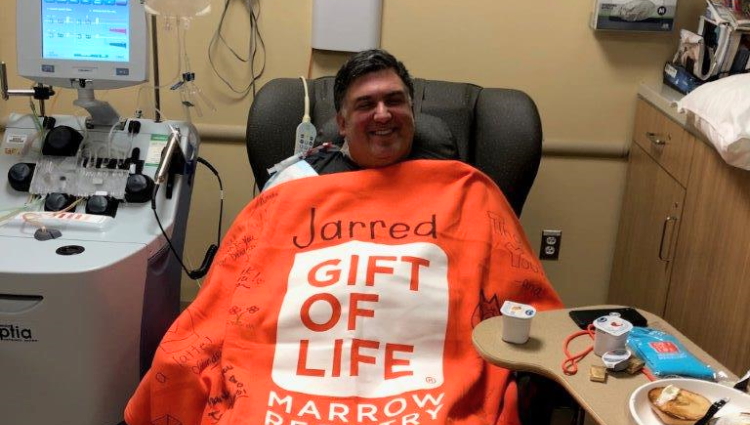 Jarred and his wife Robyn swabbed their cheeks and joined the registry in April 2009 at Adath Israel Congregation in Toronto, Ontario. They had heard about a child in Toronto who needed a marrow donor, and although Robyn was pregnant with twins at the time, they wanted to try and help another parent save their child.
They also had more personal reasons to want to fight cancer: Robyn's father died of prostate cancer at age 59, in 2005, and Jarred's grandfather passed away from leukemia in 2007.
After more than 10 years in the registry, Jarred didn't expect to ever be a match, so when Gift of Life called him in 2019 to donate to a 70-year-old man battling myelodysplastic disorder, he was very surprised.
"My wife and I had totally forgotten we even got swabbed, but there was never a question of whether or not I would do it," said Jarred. "My wife pointed out that you're not just saving someone's life, but potentially saving his wife, his children, and his family and friends from having to go through what she went through when losing her father to cancer."
After being confirmed as the patient's best match, Jarred's donation was set for early November, in New York City, at Weill Cornell Medical Center. Robyn accompanied Jarred to his collection and in early February, he got the opportunity to share his story with potential future donors.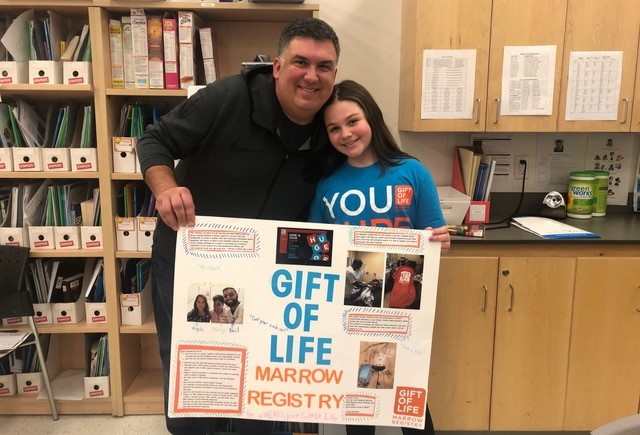 "There's an independent local education program called Project Give Back that introduces fifth graders to charities and the concept of giving back to society," said Jarred. "My daughter Madison was excited about my being a donor, and wanted to do her presentation about Gift of Life." She also brought dad into the classroom to talk about his experience.
"The kids wanted to learn how to swab, and of course they had a lot of questions like, How does the blood come out? What happens to it in the machine? How does it get back into you?" he said. "Then all 19 of them signed an orange blanket, similar to the one I received from Gift of Life, for my recipient."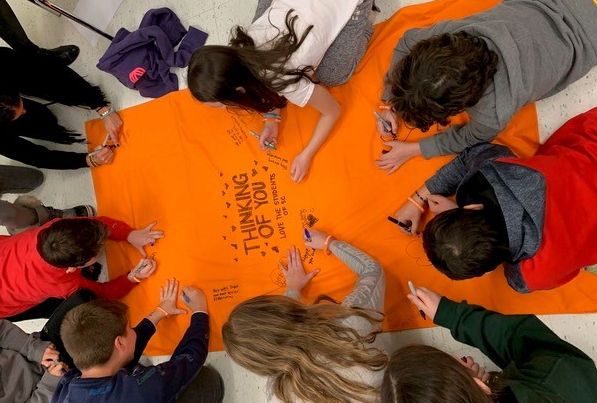 Jarred will send the blanket to Gift of Life for forwarding to his recipient. Correspondence between donors and recipients must remain anonymous during the first year, so letters and cards must go through the donor's registry and the patient's transplant center.
"People should understand how easy it is to donate," said Jarred. "The whole process is so simple – I was surprised by how simple and fast it was, it didn't take much time at all. I would 100% donate again if given the opportunity."
Jarred is an independent graphic designer whose clients include the Toronto Maple Leafs and the Toronto Raptors. He and his wife Robyn have four incredible children and a super-cute dog. He also coaches two local hockey teams – like a good Canadian dad should.