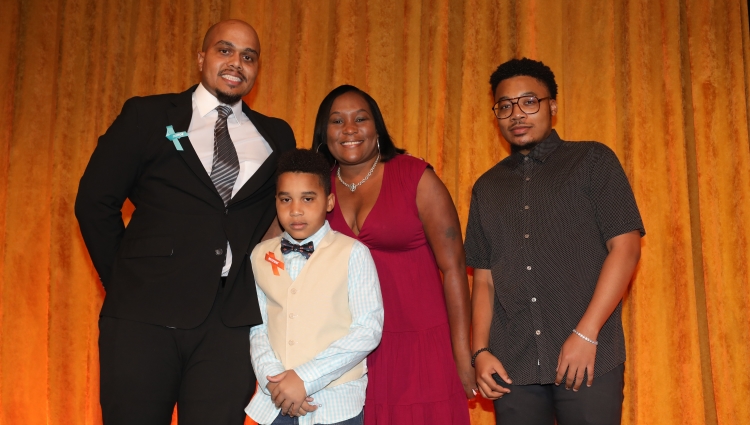 Two marrow donors meet their recipients during One Huge Night New York City Gala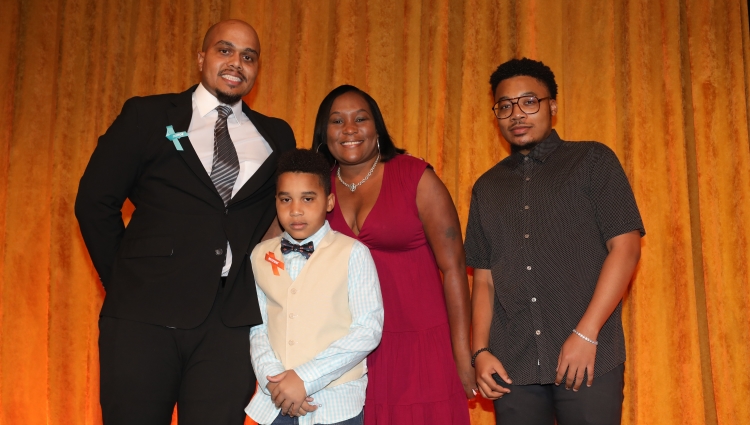 (l-r) Stem cell conor Gregory Mitchell was thrilled to meet his recipient, nine-year-old Marcus Haggins, his mother Kim Kennedy and brother Michael.
Gift of Life's annual One Huge Night Gala in New York City on September 17, 2019 was a magical evening. More than 450 people shared the experience of witnessing two stem cell donors meeting the people whose lives they saved, as well as helping to recognize Gift of Life's honorees, Aryeh B. Bourkoff, Mitzi and Warren Eisenberg, and the New York Mets baseball team.
9-year-old meets the stem cell donor who saved his life
Although he is still recovering from his transplant and was a little under the weather, nine-year-old Marcus Haggins was excited to meet the man who saved his life with a stem cell transplant, Gregory Mitchell. Marcus's mother Kim Kennedy was emotional and grateful, and everyone attending the gala was moved by the story of her struggle to care for Marcus, eventually leaving her job of 17 years to do so full time. Greg, a 30-year-old stockbroker from Baltimore, Md., hugged her and Marcus, and told gala attendees, "The day I donated, my life became more meaningful. If I could donate every month I would do it."
Marcus was just seven years old when his bone marrow stopped producing red blood cells. After symptoms of a stomach virus took the family to the emergency room, the doctor sent him immediately to the ICU, where he was diagnosed with severe form of aplastic anemia. The first treatments were not effective, so his best option for survival was a stem cell transplant. The hospital found Marcus's match, Greg, in Gift of Life's registry.
While a student at the University of Maryland, Greg visited Atlantic City to celebrate a friend's birthday and came across a Gift of Life donor registration table at the city's first Multicultural Festival. He swabbed his cheek to join, and even though he had forgotten about joining the registry when he was called as Marcus's match, he immediately agreed to donate stem cells to his young recipient.
"I am so grateful," said Kim. "You don't know how much this means to me to give me my son back."
Marcus started fourth grade this month after two years out of school. Kim is also returning to work and looking forward to resuming their lives.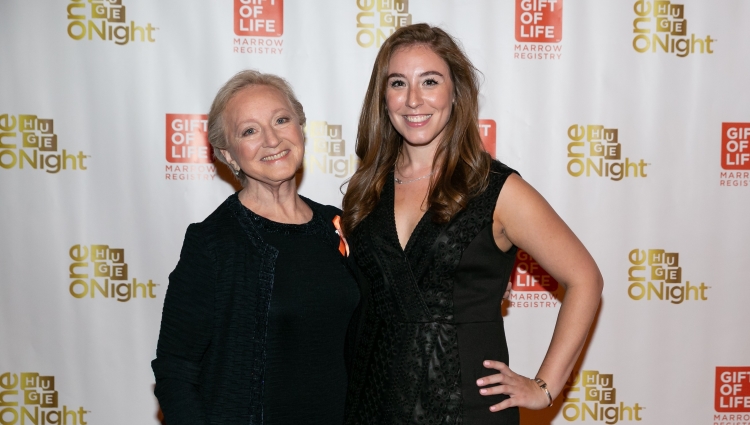 California grandmother survives blood cancer thanks to stem cell donor
Gala Vice Chair Sara Aronson was given the honor of introducing our second donor and recipient for the evening, and began by inviting stem cell donor Lauren Gaines to the stage.
Lauren, a 28-year-old event planner from New York City joined the registry in February, 2011 during a drive held at Tulane University, where she was a student. More than six years later, she got that magical call from Gift of Life that she was a match for a woman battling a rare blood cancer, polycythemia vera (PV). That recipient was Alison Roberts, a 70-year-old grandmother from San Rafael, Calif.
"I was surprised, excited and nervous all at the same time! I didn't think twice about saying yes," said Lauren. "I was happy to help Alison and her family in such a meaningful way."
Alison was first diagnosed with PV 16 years ago, and her doctors were able to manage it for many years. But in 2017, a second blood cancer was detected – chronic leukemia. The two conditions proved impossible to manage together, and when the leukemia began to progress to a more aggressive form, doctors told her she needed a stem cell transplant to survive.
Her large family was disappointed that none of them were donor matches, but the transplant center quickly located her donor in Gift of Life's registry.
Alison is excited to now have more time with her children and grandchildren, most of whom live near her and helped during her recovery. "I'm amazed at Lauren's generosity toward a complete stranger," said Alison. "Lauren gave me the opportunity to see the very best in humanity. It is uplifting to be reminded that so very many people are kind and giving. These acts of kindness are contagious and make our world a better place."
Partners for Life: Recognizing Aryeh B. Bourkoff
To recognize his commitment and contributions to Gift of Life, Aryeh B. Bourkoff was awarded Gift of Life's highest honor, the Partners for Life Award. Leonard Adelson, on behalf of 2018 recipients Dr. Miriam and Sheldon G. Adelson, presented the award. Aryeh is the Founder and CEO of LionTree LLC, a global investment and merchant banking firm focused on media, technology, telecommunications and the digital economy.
Aryeh was introduced to Gift of Life in 2017 through his friend and past Partners for Life honoree Shari Redstone, chairwoman of the newly reunited ViacomCBS, Inc. He was amazed by the organization's work, and within a month he held ping-pong tournaments at LionTree that doubled as vehicles for educating staff, clients and friends about the need for marrow donors, giving them the opportunity to join the registry with a fast and simple cheek swab. He and LionTree have supported Gift of Life's mission ever since.
"Life is a gift, and giving gifts is what makes life meaningful and rich" said Aryeh. "For me, this is personal. I will never forget hearing that two swab kits supported by LionTree have found matches. A sixty-five year old man. A fifteen-year-old boy. Two lives saved, whole worlds of joy and love and meaning and purpose preserved and allowed to grow. This is a gift I have been given."
Read Aryeh's moving and thoughtful acceptance speech.
Lifetime Achievement Award: Honoring Mitzi and Warren Eisenberg
Warren and Mitzi Eisenberg have been advocates and supporters of Gift of Life since they met Founder and CEO Jay Feinberg in 2005, and Warren is approaching ten years on the Board of Directors, where he serves as Secretary. They are incredibly generous to Gift of Life, personally giving substantial contributions to our mission to save lives, and introducing many of their friends to our cause, who have also become regular supporters.
In recognition of their commitment to Gift of Life's mission, Jay personally presented them with the Lifetime Achievement Award.
"It has been my privilege to serve on the board of directors alongside Jay Feinberg, who has devoted his life to building a registry that hopefully will enable us to find a matching donor for every patient needing a transplant," said Warren.
"When we attended our first Gift of Life Gala in 2005 and witnessed the donors and recipients meeting for the first time, it was so emotional, uplifting and unforgettable it truly moved us and inspired us to get involved in supporting Gift of Life," said Mitzi.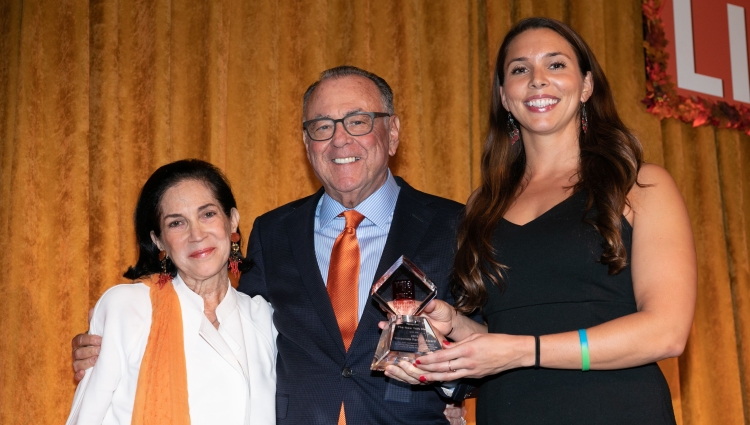 Fifteen year relationship with New York Mets recognized with Corporate Partner Award
Manager of Community Engagement and External Affairs Julianna Sabra accepted the Corporate Partner Award on behalf of the New York Mets, presented by Gift of Life board member Stephen Siegel and his wife, Wendy Siegel, who served as co-chairs of the Gala. The Mets professional baseball team has been a partner with Gift of Life Marrow Registry since 2004. The hallmark of this 15-year relationship is the annual introduction of a donor and recipient at a home game.
"The Mets are proud to be a longstanding corporate partner of 15 years with Gift of Life," said Julianna. "When the donors and recipients meet as they did here tonight, the room is immediately filled with gratitude, compassion and inspiration. We appreciate the work Gift of Life does every day and we look forward to creating many more memories together."
Thank you to the Mets for the opportunity to give so many of our donors and recipients a special opportunity to meet each other and celebrate their bond over a game of baseball.
Jay Feinberg sets goal of opening BioBank
In his opening speech, Jay announced that the challenge he made at last year's gala, to fund the creation of a stem cell collection center at Gift of Life's headquarters, has been realized with the help of Dr. Miriam and Sheldon G. Adelson, for whom the recently opened center is named.
"Our next step is the establishment of a BioBank containing a national inventory of stored stem cells, available at a moment's notice to patients in need," said Jay. "We all can fill prescriptions at the pharmacy every day. Physicians should be able to do the same with biological drugs like stem cells, so the patient can receive a transplant when the timing is best for their treatment, versus a delay until a donor can be found and needed cells can be collected."
At an estimated cost of $5 million to build and equip, the BioBank will occupy 6,000 square feet of Gift of Life's 24,000 square foot headquarters in Boca Raton, Fla. The facility will also enable Gift of Life to participate in engineering cellular therapies, such as CAR-T cell treatments that can seek out and attack a patient's cancer cells.
"The beauty of this project is that we already have 350,000 healthy, fully tissue-typed donors in our registry to call upon," said Jay. "It makes sense. We must push the envelope because so many people are counting on us."
Lighting New York in Gift of Life's honor
In honor of One Huge Night, the Empire State Building was lit orange, along with 230 Park Avenue, the clock tower at the Renaissance Hotel, and East River Plaza.
Photo and Video Gallery
To view and download your photos in the gallery click here.
To watch the event video click here.