Brady (above, left) and Nick (above, right) have been friends since high school. Although they joined the registry at different times, they both donated within a few weeks of each other.
Somewhere in the world, in spite of the COVID-19 medical crisis, two cancer patients have received their blood stem cell transplants and are in recovery mode thanks to two high school friends. These young men joined the registry in different places and did not even know the other was a potential donor – but the values that bring people together as friends have a way of showing up during difficult times.
Brady and Nick have been friends since high school, where they ran on the track team together. Their friendship has lasted although they attended different colleges, and now work in different states.
"Nick and I did not know we were both in the registry," said Brady. "One of our friends told me and after learning Nick had donated stem cells recently, I called him to catch up." Not long after that, Brady was also called to donate.
When Nick saw a photo of Brady come across social media from Florida, he knew exactly what was happening, and jumped on a videoconference to say hello. The two ended up donating stem cells to different patients only seven weeks apart, and although every one of the five pods at the Dr. Miriam and Sheldon G. Adelson Gift of Life-Be The Match Collection Center is unique, coincidentally, the two friends had been assigned to collection in the same pod.
Brady was the first to join Gift of Life's registry as a potential donor, swabbing his cheek on November 30, 2016 at a drive held by the Hillel chapter at Eckerd College in St. Petersburg, Fla. Brady was on the board of Hillel at the time.
"When I was growing up my sister's best friend died of spinal meningitis and became an organ donor," said Brady. "She helped dozens of people and that really stuck with me."
"The drive was organized by my friend and I helped her run some of the drives that year," said Brady. "When I told her I would be donating she was super excited."
Brady learned he was a match while he was at a holiday party in December 2019. Like many donors, his phone lit up with a voice mail, a text and an email all within moments of each other. "As soon as that happened, I knew what it was and called Gift of Life right back," said Brady. "My first question was 'What's the next step?'" Brady would be donating for a female patient in her 70s who was battling a bone marrow disorder.
A donation date was set in February and after facing a few logistical hurdles at work – Brady had just started a new job – he set up a plan to stay with his parents in Boca Raton near the collection center. But before he arrived his mom called: she had just contracted the flu, and as a pending donor, Brady wouldn't even be able to visit the house. Gift of Life diverted him to a beautiful hotel room in nearby Delray Beach, where his dad was able to visit him and spend time together.
"Throughout the process, in the back of my mind was the thought that someone, somewhere, was taking the necessary steps to receive my donation," said Brady. "I was motivated during my donation by the outpouring of love from my family and could only hope she had the same from hers."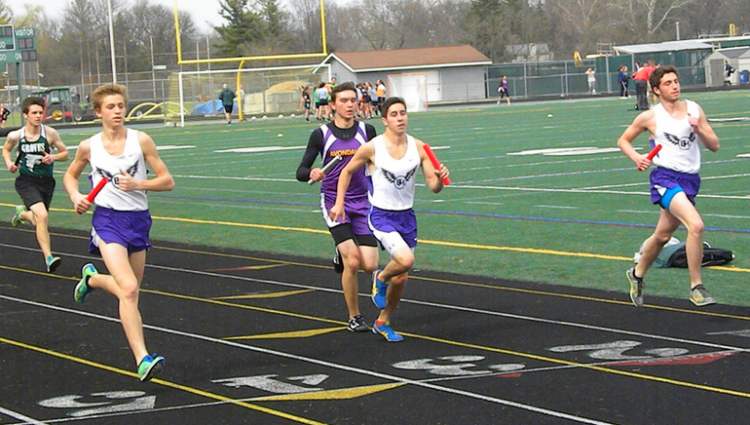 At a high school track meet, Nick (l) and Brady (c) cross the finish line along with Nick's brother Cooper (r).
Nick joined the registry under entirely different circumstances. He was on his Birthright trip to Israel with the Vanderbilt Hillel chapter when a Gift of Life representative spoke to the group on May 23, 2019 and offered them the chance to swab.
"It wasn't a big deal, I knew the chances of matching someone are low, so I never thought I'd hear about it again," said Nick. He was wrong! Less than six months later, Gift of Life called him as a match for a man in his 30s who was fighting to survive leukemia. But scheduling the donation was challenging: Nick was leaving in February 2020 for a semester abroad in Southeast Asia and Australia.
"You feel a huge obligation when you are someone's match," said Nick. "I never considered not donating, even though it might have meant giving up the chance to go overseas." Gift of Life always goes the extra mile to make it possible for donors to donate, and in this case, it meant using cryo-preservation of Nick's stem cells until the patient was fully ready for the transplant.
"Donating was easy, it took six hours, and I had everything I could have asked for," said Nick. His mom accompanied him to the collection center, and the next morning, she flew home to Michigan and put his orange donation blanket on his bed, while Nick went straight to Los Angeles to join up with his student group.
"Since my cells were cryo-preserved, I asked to get an email when the transfusion would be done," said Nick. "I got an email the day of the transplant, and I keep thinking about my recipient – the donation wasn't only for him, it's also for his family and the other people who love him."
Weeks into his semester abroad, Nick had already traveled to Vietnam, Thailand, Singapore, Bali and part of Australia, but the explosion of COVID-19 around the world threatened to cut him and the other students off. He came home as soon as he could.
For those considering whether to join the registry, Nick says, "Swabbing is easier than brushing your teeth, and the feeling after you donate is unparalleled. Do it!"
At Gift of Life, we could not be prouder of these two friends. A man and a woman each received a stem cell transplant that gives them a second chance at life, thanks to Brady and Nick.