(L-R) Dr. Michael and Susan Steinberg, Wendy and Steven B. Siegel, Julie Rubinstein, Jay Feinberg and Grace Toro
The annual One Huge Night Gala in New York City on June 8, 2023 was a heartwarming and uplifting event held at The Lighthouse at Chelsea Piers. The evening featured two pairs of donors and recipients being introduced for the first time, the presentation of the Partners for Life award, one of Gift of Life's highest honors, and the Lifetime Achievement Award. The event was chaired by Gift of Life Chairman of the Board Stephen B. Siegel, and Board Members Mindy Schneider and Dr. Michael Lesser served as Honorary Gala Chairs.
Broadway actress Julia Murney, best known for her role as Elphaba in "Wicked", who served as the Mistress of Ceremonies. She kicked the night off with a performance of "Ring Them Bells" by Bob Dylan and followed with the reunion of donor and recipient pair Marina Paine and Brianna Ain, who were first introduced at last year's New York City Gala.
Leukemia survivor meets his life-saving blood stem cell donor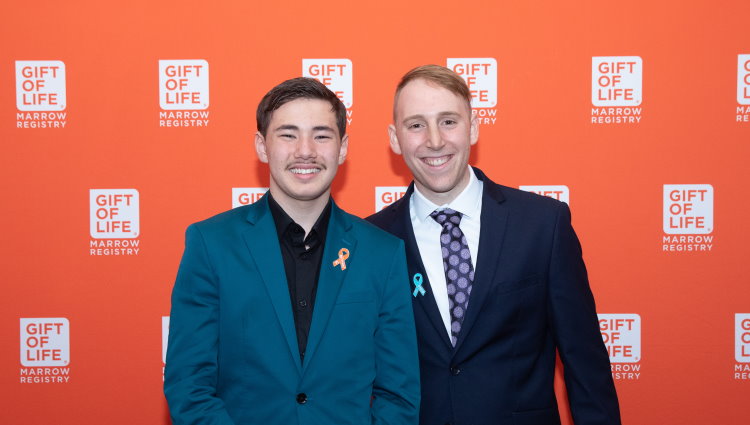 Julius Wolfe, 14, (above, left) was diagnosed with Acute Myeloid Leukemia in February 2021 after experiencing headaches, fever, and petechiae on his feet, legs, and shoulders. While Julius and his family were very anxious and frightened by the diagnosis, they remained hopeful. Soon, a match was identified on Gift of Life's registry.
His match was Alec Kremins, 24, (above, right) of Long Beach, N.Y., who was already on the registry when Julius and his family began their search. Alec joined while on his Birthright Israel trip in 2018. He decided to join the registry to help those in need in any way he could, including saving a life.
"Julius was so humbled by the fact that a stranger would be willing to go through the donation process to help him," said Julius's mother, Tabitha.
Julius, his parents, and Alec were introduced on stage by Dr. Michael Steinberg, a bone marrow recipient and leukemia survivor. They all shared an emotional hug and tears of joy with each other and a few words with the attendees.
"Thank you so much," said Julius's father, Paul. "You not only saved Julius's life, but also our family. It is very grim hearing that your son will not survive without a transplant. There was only one donor for us, and I hope that in the future, as Gift of Life grows, more families will have more donors when needed. This transplant was not only a second chance at life, but a new beginning. Julius just starred in his school play, he's an avid outdoorsman, and he's the best son we could have asked for. Thank you."
"I think the real heroes are my recipient, Julius, and his family," said Alec. "The courage they have shown through this entire process has given me so much strength. They have shown true perseverance pushing forward through so much. I cannot thank them enough."
Eight-year-old girl introduced to bone marrow donor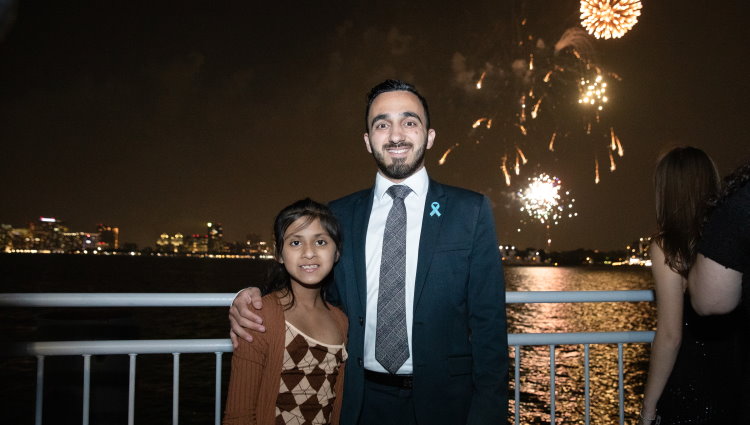 Following Julius and Alec's introduction, the second donor and recipient pair were introduced by Dr. Stephen Colen, a transplant recipient as well, who had the pleasure of meeting his donor, David, at Gift of Life's gala in 2017. Dr. Colen invited Zahra Sharif, 8, and her family on stage.
In 2019, Zahra (above, left) got sick with pneumonia that persisted even after treatment. After being put on a ventilator, doctors conducted additional lab work and genetic testing which found a rare bacterial infection not often found in people with fully functioning immune systems. The genetic testing discovered that Zahra had Chronic Granulomatous Disease (CGD), an illness that affects white blood cells' ability to fight bacterial and fungal infections. The only known cure for CGD is a blood stem cell or bone marrow transplant, and the search for a donor began.
"We were saddened and scared when we got the diagnosis," said Zahra's mother Shakila. "We knew that it was very hard for people of color to find a good donor, so it was scary. We didn't know if she would have complications or if a match would be found at all."
Thankfully, a donor was found in David Karimzadeh, 28, (above, right) who joined in January 2018 while visiting Israel while on his Birthright trip. He felt that the opportunity of saving a person's life was worth signing up for.
"As soon as I got the call that I was a match and my bone marrow was needed, I didn't hesitate," said David. "I was ready to do it that minute."
When David entered the stage, Zahra was the first to hug him, rushing over from behind her parents.
"We are so thankful for you," said Shakila. "We were told in the beginning that it might be hard to find a match, but you were found within two months! Thank you for saving our daughter!"
Partners for Life Award presented to Julie and Andrew Rubinstein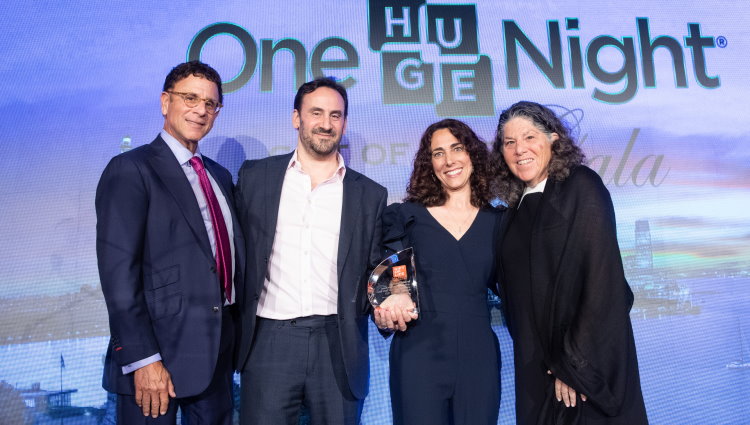 Gift of Life board of directors member Mindy Schneider (above, right) and her husband Dr. Michael Lesser (above left) presented one of Gift of Life's highest honors, the Partners for Life Award, to Julie and Andrew Rubinstein (above, center) for their dedication and leadership of Gift of Life Biologics, a supplier of cellular starting material to the biopharmaceutical industry backed by its parent organization, Gift of Life Marrow Registry.
Julie and Andrew Rubenstein became involved with Gift of Life more than 20 years ago when Julie's father was diagnosed with leukemia and needed a transplant. He has received three bone marrow transplants, and Julie was the donor for the third one.
Julie currently serves on Gift of Life Biologics Board of Directors, and, in January, they hosted a Gift of Life Young Professionals Speaker Series event where they shared their respective experience operating and financing biotech companies. They also held an event for high school students to learn about Gift of Life and how they can become involved with the organization's lifesaving mission.
Lifetime Achievement Award Given to Wendy Siegel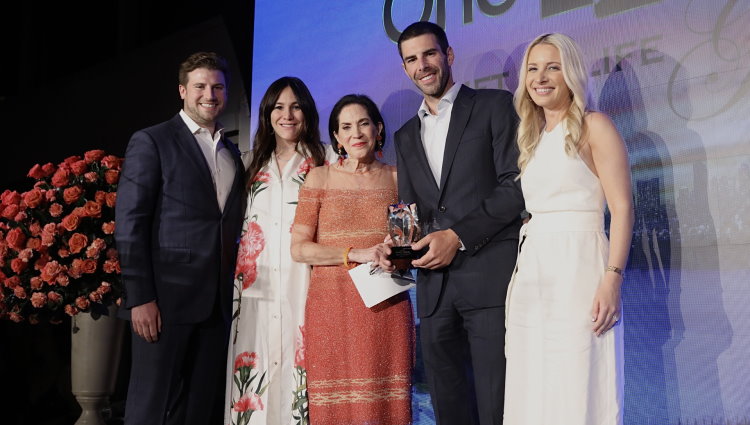 Gift of Life was proud to honor Wendy Siegel with the Lifetime Achievement Award, presented by her children and their spouses (L-R) Alex Neubauer, Cassandra Siegel Neubauer, Jared Siegel, and Kasey Siegel. Wendy (center) has been involved with Gift of Life for more than 11 years as a supporter, volunteer, and an incredible advocate for the organization's mission.
Wendy was diagnosed with Acute Myeloid Leukemia in January 2012, and, after meeting with Jay Feinberg and learning about the donor recruitment and matching process, received her lifesaving transplant when a matching donor was found on Gift of Life's registry.
Wendy spent her professional life in the field of mechanical and electrical engineering and has devoted many years to the world of philanthropy. To date, her donor circle has sponsored more than 106,000 donors to the registry, resulting in over 1,700 matches for patients and 217 lifesaving stem cell and bone marrow transplants.
---
Photos and videos
To visit the photo gallery, click here.
Video Links
---
Thank you to everyone who attended One Huge Night New York City Gala. We deeply appreciate your support for our mission: to ensure that every person in need of a blood stem cell or marrow donor, can find one at the time they are needed.