In 2013, Adam was in Jerusalem on a Mayanot Birthright tour of Israel when a representative from Gift of Life Marrow Registry came in to make a presentation about how the tour participants could pay it forward: just complete a cheek swab kit, answer some health questions, and you've joined the registry.
"It seemed quick and easy, and had the possibility that it could result in saving a life one day," Adam said.
Becoming a potential donor also mattered to Adam because he knew firsthand the effect a lifesaving donation can have on a family: his father z"l was an organ transplant recipient.
My experience began with my father," he said. "Throughout my life he suffered from medical issues and that made life for my family and me extremely difficult. The transplants he received over the course of 20 years, plus my parents' love, strength, and sacrifice, pulled our family through."
When Adam learned in 2017 that he could donate stem cells to a 19-year-old man battling Acute Myelogenous Leukemia (AML), he was thrilled to help.
"I was in law school in New York the first time I donated, and curious about how the process would work," Adam said. "I understood that I needed to do it given the potential benefit it could produce for the patient and his family. I studied for the bar exam while donating at the cancer center at Hackensack University Medical Center, and my family, especially my father, were very proud of me."
What Adam never expected was to be called again five years later for a different patient. This time a man in his 60s, also battling AML, needed help. It is extremely rare for a donor to give stem cells to two different patients because the antigen profiles used to match patients and donors are so unique. Only one in every 1,300 Gift of Life registry members ever gets a chance to donate to a matching recipient.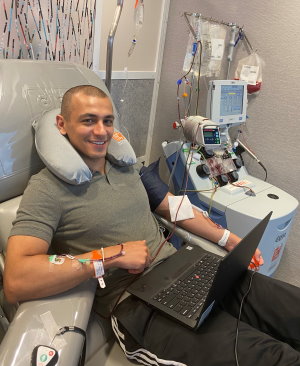 "The second time I was called I had moved to Miami, but was in Israel for the Passover holiday," he said. "Since I had already gone through the process I understood immediately what it entailed. The transplant was needed urgently, and we scheduled my blood test for the day I got back from Israel."
In 2019, Gift of Life opened its own stem cell collection center in Boca Raton, only a short drive north of Miami, so Adam didn't need to travel again to make his donation.
"My family were proud of my motivation to go through with the donations, given our history with my father," he said. "I was able to work a bit during the donation and spoke to my family, as well as chatting with the nurses and staff. Both donations were smooth processes, especially the second one was very streamlined as I already knew what to expect. I know if my father were still here he would be very proud of me for donating a second time."
Adam says that donating was just the right thing to do, and he is wishing for good health for both his recipients.
"One you've been through these lows [caused by health issues in the family] you fully appreciate the impact that your donation could have for the recipient and their family," Adam said. "When I had the opportunity to donate and help turn a dark world around for them, it was clear to me that I had to do it, especially considering the ease of the donation process. This was just me paying it forward in some sense."
Adam, 30, is a graduate of Rutgers University and the Fordham University School of Law. He lives in Miami, Fla. where he is an attorney specializing in mergers and acquisitions. Outside of work, he enjoys playing sports including basketball, soccer, and biking.
---
Adam's swab kit was sponsored by the Mayanot Institute and Birthright Israel Donor Circles.