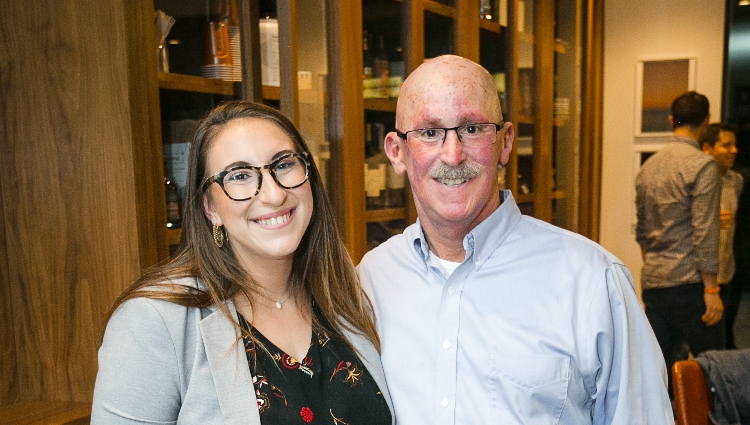 Two-time lymphoma survivor meets his lifesaving stem cell donor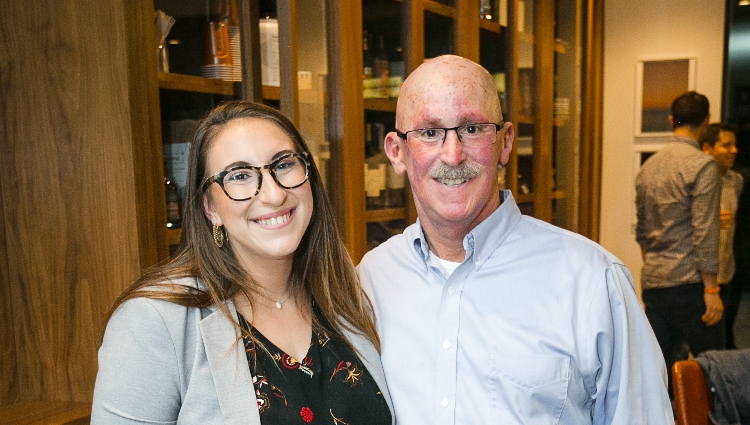 David Gaiser's face lit up as he saw Emily Simons coming down the stairs from the second floor of a San Francisco home. She is his lifesaving stem cell donor, and they were about to meet each other for the first time. It had been a long journey for David to reach this moment – his battle with cancer had begun more than 20 years ago.
He first noticed skin problems in 1997, and two years later was diagnosed with a rare form of blood cancer called cutaneous T-cell lymphoma (CTCL). He was fortunate to find an oncologist with a determined, positive attitude that was contagious and who kept him focused on the future.
David learned about the possibility of curing his condition with a marrow transplant, but his sibling was not a match and on the first search of the registry in 2006 there was no matching donor. Fortunately, a regimen of full-body radiation therapy helped put him into remission.
But four years later, a different cancer attacked David – this time the diagnosis was non-Hodgkin's lymphoma. He was back on chemotherapy again, and his doctor warned him this would trigger a return of the CTCL, which it did.
"By 2016, there was one treatment option left – marrow transplant," said David. Although there had been no match for David when he first had his matching factors, the human leukocyte antigens (HLA), tested in 2006, he was fortunate that in September, 2013, someone joined Gift of Life's registry who was his perfect match.
Emily Simons swabbed her cheek at a drive held by Hillel at Temple University. She had planned to join the registry when she was younger because her father, who suffered from MS, had always believed a stem cell transplant might cure him, but they were not available during his lifetime. When Emily's friend invited her to come to the Hillel drive, she was delighted for the opportunity, but she also knew the odds of being a perfect match for someone else's immune system are low, so she never expected to be called.
In April 2016, while she was preparing for her senior year final exams, her phone rang. "I remember the moment vividly. Graduation was only one month away. I was in the midst of interviewing with San Francisco Hillel when my phone went crazy," said Emily. "I got a phone call, a text and an email from Florida all at the same moment. They told me I was a match and asked me if I was willing to go forward. Without hesitation I said, 'Yes, what do I need to do?'"
Emily donated in December, 2016, but it would be more than a year before she and David could learn each other's identities; marrow and stem cell transplants are anonymous for the first year.
Since receiving his transplant, David has recovered. "After 20 years of battling this disease, I am finally disease-free and no longer taking medication to control it," he said. "There are so many things that had to happen during this process that the outcome seemed like divine intervention." The only thing David still wondered about was his donor.
Then in early 2018, both David and Emily were asked if they were interested in being introduced to each other at Gift of Life's Cocktails and Conversation event in San Francisco, hosted at the home of Sam Altman. They were thrilled to get the invitation.
Emily, who did get the job at Hillel, now lived in San Francisco, and David traveled in with his wife LeAnn from Columbus, Ohio.
The two were introduced by Aaron Harris, a resident of the Bay Area who donated bone marrow for a patient in 2008. With invited guests witnessing their introduction and applauding them, on the evening of April 11, 2018, Emily came down the stairs to meet David for the first time. After they shared a warm hug, David said, "I only had about a year left on medication, and my doctor said, 'We're going to see if we can find a transplant donor for you. Since the day of the transplant I haven't had any issues. You've given me a second chance."
"It's been such a journey! I got involved while I was in college through Hillel, and in the years I was there we swabbed about 500 people. Three or four of us were called, but I never thought I would get to be a donor," Emily told him. "I'm sorry that happened to you, and I'm so glad that you're alive."
Gift of Life thanks Sam Altman for making his home available, and Aaron Harris for making this special introduction – and for being a marrow donor.
Watch the video of David and Emily being introduced.
---
Join the registry and become a lifesaver
Stem cells and bone marrow are used for a one-to-one transplant, meaning it only works if the donor is an immune system match for the patient. Since patients are in urgent need by the time a transplant is recommended for them, it is important for donors to already be registered so they can be found quickly.
Joining the registry only takes a few minutes. Order your swab kit today, and you could get the incredible chance to save someone's life.
---
Hillel International
Gift of Life has had a longstanding partnership with Hillel, which has helped us register thousands of college students as volunteer donors, adding more than 57,000 donors to the registry resulting in 276 transplants to date, including David's.