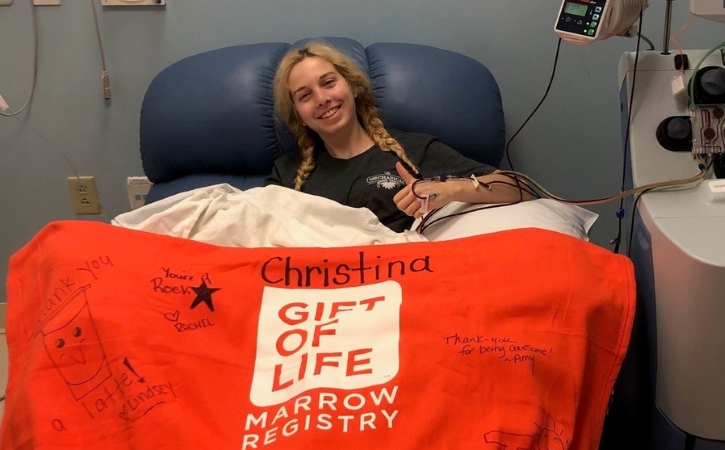 UC Berkeley junior donates stem cells to save 29-year-old woman battling leukemia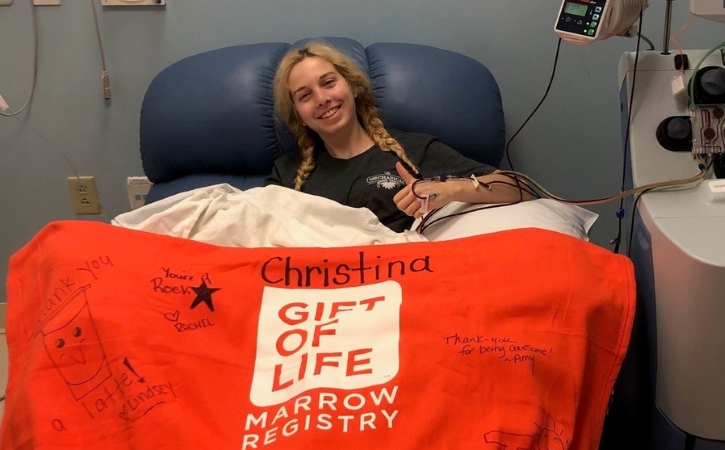 In April 2018, Christina was crossing Sproul Plaza, the main approach to the University of California Berkeley campus (and the hub of its student life), when she spotted a table where Gift of Life Marrow Registry Campus Ambassadors were swabbing new donors.
"When I walked up to the table and learned that someone might get a second chance at life if I registered, there was no way I could say no," said Christina. "I believe the possibility of saving someone's life is not something to be taken lightly." She was so impressed, she went one step further and joined the Campus Ambassador Program and began recruiting new donors.
Within three months of swabbing, Christina was called as a preliminary match for a patient and became very excited, researching on Gift of Life's website what to expect during donation. Although Christina wasn't selected as the donor for that first match, only a few months later she received another call from Gift of Life: she was a match for another patient, a woman battling leukemia.
She was happy to say yes and was fully prepared to donate stem cells. Although she went into donation thinking she would trade a few hours of discomfort to help someone in need, she was actually so relaxed she took a nap.
"Now I also serve as a Campus Ambassador for Gift of Life, so I am familiar with all the statistics and know that when someone has to search for a donor, that is their last resort," said Christina. "There is no way I could refuse to save a life."
When she had to take a couple days off from classes to travel to the collection center, Christina's professors extended her classwork due dates, and after she posted about being a donor on Facebook, she was flooded with comments offering incredible support and positive messages.
Christina also felt that Gift of Life did a great job. "My day of donation coordinator was waiting for me with the famous Gift of Life blanket, checked on me regularly during collection, and even made sure I had food I really liked," said Christina. "Everyone was incredible!"
The nurses at the collection center also had something to share with Christina. "The nurses explained the donation process from the recipient's perspective," she said. "They told me in most cases the patients are fighting for their lives and time is of the essence. This is the reason it is crucial that people contacted as potential donors respond right away."
Although she and her recipient must remain anonymous for the first year after the transplant, Christina hopes they will be able to meet someday. "I would be so overwhelmed with emotions I wouldn't be able to form sentences!" she said. "I would probably hug her really tight and tell her how proud I am for all she's managed to get through."
Christina is a Mechanical Engineering major and spends her free time designing and building high-powered rockets for competitions. She is the technical lead for a large rocketry club on campus, and last year worked on a two-stage, 17-foot long rocket that flew to 10,000 feet. She also enjoys working out, swimming and spending time with friends.