Liam was attending a football training camp at Union College in 2021 when he swabbed his cheek to join the marrow registry at a recruitment drive organized by a Gift of Life Campus Ambassador. The organization recruits at colleges across the United States because transplant centers most often request donors from 18 to 25 years old. Younger donors produce more stem cells and are generally healthier than older donors, helping to increase the odds of a successful transplant.
"A few kids on the football team were Campus Ambassadors and recommended for us to join," said Liam. "My cousin is about my age and received a marrow transplant when he was very young. Knowing someone in my family, so close to me, who had their life saved by a donor made the decision to join the registry an easy choice."
A year later, Liam got a call from Gift of Life.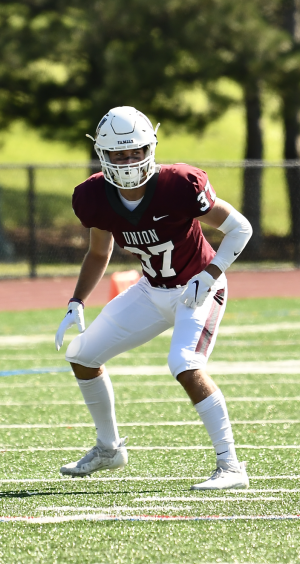 "I was in the middle of a class when I got a few phone calls," said Liam. "I had no idea who or why they were calling, so I stepped outside to call back. I was shocked – I never thought I was going to match. I felt extremely lucky to be able to donate!"
Liam told his friends and family about the opportunity to save the life of a man battling Myelodysplastic Disorder, a form of blood cancer where blood cells are unable to mature and perform their normal functions. They were all very supportive and excited, including his cousin.
Liam was able to take a few days away from classes and come to the Adelson Collection Center in Boca Raton, Fla. Donors do not incur any expenses, so travel, accommodations, and a meal stipend are provided and arranged by Gift of Life.
"My donation was extremely easy," said Liam. "I could sit back, relax, eat some of my favorite foods and watch Netflix. People regularly checked up on me and made sure I was doing well. Everyone was extremely nice and helpful. My recovery was pretty easy, too." After collection, donors typically return to work the next day and resume full athletic activities within a few days.
Liam also hopes to one day meet his recipient.
"I was given a chance to save someone's life, and I took it," said Liam. "Easiest decision I've ever made."

Liam, 20, is a student at Union College in New York where plays football. He is also a member of the Theta Delta Chi fraternity. Liam likes to spend his free time weightlifting, reading, and fishing.
---
Liam's swab kit was sponsored by Evie Goldfine's Fundraising Campaign Donor Circle.