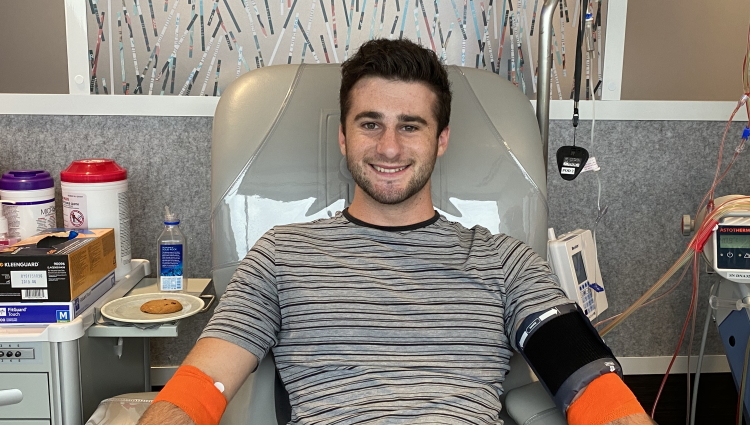 University of Florida grad student donates stem cells to save 18-year-old battling leukemia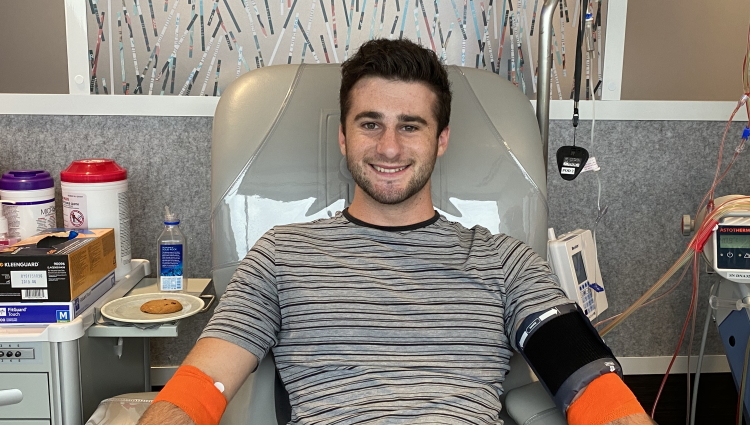 When Kyle joined the Gift of Life Marrow Registry during his Birthright Israel trip, he never expected to find himself donating stem cells during a worldwide pandemic. In May 2018, when Gift of Life made a presentation to his tour group, he immediately thought it was a terrific opportunity to help someone else.
"The presenter explained we could possibly save someone's life," said Kyle. "I thought it would be a great mitzvah, went ahead and swabbed, then didn't think of it again until I got the phone call that I was a match for an 18-year-old battling leukemia."
Kyle attends the University of Florida where he is pursuing his master's degree in International Business, but he was at home in Boca Raton in January when he got that call. "I was getting ready to return to campus when they asked me to be tested to see if I was the best match for the patient," he said. "As soon as I got to Gainesville, I went for a blood draw. Then the first week of March, I learned I was the one!"
After immediately saying yes and committing to donate, Kyle then talked to his parents, telling them, "I'm a match and there's no way I'm not doing this." He was asked to donate peripheral blood stem cells (PBSC), which are found in large numbers in the bone marrow. With a few injections of Neupogen, the PBSC can be mobilized into the blood stream for collection through the apheresis process.
However, in early March the coronavirus was on the move and arranging Kyle's donation suddenly became more complex. Transplants are carefully scheduled and can't be interrupted: while a donor is preparing to give stem cells, the patient is preparing to receive them, which means wiping out all their existing bone marrow with chemotherapy and radiotherapy. When the stem cells arrive, the patient must receive the transplant quickly in order for the best chance of success. On time delivery is crucial, which makes transplantation during the pandemic more complicated.
As travel restrictions were put in place transplant centers in the United States and internationally faced a difficult situation, but they were prepared in advance with an emergency protocol. Donated stem cells and bone marrow can be cryo-preserved and delivered to the transplant center before the patient begins preparing for transplant, eliminating the possibility that that the cells will not arrive in time.
Kyle's PBSC would be cryo-preserved, delivered to the transplant center, and his recipient's transplant would happen several days later.
When the UF campus closed down for the pandemic, Kyle returned home to Boca Raton. He and his parents were surprised to learn that Gift of Life's collection center was right in their hometown.
"I could bring one person to collection, so my dad, Craig, came with me. We expected to be going to a typical medical lab or a blood bank," said Kyle. "When the elevator doors opened into this beautiful, high-tech space, we were blown away."

Just before arriving at the collection center, Kyle's dad posted on Facebook that he was spending the day with Kyle as he donated stem cells. As Kyle sat in the donor pod connected to the apheresis machine, he talked to friends on the phone and enjoyed what he described as "Amazing food!" Then he got an incredibly special call.
"My high school wrestling coach saw dad's post. His aunt is battling acute leukemia, and was preparing for a transplant," said Kyle. "He called me and we had a very emotional conversation, he was so touched he felt he had to show his support." At the same time, Kyle is extremely modest about what he has done. "I am so fortunate that I have never been ill," he said. "And now I'm doubly fortunate to be able to help someone else."
The story doesn't end there. Before the pandemic, Kyle had a great summer lined up. He was going to start off with an internship at a sports merchandising firm, but that was cancelled, as was his long-planned trip to China. He changed travel plans to go to Croatia, but then that was cancelled as well.
"When I was talking to my coordinator, I asked her if Gift of Life had any internships for the summer, and sent her my résumé," said Kyle.
"Since all of our non-medical staff are working from home, we weren't really looking for a summer intern," said Director of Organizational Advancement Marti Freund. "But Kyle seemed like a great candidate – he goes to University of Florida where we have a strong presence, he's a donor, and he's enthusiastic about our mission. We welcome his insight on projects."
Gift of Life has long promoted equality and diversity in health care, and this year is planning a series of virtual Town Halls on the topic, to be launched this fall. Kyle is spending time working on that project, reaching out to college campuses across the country to invite their participation.
Kyle is thrilled that he was able to have such a meaningful experience. "Donating is not a huge commitment, it doesn't affect your routine, and you are saving a life. There's no reason not to do it."
In his free time, Kyle enjoys working out and staying healthy, as well as spending time at the beach with his friends.