In July 2022, Sammy was helping a friend move into a new apartment when he received a phone call from Boca Raton, Fla.
"It was Gift of Life calling to say I was a match for a woman in her 50s battling leukemia," said Sammy. "I was super excited, but also stressed – I had just graduated and was getting ready to move to Europe for graduate school in just over a month. I didn't know if I would be able to donate if I was leaving the country."
Sammy was also excited, because both he and his roommate and lifelong friend Grant, swabbed to join Gift of Life at the same drive, and Grant had already donated stem cells in 2020, just days before the COVID lockdown began.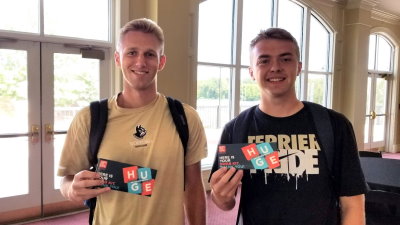 "We swabbed at Wofford College during a Student Athletic Advisory Committee (SAAC) meeting," said Sammy. Katie Fowler, a representative from Gift of Life's partner organization, Project Life Movement, made a presentation at that meeting to invite the teams to hold donor drives during the academic year.
"When the presentation was over, Grant and I looked at each other and said, 'Do you want to do this right now?'" said Sammy. "We both felt strongly that it would be good, not just for us, but for people we don't even know. We're similar in that we're both the helping sort of person, so this is something we wanted to do."
Although Katie had just come from a recruitment drive and only had five swab kits with her at the time, all five were used by members of Wofford's soccer team, including Sammy and Grant. Not only were the two roommates and players on the soccer team, they were active in SAAC and participated in many community events.
"After I learned I was a match, I immediately called my mom and dad, and then I texted Grant and said, 'You're not going to believe this!'" said Sammy. "Grant was reassuring and told me it was an awesome experience for him."
Sammy's mother, Sara, was also particularly excited and emotional, because family friends who are close to her had lost a child to leukemia in the 1970s. His mom decided to accompany him to his donation at the Dr. Miriam and Sheldon G. Adelson Gift of Life-Be The Match Collection Center at Gift of Life's headquarters.
---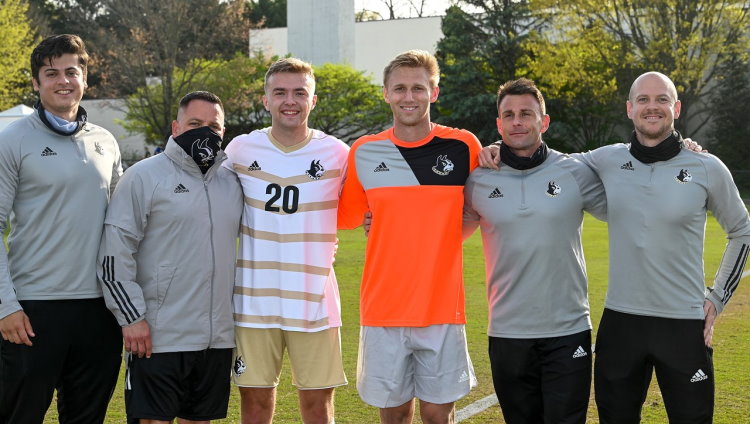 Sammy (in white) and Grant (in orange) were both members of the Wofford College soccer team. These friends and roommates put their personal values into action by joining Gift of Life's registry and donated blood stem cells when called on to help save the lives of two cancer patients.
---
"The timing did work out perfectly," said Sammy. "If I had to go to England before donating, Gift of Life offered to fly me back to the states for the donation, but it worked out so that I could donate before leaving. I had been coaching over the summer and had just wrapped that up and turning my focus to getting ready to go, and the timing was perfect, I didn't need to change my schedule at all."
Gift of Life arranged for Sammy and his mother to fly to Florida, and put them up at a hotel in Delray Beach, where all our donors stay prior to their donation day.
"The hotel was amazing and so is the surrounding area," said Sammy. "The hotel staff, the drivers, the nurses and Gift of Life staff members at the collection center, everyone was very helpful. My coordinator met us at the door and the facility is really nice. Everything was great."
Sammy, who not only plays and coaches soccer but is also pursuing a career in sports management, spent some of the time during his donation watching a soccer game and texting his friends. He also watched a movie with his mom and once he was connected to the apheresis machine and the stem cells were being collected, she posted to Facebook to share the news with family and friends.
"We got overwhelming support from everyone," said Sammy. "We heard from her friends, my friends, Grant's friends and family, everyone. We were really happy to hear from so many of them. I also heard from former mentors who said they were proud of me for doing this."
Although Sammy and his mother enjoyed the beautiful accommodations and great food, they were also thinking about his recipient and what she was going through.
"My mom said to me, 'You should be grateful you are on the giving end right now," said Sammy. "I can't imagine the emotions she and her family were going through, knowing that someone is here donating cells for them and they're on their way."
"Being a donor, doing the swab, and joining the registry is easy and everyone that can do it, should do it," said Sammy. "The more people in the registry, the more lives will be saved. You may never be matched to a patient, but just being in the registry is half the battle."
Sammy, 23, is a native of South Carolina and a graduate of Wofford College. He is entering graduate school in International Sports Management at Northumbria University in Newcastle, England. He enjoys working out and staying active, and prioritizes his health and exercise. He also enjoys hanging out with his friends and watching soccer.
To read Grant's donation story, click here.