September 14, 2022, was a special day at Miami Beach City Hall, as Mayor Dan Gelber and the members of the City Commission opened their meeting by recognizing Gift of Life Marrow Registry. This is the second annual "Gift of Life Day" in Miami Beach, with recruitment tables set up where city employees and the public could swab their cheeks and join the registry for the opportunity to one day save a life.
The highlight of the morning was the introduction by the mayor of transplant recipient and sickle cell survivor Olivia Moseley to her bone marrow donor and hero, Brandon Folkes.
As Mayor Gelber explained in his introduction, Olivia, 21, was born with sickle cell disease as both parents carried the trait. When a child inherits two copies of the trait, the disease can manifest in the formation of sickle-shaped red blood cells that easily stick in veins and capillaries, causing extreme pain, organ damage, and a shortened life span. The only known cure at this time is a bone marrow or stem cell transplant from a matching donor.
Sickle cell predominantly affects Black Americans, and that complicates the ability to find a match, as many fewer Blacks are represented on the registry than donors of other genetic heritages.
Olivia was extremely fortunate that her donor, Brandon, 24, was already a part of the registry when she reached the point where a transplant was needed. He joined Gift of Life's registry in May 2016 while a student at Baruch College.
The two were clearly thrilled to meet as Mayor Gelber introduced them, and were all smiles as they were photographed with the Miami Beach City Commissioners, and representatives from the Police Department and Fire Department.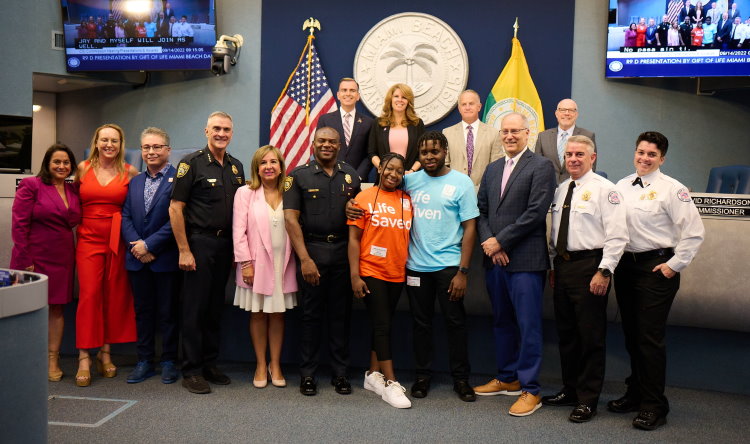 "Thank you for giving me a second chance at life," said Olivia. "I can do things I couldn't when I had sickle cell – I wasn't able to go out in cold weather, but when winter comes again, I want to learn how to snowboard."
"Who doesn't want the opportunity to save a life?" said Brandon. "It was a good process, it was easy, and it was worth it. Just do it, you'll be so happy when everything is complete."
Olivia, 21, is a student from Norwalk, Conn. She loves outdoor activities, especially fishing, and is looking forward to this winter and her first snowboarding lesson.
Brandon, 24, is a recent graduate of Baruch College, and a resident of Brooklyn, N.Y., where he works as a banker. He enjoys playing video games and pursuing his interest in cryptocurrency.
---

We are actively seeking donors for patients who do not yet have a match. All it takes is a cheek swab to learn if you are a match for a patient now, or in the future. There is no cost to donate if you are a match: travel, hotel, and medical tests are provided by Gift of Life.
To learn why the need for Black and multiracial donors is so urgent, and to order a registration kit including cheek swabs, please click here.