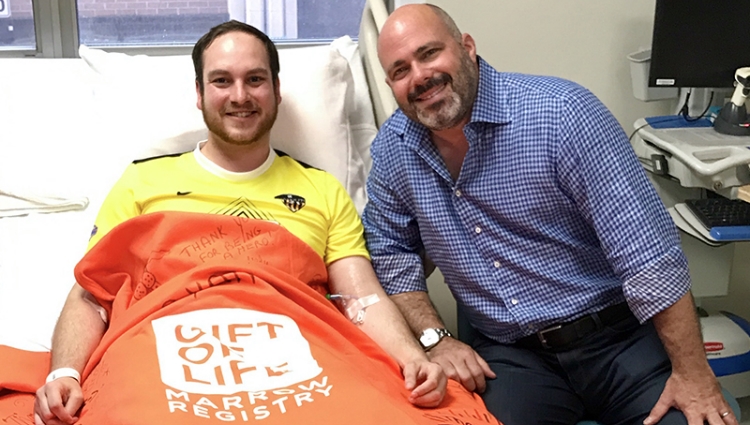 Youth leader saves life of blood cancer patient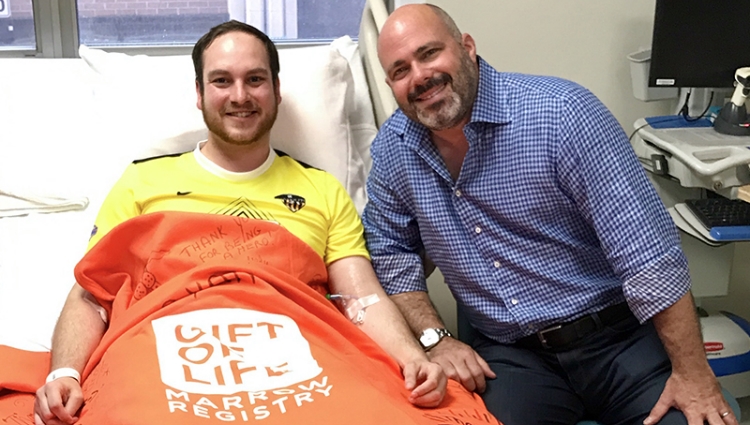 Donor Ryan (l) is visited by Gift of Life Chairman Bill Begal (r) at the collection center on his donation day.
Ryan, a Regional Director for BBYO, a Jewish teen leadership group, was working at the organization's convention in December 2016 when his phone lit up with a call from Gift of Life Marrow Registry. "You are a match for a 54-year-old, and you may be able to save a life," he was told. Ryan was thrilled.
He had joined the marrow registry in 2014 during a drive held by the University of Arizona Hillel, and felt a strong connection to Gift of Life CEO Jay Feinberg's story of his four-year search to find a matching donor to cure his leukemia.
Marrow matches are based on inherited factors usually shared by those of the same ethnicity. Due to the Holocaust many bloodlines were broken, leaving thousands of Jewish blood cancer patients unable to find donors. The story resonated with Ryan, who strives to be a living demonstration of Jewish faith and values for the youths he works with. Since Gift of Life was founded in 1991, the chance of a Jewish patient finding a donor has risen from 4% to about 80%.
"I work with about 700 Jewish youth from 13 cities through my role at BBYO," said Ryan. "I also coach a soccer league made up of sophomores and juniors from four different high schools. With all my kids I focus on their development as young men and women. Becoming a donor of peripheral blood stem cells presented the opportunity to show by example that every person holds some responsibility to others in the community."
In June, Ryan's donation took place. His mother, a family physician, went to the collection center with him, where she helped connect him to the apheresis machine that collected stem cells from his blood.
Both his colleagues and his youth groups were tremendously excited about his donation, and he received more attention from his ZBT fraternity brothers when he attended the national convention in July. "While I appreciate the recognition, I feel that this is something that everyone is simply supposed to do," said Ryan. "It's a bit like having an article written about me for taking the trash out – you're supposed to do that. What I enjoyed most is that this put me in a position to explore my Jewish identity, to do something to repair the world."
Ryan will get his first update about his recipient soon, but they must remain anonymous to each other for at least the first year. In the meantime, he plans to run donor swabbing drives on behalf of Gift of Life, and advocate with his teens for the value of becoming a donor and potentially saving a life.
Ryan is a graduate of Randolph College where he majored in American Government and environmental studies. He is a brother of Zeta Beta Tau fraternity, and formerly worked at Hillel International. He loves soccer.
---
Zeta Beta Tau is a community service partner of Gift of Life. Learn more here.