From left: Dayne Pruitt, transplant recipient Traci Pruitt, Gift of Life bone marrow donor and ZBT brother Thomas Koerner, Molly Koerner.
In July 2012, Traci Pruitt, a resident of Ninety Six, S.C., stopped in at her local blood bank, and was surprised to learn that her hemoglobin was too low for her to give blood. Although she felt healthy, follow-up tests revealed the shocking news that Traci was suffering from acute lymphoblastic leukemia (ALL), a type of blood cancer. She was quickly checked into the hospital to begin treatment, but in spite of going into remission through chemotherapy, her condition did not improve. That November, Traci and her husband Dayne visited the MD Anderson Cancer Center in Houston, Texas for a consultation. Doctors there recommended a stem cell transplant while Traci was in remission in the hopes of curing the leukemia permanently.
Dayne wrote in a blog post to family and friends. "Statistics have shown in cases like Traci's the best way for a long-term cure is to go forward with the stem cell transplant. If we wait to do it later on, there is a chance she might not still be in remission." Because she had no siblings who could be a related match, Traci's doctors turned to the worldwide registry to search for an unrelated donor.
---
The next time another human being comes to you for help, remember how important it is to say, 'When do you need us? Where do you need us to go? We'll be there.' This is the spirit of the ZBT brotherhood.
—Thomas Koerner
---
Fortunately, Traci's perfect donor was already a member of Gift of Life Marrow Registry. Thomas Koerner joined the registry in 2010 while a college student at Northwestern University. He is a brother in Zeta Beta Tau (ZBT) fraternity, and every spring the Gamma chapter at Northwestern holds a bone marrow drive in memory of Jonathan Schatz, a ZBT brother who in 1991 started the chapter on their mission to cure blood cancer, even as he lost his own battle with leukemia.
Thomas learned he was a match in 2013. Upon hearing that he had the potential to save a woman's life, Thomas immediately said, yes, he would donate. "What do I need to do? Where do I need to go? I'll be there," Thomas told Gift of Life. "As soon as I understood what was needed, I was excited to move forward. It was a great moment of human purpose – I don't think I could have looked at myself in the mirror afterwards if I didn't do it."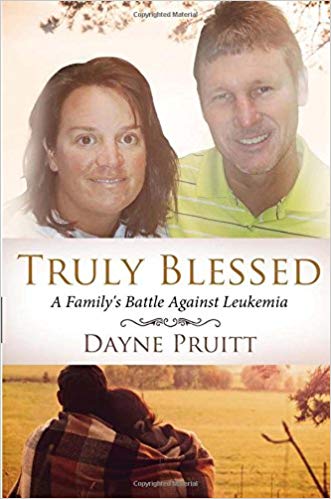 Transplants are anonymous for the first year, so Thomas and Traci did not know each other's names. During her preparation for transplant and the long recovery period afterward, Traci's husband Dayne posted a blog update every day, talking in detail about her treatment and the impact on their lives. These posts were collected by Dayne into a book, Truly Blessed, a title that reflects how they both feel. He also traveled back and forth from their home in South Carolina to the MD Anderson Cancer Center during the lengthy stay required for Traci to prepare for and receive her transplant, and begin recovery.
Thomas donated his bone marrow in February 2013, then the cells were transported to Houston and given to Traci through an IV infusion. Her recovery took time, and during that first year she and Dayne wrote an anonymous note to her donor, and received one back from him, but it would be more than five years before they finally learned each other's identities.
In his Thursday, September 12, 2013 post, Dayne was finally able to write, "…the prelim report does not show any leukemia in the bone marrow biopsy." Traci's bone marrow was clear of leukemia cells, and she has remained free of cancer. Many times she and Dayne wondered if they would ever meet her donor. Thomas often found himself thinking of his recipient and her family, and was curious if he would hear from them again.
Their wishes have been granted. Each of them was invited by Gift of Life to meet for the first time at the annual ZBT Fraternity International Convention held in Los Angeles in July 2018.
ZBT International President Norman Waas welcomed Gift of Life Community Engagement Coordinator and ZBT brother Russell Lowe to the stage to make the introduction. After Russell brought Traci and Dayne to the stage and told her remarkable story to the crowd of more than 300 ZBT brothers from chapters at universities around the world, it was time for them to meet Thomas.
To a standing ovation, Thomas and Traci hugged as she thanked him many times. "It's been a long journey with many setbacks, but without Thomas I would not be here," said Traci. "My children are so grateful to you."
Thomas had an inspirational message for his ZBT brothers. "You who are the young leaders in your organizations and are thinking about the legacy you will leave, I'd like to give you one bit of advice: the next time another human being comes to you for help, remember how important it is to say, 'When do you need us? Where do you need us to go? We'll be there.' This is the spirit of the ZBT brotherhood."
Gift of Life's partnership with ZBT saves many lives
Thomas Koerner was one of 72 volunteers who joined the registry at ZBT's annual drive on May 19, 2010. That single drive has resulted in an astonishing 11 matches for patients and three completed transplants, including ZBT brothers Jared Von Halle and Ben Woldenberg.
In 2017, Gift of Life was formally recognized as a Community Service Partner of Zeta Beta Tau, after years of partnership at chapters across the United States. Each year ZBT runs marrow donor recruitment drives at many chapters in support of the fraternity's credo of a life of social responsibility and service to the community.