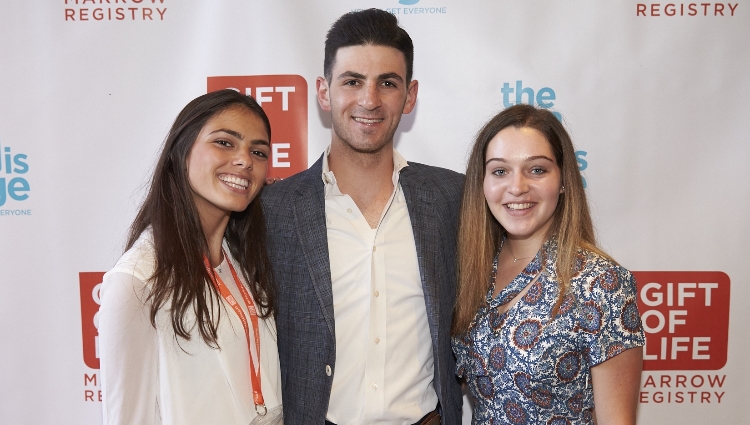 Campus Ambassador at Yeshiva University honors his uncle's legacy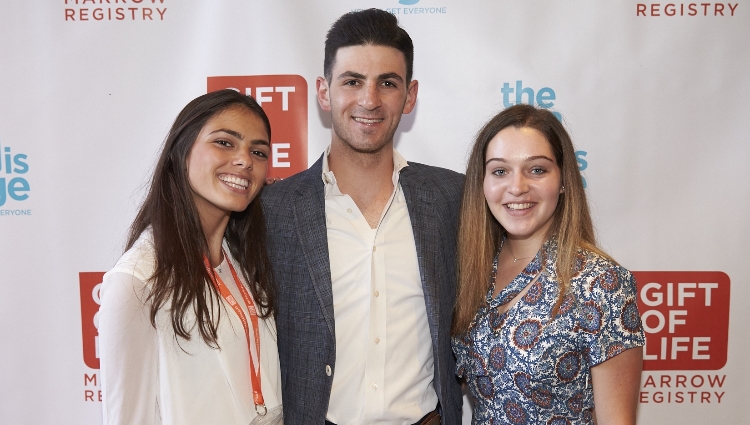 Aaron Karesh (c) with fellow Campus Ambassadors Sydney Novetsky, New York University (l), and Audrey Fretzin, University of Pennsylvania (r) were among nearly 100 college students attending Gift of Life's Campus Ambassador Symposium in August, 2017.
Aaron Karesh, a sophomore at Yeshiva University in New York, has been involved with Gift of Life through his family for most of the past ten years. His uncle, Avi Karesh, donated bone marrow to a blood cancer patient in 2007 and became active with Gift of Life both hosting donor recruitment drives and raising funds, eventually joining the board of directors. Avi later developed leukemia himself and received two bone marrow transplants; he passed away in August 2016, and in his memory, the family has continued to support Gift of Life.
"Gift of Life was incredibly important to my uncle, but he was very humble about his participation," said Aaron. "The organization has always been in the back of my mind, and when I learned about the Campus Ambassador Program I became very excited." Aaron applied, went through the interview process, and was accepted to the program in December 2016. He joined 80 other college students in Boca Raton, Fla., this August for the organization's three-day symposium.
"I've already been an ambassador for about eight months," said Aaron. "To recruit people to join the registry I relied at first on statistics and facts, thinking that logic would motivate people to join. At the symposium working with the other representatives, I've learned to appeal to the more emotional side and talk to people on a personal level."
As the Campus Ambassador for Yeshiva University, Aaron also faces another challenge: the campus has a small student body, only 1,000 students, and nearly all of them have already joined the registry. "It's interesting to hear the challenges that my fellow ambassadors run into on larger campuses," he said. Aaron plans to put some of the ideas he heard at the symposium into action, such as finding business partners to work with, and recruiting at organizations affiliated with the campus.
"Avi went to Yeshiva University, and we both majored in finance," said Aaron. "I think he'd be very proud of me for joining the Campus Ambassador Program, and that's important to me. For us at Yeshiva University, it's a great feeling whenever someone is found as a match, even if it was from a drive someone else ran. The only thing that could be better would be getting a match from one of my own drives!"
He also feels that this is the most direct impact one can have as a college student. "Gift of Life's mission focus gives it real power: we're going to do one thing – save lives – and you can see the results. If you give money to some organization, who knows where it goes, but if you recruit new donors to swab and join the registry, you get definite results."
Aaron is a sophomore majoring in finance at Yeshiva University. As a campus ambassador, he plans to give back to the organization and the people who have given so much to him and his family over the course of the last decade. He looks forward to helping save lives, and hopes that one of his drives will lead to a match for someone in need.
---
Gift of Life's Campus Ambassadors (CAPs) represent the organization at over 80 college campuses across the United States and in Israel. The CAPs attend a three-day training symposium, held every August, to prepare them to run donor recruitment drives at their universities. Workshops include the science behind marrow transplantation, how to organize, promote and run drives, enlisting and managing volunteers, and finding sponsors from among local businesses. CAPs learn skills that will help them throughout their academic and professional careers, and gain the tremendous satisfaction of knowing their work saves people's lives. Applications for the spring 2018 semester will accepted in December 2017. Learn more!