On March 19, 2021, Rebekah was taking a break from her work-from-home routine to walk her dog when she got a phone call from Boca Raton, Fla. It was Gift of Life calling to tell her she was a match for a man in his early 60s who needed a stem cell transplant to cure non-Hodgkin's lymphoma.
"I immediately felt a big lump in my throat," said Rebekah. "It was a combination of excitement and a bit of 'Really? Me?'"
She had been in the registry for six years and this was her first time being called as a match. Rebekah joined Gift of Life in March 2015 while a student at Boston University, where she was a member of the Omega Phi Alpha sorority. In 2015, Gift of Life worked with our partner Hillel International to hold "Match Madness" drives at universities across the country in tandem with the March Madness basketball season. In this case, a recruitment table was set up at a Relay for Life event where Rebekah stopped by and swabbed her cheek.
"It didn't seem like a big decision for me, but rather an obvious one, of course I'd join," she said. "It feels like an obligation – in a good way – to participate in something that could save a life. I knew instantly this was something I had to do."
When she told her husband, family, and friends that she would be able to help save a stranger's life, every single one of them was supportive and proud of her.
"I was showered with love during the week of my donation, which just made everything that much easier," said Rebekah.
She and her husband, Yudi, had just been vaccinated against COVID when they traveled to Florida so she could donate at the Dr. Miriam and Sheldon G. Adelson Gift of Life-Be The Match Collection Center. Donors stay at a hotel in Delray Beach within walking distance of many restaurants and shops, an experience Rebekah said was "delightful, and hot!"
---
Donating showed me that I can do more than I thought I was capable of. It's an incredible feeling to think I've never met my recipient, but that we share so much in common.
---
On her donation day the car service brought her and Yudi to Gift of Life's headquarters and the collection center staff got her settled in her donor pod.
"The donation was so quick, I was done in two-and-a-half hours," said Rebekah. "I chatted with all the staff, all of whom were absolutely incredible and kind. I drank bubble tea that they got specifically for me!"
Donating is all about helping the recipient recover from blood cancer and donors usually say this moment was an incredible experience for them.
"Donating showed me that I can do more than I thought I was capable of," said Rebekah. "For me this was a moral obligation. In a world where it feels like we can do very little to bring about positive change, this feels like a small piece of the puzzle. Especially after the last year [of the COVID pandemic] I know how important it is for us to take care of each other."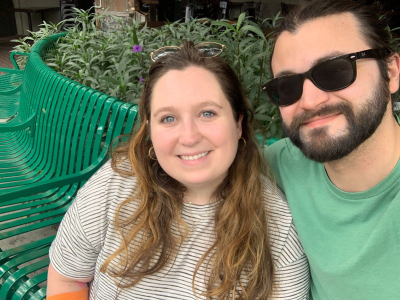 She also encourages others to join the registry and be ready to donate if called upon, saying, "The more people that are in the registry, the more people we can save. It's an incredible feeling to think I've never met my recipient, but that we share so much in common. I would love to meet him; it would be an honor."
Rebekah, 27, is a resident of New Haven, Connecticut, and works as a Sustainability Consultant. She is a graduate of Boston University and received her master's degree from Columbia University. In her spare time, she loves to travel and spend time with those she loves.