Sometimes one small thing can make the biggest difference in a life: in this case, it was a soft pretzel.
In February 2014, parents Jenny and Merlin Kemp, residents of Edinburgh, Scotland, received devastating news: their 9-year-old son Rory was suffering from an extremely rare form of Acute Myeloid Leukemia. Instead of affecting the bone marrow, extramedullary AML appears as tumors – in Rory's case, in his skull. After many tests, scans and treatments of chemotherapy, a bone marrow transplant was recommended in the hopes of curing him.
The Kemps and their medical team turned to Anthony Nolan the public marrow registry in the United Kingdom, to search for a matching donor. Both Anthony Nolan and Gift of Life Marrow Registry are members of the World Marrow Donor Association, making their registries available for search worldwide.
Rory's match, Christopher Mattson of Penn Valley, Pa., was found in Gift of Life's registry after a six-month search. He had swabbed in March 2013 when he was 24 years old during a donor recruitment drive at his workplace, the Philadelphia Country Club.
"Gift of Life had a table set up and they were offering soft pretzels," said Christopher. "I stopped by to check it out, read the pamphlet and it sounded like a good thing to do, so I signed up."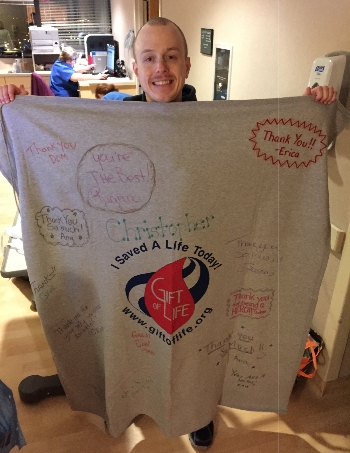 A little over a year later, in June 2014, Christopher received a phone call from Gift of Life telling him he was a match for a young boy in desperate need of a lifesaving transplant. He had just moved out of his parent's home into the city and had not started working yet, so he felt the timing was perfect. "It's a big decision because it affects two different lives on a huge scale," said Christopher. "If you have the opportunity to make a donation, there is really no reason not to."
Accompanied by his mom, Christopher donated bone marrow in the late afternoon on December 18, 2014. "I was astonished at how easy it was," Christopher said. "There's a few minutes of prep time and the next thing you know you're waking up and it's done." The marrow cells he gave were immediately hand carried by courier to Edinburgh, arriving at the transplant center in Glasgow at close to midnight.
Rory's doctor at Yorkhill Children's Hospital stayed with him throughout the evening so they could start the infusion immediately. Although his recovery took time and he faced difficulty with a series of infections, almost two years after his transplant he was thrilled to return to school full time. Rory has thrived, winning a piano competition and playing in a concert at a local music festival. He is now leukemia free and is recovering his strength more every day.
"He is full of humor and nonsense," said Rory's mother Jenny. "He has smiled throughout everything and been immensely brave and cheerful. He just got on with whatever needed to be done in the hospital, and often had a laugh and a joke. I'm very proud of him."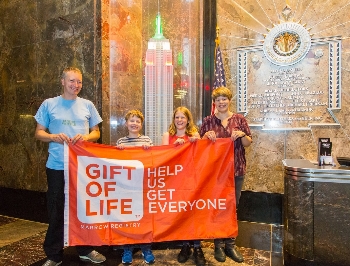 The Kemps have often wondered about Rory's donor, and when Gift of Life invited them to New York to meet him in person on World Marrow Donor Day (WMDD), they were incredibly excited. On Friday, September 15, the family joined Gift of Life Chairman Bill Begal at the Empire State Building to officially change the color of the lights to orange in honor of WMDD. They also met cast members Francesca Curran and Miriam Morales of the hit Netflix original series Orange is the New Black, who came to show their support for the fight to cure leukemia.
The next morning Rory's family found themselves in the NY1 Spectrum News TV studio, where Rory, now 13 years old, was introduced to Christopher on live TV. After a big hug, Christopher said, "I highly recommend that everyone becomes a donor. It was easier than I thought and it's definitely worth doing!" Rory could not stop smiling during the meeting, and said, "There was quite a few months' wait to get a match, so when we were told there was someone it was thrilling."
After the excitement of meeting in person, Christopher and the Kemp family went to breakfast at the Boat House in Central Park, and spent the afternoon getting better acquainted. Later that evening, Christopher, Rory and the Kemp family were transported to the Sky Room, where the bright orange of the Empire State Building lit the twilight. As he introduced them to dozens of Gift of Life donors and supporters who had gathered for the WMDD celebration, Gift of Life Recruitment Manager Nick Hudson recalled that he had been at the drive when Christopher joined the registry. "I handed Chris his swabs at the drive and collected his kit," said Nick. "The drive was organized by one of our transplant recipients, Wendy Siegel, who is one of our greatest advocates and supporters."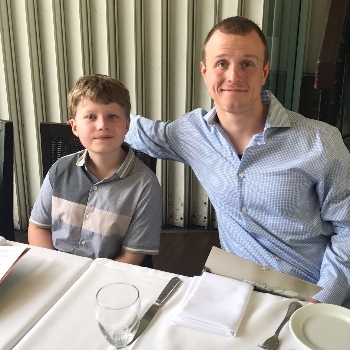 Christopher asked others to come forward and join the registry. "For anyone considering donating, it does take time but there are a lot of benefits and it's completely worth it," he said. "It is a great opportunity and an incredible journey – at the end of the day you are saving someone's life. The experience is amazing."
When asked if he had anything special to say to his lifesaving donor, Rory quipped, "I am sure glad you love pretzels!"
Rory is looking forward to pursuing his love of music and enjoying his time at school. Christopher, who has a management degree from the Pennsylvania State University, spent the time between donating marrow and meeting Rory in obtaining his Master of English degree from West Chester (PA) University. He writes fiction and looks forward to a friendship with Rory and his family.
---
You don't need a cape or the ability to fly to become someone's hero – all it takes is a cotton swab to join the registry and the generosity to donate if you are called as a match. More lives like Rory's can be saved if we can find enough donors to match every patient in need. Join the registry today.