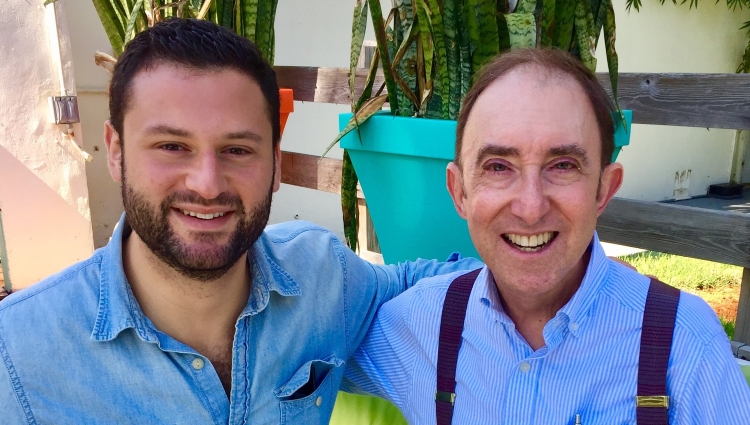 Stem cell transplant from stranger saves life of Washington, D.C. man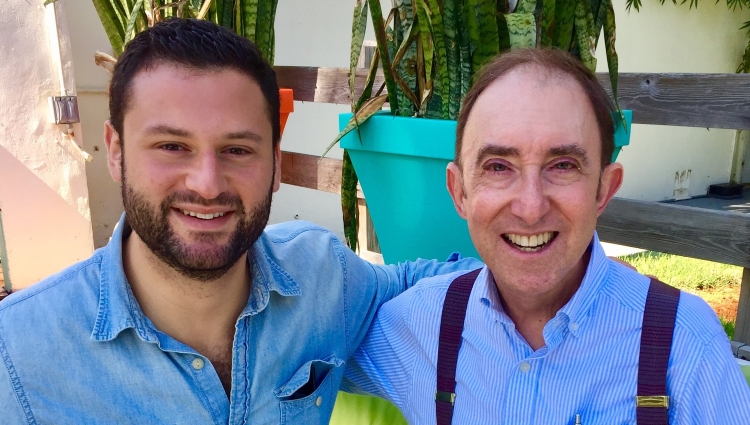 When Eric Gurevich was on a Mayanot Birthright Israel trip in 2008, he never dreamed it would lead to him saving a life. Eight years later, he was in Miami at the Gift of Life Cocktails and Conversation event, waiting to meet the man he had saved, Ron Dreben.
Their tie with each other started years ago as part of Eric's educational tour of Israel. His group saw a presentation by Gift of Life about the importance of joining the marrow registry as a volunteer donor, and he immediately felt it was clear that he needed to be part of the registry. Yet, given the low likelihood of being the ideal match for someone, he never expected to be called.
Then, in 2014, Gift of Life contacted him to say that he was a potential match for a 53-year-old man with myelodysplastic syndrome (MDS). Eric was asked to do a blood test to confirm the match, then several weeks went by. One day he received a call, text and email asking him to contact Gift of Life immediately, and that the need was urgent.
"I was on a plane to Washington, D.C. the next day," said Eric. "I received an extensive medical check at the Apheresis Associates of Northern Virginia donation center, then went home to begin preparing for the donation, which involved receiving injections of Neupogen for several days, to increase my number of blood stem cells. I never imagined the entire process would be so seamless and painless – and frankly, joyful."
At the same time, his recipient, Ron Dreben, was feeling great relief that his donor had been found. When Ron was first diagnosed with MDS, he and his wife Alison were most concerned about the impact on their son, who had just started high school. Fortunately, his condition remained dormant long enough for their son to graduate and move on to college.
But in 2014, it suddenly flared up and a transplant was needed quickly. A matching donor was found immediately, but was unable to donate due to a medical condition. As Ron's condition worsened, a second donor was found, but would only donate bone marrow and the procedure could not be scheduled quickly enough. Ron needed a transplant right away.
Eric was Ron's third matching donor. He immediately committed to donating peripheral blood stem cells and arranged to travel to his preliminary medical examination the next day.
Just over two weeks later, Eric's stem cells were on the way, being hand-carried by a courier to the Dana Farber Cancer Center in Boston, where Ron was ready for his transplant. The infusion took only about an hour and the stem cells began to migrate into the bones to form new bone marrow and create new blood cells and an immune system. Ron and his wife stayed in a temporary apartment near Dana Farber for six months after the transplant, where they were able to hear games and concerts at nearby Fenway Park. Ron had incredible support from relatives, friends and family members.
For the next year, although they were not allowed to learn each other's identities, Eric and Ron wondered about each other, and exchanged many anonymous letters and cards. Finally, the day came when they were able to meet face-to-face and share a warm embrace.
"I met my blood brother," said Eric. "This has been the single greatest privilege of my young life. I would urge anyone to grasp the gravity of how greatly their decision to join the registry could impact a stranger's life for the better. Don't think twice – do it."
To watch a television interview with Eric, click here.
A few months after donating, Eric went to Spain to run with the bulls in Pamplona, and has plans to climb Mt. Kilimanjaro, "just to make sure my healthy marrow is still pushing the limits of what's possible!" He works as the Director of Communications and Engagement at a nonprofit arts organization in Louisville, Ky.
Ron has resumed his career in Washington, D.C. as a trademark and copyright attorney, but has a new focus on balancing his work with plenty of exercise, rest, and pursuing personal interests. Alison, his wife, has been visiting Boston frequently to help Ron's mother, who was diagnosed with non-Hodgkin's lymphoma; she is doing well. Son James is now 21 and attends college.