Eve was serving as a camp counselor at URJ Eisner Camp in the summer of 2017 when one of her friends set up a recruiting table where the staff could join Gift of Life's registry. She knew it was a great opportunity to help a blood cancer patient, but learning she was a match was unexpected.
"I was pretty surprised to get the call that I matched someone," said Eve. "I joined the registry so long ago!" Her recipient was a woman in her early 60s battling Acute Myelogenous Leukemia, whose only option for a cure was a transplant.
"My friends and family were very excited for me," said Eve. "They wanted to know about the process, and were proud and supportive, constantly asking me for updates during the lead up and on my day of donation."
Eve, who is an analyst at the Federal Bureau of Investigation, say her workplace was incredibly supportive, offering her flexibility for her pre-donation medical exam, and for the donation itself. "Afterward they even sent me flowers and cards," she said.
Eve and her mother Linda traveled to Florida so she could donate at the Dr. Miriam and Sheldon G. Adelson Gift of Life-Be The Match Collection Center, the state-of-the-art apheresis facility housed within Gift of Life's headquarters in Boca Raton. The collection center strives to make every donor's experience an incredible one, with plenty of personal attention, excellent food, and a comfortable, private donor pod. Eve even found a gift basket of her favorite snacks waiting for her when they checked into the hotel.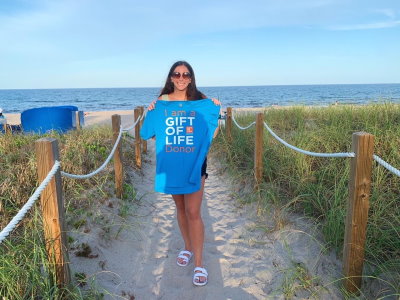 During their stay, Eve and Linda went to the beach, enjoyed the hotel and its pool, and ate at the great local restaurants in Delray Beach.
On donation day Gift of Life sent a car to the hotel to pick them up, and within a short time, Eve's stem cells were in the process of being collected via the apheresis machine.
"Mom and I ate all the great food that Gift of Life provided, and we watched "Madame Secretary" on Netflix," said Eve. "The donation process was super smooth and easy, and everyone was very attentive. Recovery from donating was fast; I was back to both work and running very quickly."
All the family, friends and colleagues who had asked her so many questions before her donation, followed along closely and were happy for both Eve and her recipient, and excited to see photos from her donation day.
"This was an incredible experience, and I am very grateful that I was able to help my recipient and donate my stem cells – I would love the opportunity to meet her, it would be great," said Eve. "I encourage everyone to join the registry and have the possibility of saving a life as well!"
Eve is a graduate of The George Washington University where she was a member of Sigma Delta Tau sorority. She now works as an Intelligence Analyst at the Federal Bureau of Investigation. She loves spending her free time outdoors, both traveling and exploring all the D.C. area offers with her friends. She also enjoys baking and cooking.