Shari Redstone (l) presents the Partners for Life Award to Dr. Miriam (c) and Sheldon G. Adelson.
Gift of Life's annual One Huge Night Gala at Cipriani 42nd Street in New York City on October 10 was an incredible and historic evening for the organization. Supporters raised a record $9.5 million to help save lives and to further advances in marrow and stem cell transplantation.
Partners for Life: Honoring Dr. Miriam and Sheldon G. Adelson
Dr. Miriam and Sheldon G. Adelson, trustees on behalf of the Adelson Family Foundation, were honored with Gift of Life's highest honor, the Partners for Life Award, presented to the Adelsons by last year's honoree, Shari Redstone. This award recognizes the Adelsons for their many years of ongoing support for Gift of Life and its highly successful partnership with Birthright Israel.
The Adelson Family Foundation was already deeply involved in supporting Birthright Israel when the Adelsons learned of the connection between Gift of Life and Birthright. They immediately saw an opportunity: they set a goal of inviting every Birthright participant to join the marrow registry and pay it forward through the opportunity to save a live.
"Nothing can be as profound or as meaningful as the gift of life," said Sheldon Adelson. "When I look at all of the philanthropic gifts that we make, I can't see anything more important than the Gift of Life."
"Sheldon and I are particularly proud that thirty of the lifesaving Birthright donors came from the Adelson Family Foundation Donor Circle," said Dr. Adelson. "This is a miracle, and one that begs to be expanded to save as many lives as possible."
Sheldon Adelson is one of the world's most successful entrepreneurs, and currently serves as Chairman and CEO of Las Vegas Sands Corporation. Dr. Miriam Adelson first specialized in internal and emergency medicine, and since 1986, has devoted her time to researching the biology of addiction and treating drug abuse.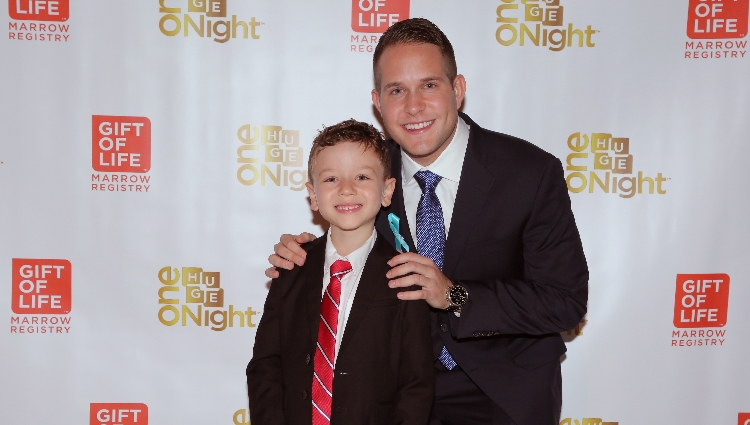 Six-year-old boy meets the man who saved his life
Six-year-old Idan Zablocki (above, left) and his parents, Akiva and Amanda, were thrilled to meet Idan's donor Alex Weiss.
Idan was only eight months old when he was diagnosed with an extremely rare inherited immune disorder, X-Linked Hyper IgM Syndrome (Hyper IgM). Life expectancy without treatment is only 24 years, and most of that would have to be lived in isolation to prevent infection. His parents turned for help to the Seattle Children's Hospital, the same place where Gift of Life founder Jay Feinberg was treated for leukemia. They offered hope: a bone marrow transplant could cure the condition and Idan could live a normal life.
Idan was fortunate that his matching donor was already registered with Gift of Life. His donor is Alex Weiss, 22, who says of donating, "It's not every day that you can donate a little bit of your blood and save someone from so much suffering and pain. Stem cell donation is very easy and only takes one day to complete."
Alex, originally from Weston, Fla., graduated from the University of Michigan – Ann Arbor in 2018 with a Bachelor of Business Administration degree in finance. He has relocated to New York to work at JP Morgan as an analyst in the private bank division. Alex first swabbed his cheek during his Birthright trip to Israel. "I never thought in a million years that I would be a match for a patient, let alone a three-year-old boy," said Alex.
Thanks to Alex, Idan will now live a normal life, play outdoors, and attend school with other kids.
"I am so excited to meet you, Idan," said Alex. "There is no greater gift to me than to see you healthy, thriving and playing with your friends."
"Gift of Life has changed the course of our family's history, and that of so many others," said Amanda. "We want to thank you."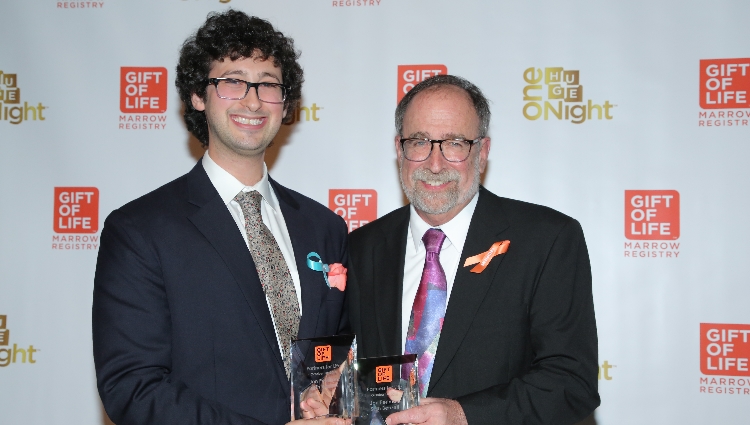 200th Birthright donor learns his recipient lives close by
Dr. Jon Perlman, a 68-year-old psychologist from Sudbury, Mass., was diagnosed with acute leukemia in April 2017. Dr. Perlman has been married to Fran, a retired special needs teacher, for 42 years and they have two sons and five grandchildren.
Although a stem cell transplant was his best chance for a cure, none of Dr. Perlman's family members were a match for him, so his doctors turned to the registry to search for a donor, and fortunately, a matching donor was already registered and waiting to be called.
Seth Benzell, 27, a native of Springfield, N.J., joined Gift of Life as a volunteer donor during his Birthright trip to Israel in January 2012. His paternal grandparents were Holocaust survivors, so Seth didn't get to meet a lot of his extended family – but when he learned that he was a match, the thought that this recipient might be someone he is distantly related to and could be another part of his family was very exciting for him.
Seth was the 200th marrow transplant (click here to read the story) resulting from the Gift of Life-Birthright Israel partnership. "What it means to me to save a life is that I can pay back society and the world I was brought up in for all the blessings that I've got," said Seth.
Seth has earned undergraduate degrees in Physics and Mathematics and in Economics from Tulane University and a PhD in Economics from Boston University, and is currently doing post-doc work at the MIT Initiative on the Digital Economy in preparation for becoming a professor of economics. Dr. Perlman has returned to his psychotherapy practice, also located in the Boston area – the two were were completely surprised to learn that they live only 20 minutes from each other.
"There are not enough words to thank Gift of Life for finding Seth," said Dr. Perlman. "I just want to express my sincere gratitude to Seth for saving my life. Given my second chance of life, I will now be able to watch my five grandchildren grow up. There is no greater gift one can receive than the gift of life, thank you to everyone here for making my gift possible."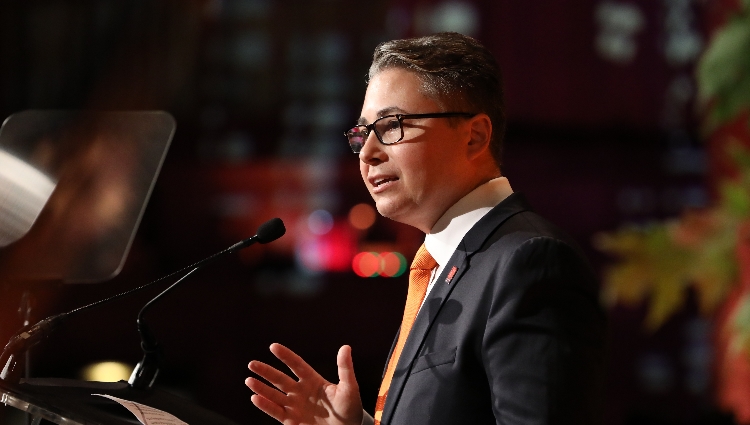 Jay Feinberg points to innovative future for registry
Gift of Life has long been recognized internationally for being an innovator among registries, and as CEO Jay Feinberg explained, the organization is about to take its next inventive steps forward.
"There's a revolution going on in cancer treatment," said Jay. "New methods of immune-based therapy are rooted in marrow transplantation. The cells from the donor, transplanted to the patient, play an important role in destroying cancer cells that evaded the chemotherapy and radiation therapy given before the transplant. Our understanding of this anti-tumor effect is fueling many of the exciting advances we hear about in the news every day."
Jay stated Gift of Life's commitment to do things differently: refining the matching process by using full gene sequencing for some donors, diversifying recruitment to align with changes in population genetics, enrolling donors through digital registration for the first time to protect privacy.
Gift of Life now plans in 2019 to establish a state-of-the-art, registry-integrated stem cell collection center at our new headquarters in Boca Raton, Fla., the first facility of its kind, as well as a BioBank of frozen cells that can be pulled off the shelf for patients at a moment's notice.
"These and other innovations will help save more lives than ever before," said Jay.
Click here to learn more about Gift of Life's plans for 2019.
Brookfield recognized
Jeremiah Larkin, Executive Vice President of Brookfield Properties (above left), accepted the Corporate Partner Award on behalf of the organization, presented by Steven Siegel. Not only has Brookfield held donor recruitment drives at their offices and made financial contributions, the real estate firm offered Gift of Life an indoor space for the Steps for Life 5k of New York City in October 2017 when the event was hit by flooding rain and high winds. Click here to read more.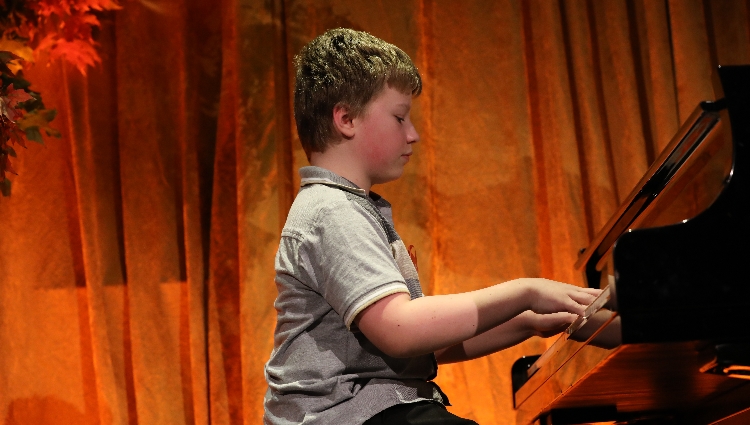 Recipient Rory Kemp dazzles with his piano talents
Gala attendees enjoyed a special musical interlude, provided by Rory Kemp, a 13-year-old bone marrow transplant recipient from Edinburgh, Scotland and an accomplished pianist.
Rory was only nine years old when he was diagnosed with an extremely rare form of Acute Myeloid Leukemia. After many rounds of chemotherapy, doctors recommended a transplant for the best possibility of a cure. As residents of Scotland, the Kemps were surprised and delighted when Gift of Life invited the entire family to New York in 2017 to meet Rory's donor, Christopher Mattson, 26, of Penn Valley, Pa.
Rory has played at concerts including the Queen's Hall in Edinburgh, and won the under-13 piano medal in the Edinburgh Competition Festival.
Click here to read about the first time Rory met Chris on World Marrow Donor Day 2017.
Steven Siegel serves as Master of Ceremonies
Gift of Life thanks Stephen Siegel for serving as our emcee. Not only is Stephen a member of our Board of Directors, he is a tireless advocate and supporter of the organization.
Stephen B. Siegel is CBRE's Chairman of Global Brokerage. With his wife Wendy, a transplant survivor, he is an active and dedicated advocate of the organization. In February 2018, Stephen was honored with a Toast by The Real Deal, a fundraiser that benefited Gift of Life.
Thank you, Steve, we deeply appreciate everything you and Wendy do for Gift of Life.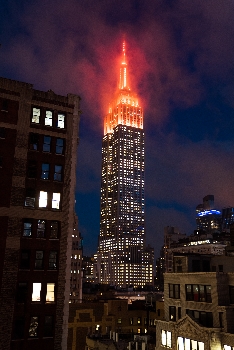 Empire State Building
In honor of One Huge Night, the Empire State Building was lit orange, along with 230 Park Avenue, the clock tower at the Renaissance Hotel, and East River Plaza.
Photo and Video Gallery
To view and download photos in the gallery click here.