If you were in New York on September 16 and 17, you may have seen an unusual sight: a giant cotton swab traveling around Manhattan!
This unique item was the brainchild of Gift of Life Community Engagement Coordinator Russell Lowe, who had a vision: build the world's largest cotton swab in honor of World Marrow Donor Day on September 17, and invite GUINNESS WORLD RECORDS ™ to certify it as the Largest Cotton Swab.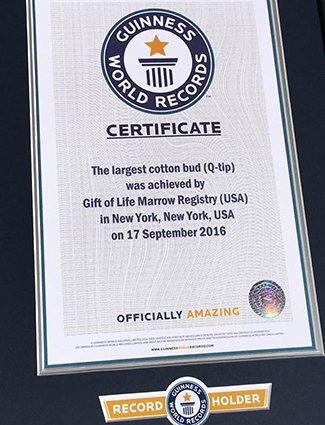 Russell and his team of friends and family began work in August designing and building the giant swab from PVC pipe and cotton. In order to be certified by Guinness, the swab had to be a minimum of 10 feet long and be a scale replica.
Gift of Life staff in New York who helped move the swab included Project Manager Nick Hudson, Campus Ambassadors Rachel Johnson (Fordham University) and Jonathan Goldhirsch (Hunter College), and marrow donor and volunteer Jared Stein.
Guinness judge Michael Furnari measured both the cotton tip and the entire swab and then made an official proclamation to the crowd of the size, 5.696 meters or 18 feet 8.3 inches, and declared it to be the World's Largest Cotton Swab.
Prior to the record-setting, on Friday, September 16, Russell, Nick, Gift of Life Founder and CEO Jay Feinberg and Gift of Life Director of Development Robyn Malek brought the swab to Rockefeller Center to visit the Today Show. They were pulled out of line and given a prime spot right on the barricade behind the show's hosts, and during a commercial break one of the show's producers swabbed his cheek and joined the registry.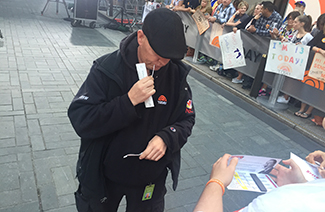 World Marrow Donor Day is celebrated in over 50 countries to honor the 28 million volunteer donors who are currently in the worldwide registry, those who have already donated either bone marrow or blood stem cells to save the life of someone with cancer, and to encourage more people to register as donors so that more patients can be cured. Since matching factors are inherited, the more people who join the registry, the more lifesaving matches can be found.
The swab will be on display at the upcoming Steps for Life 5K Run & Walk in New York on Sunday, October 30. This event will be held in Battery Park starting at 8 a.m. To register click here, and we invite you to join us in the park and take a selfie with the GUINNESS WORLD RECORDS ™ largest cotton swab.
Congratulations to Russell, Nick and the New York team for creating a record-breaking World Marrow Donor Day!