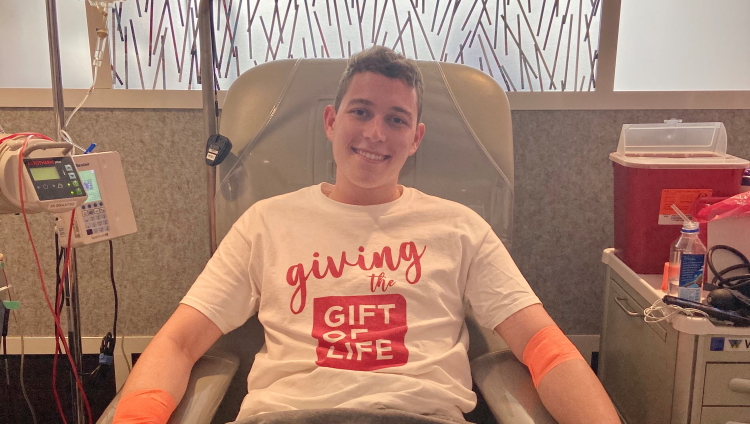 Lifesaving stem cell donor from University of Delaware asks everyone to put others first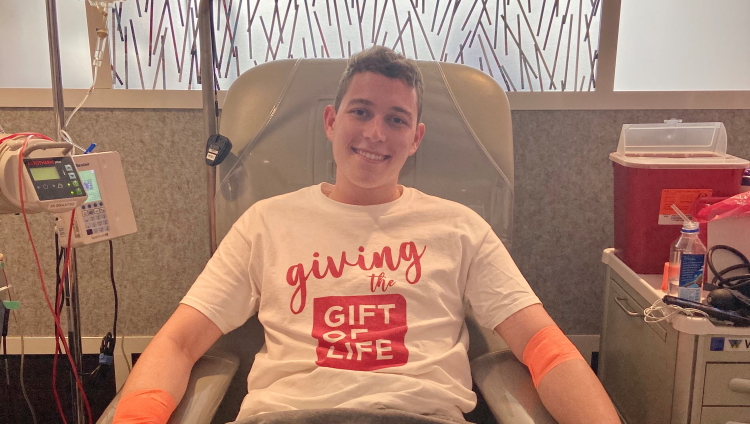 Josh's life is changed. "If 2020 has taught me anything, it is that life is fragile – so incredibly fragile. It is time we start thinking about others before we think about ourselves." That heartfelt revelation came about because in February 2020, Josh donated blood stem cells hoping to save the life of a man in his 40s who is fighting for survival against acute myeloid leukemia.
This journey to becoming a stem cell donor began for Josh in March 2016 at UDance, the University of Delaware's dance marathon to fundraise for children's cancer causes. Gift of Life Marrow Registry was there with a recruiting table set up, encouraging students to join the registry as potential donors.
"I was walking past the table and saw some friends working at it," said Josh. "They asked me to swab and I thought it would be a good idea. It only took three minutes to join the registry, then I just put it out of my mind."
But on December 31, 2019, he got an unexpected phone call from Boca Raton, Fla. – he was a potential match for a man who needed a blood stem cell transplant, and very soon. "My first reaction was, 'Wait, what? When did I do this?', but then I remembered UDance," said Josh. "When Gift of Life asked me to come in for a test to see if I was the patient's closest match, I jumped at the chance." When word came back that Josh was the patient's best hope for a successful transplant, he was incredibly excited.
"I believe you should do things that you would want others to do for you," said Josh. But there was one small complication: he was interviewing for a new job and hoped to be starting right away.
"I went to the interview and then flew to Florida for a physical exam to make sure I was healthy and in good shape to donate," he said. "But when I was at the airport for my flight home, my potential employer called to say they had hired a different candidate. I was upset, but also relieved that I wouldn't need to ask for time off right after starting a new job so I could donate."
But life had yet another surprise in store. "The following week, the company called me again: they wanted me to come back in and made me an employment offer," said Josh. "My donation was scheduled for the following week, and I wouldn't start work until afterward. Talk about good timing!"
Josh, 22, who lives in Ft. Lee, N.J., came to the Dr. Miriam and Sheldon G. Adelson Gift of Life-Be The Match Collection Center at Gift of Life's offices in Boca Raton to donate, and both his parents accompanied him. "We are so proud of Josh," they said. "He's really special."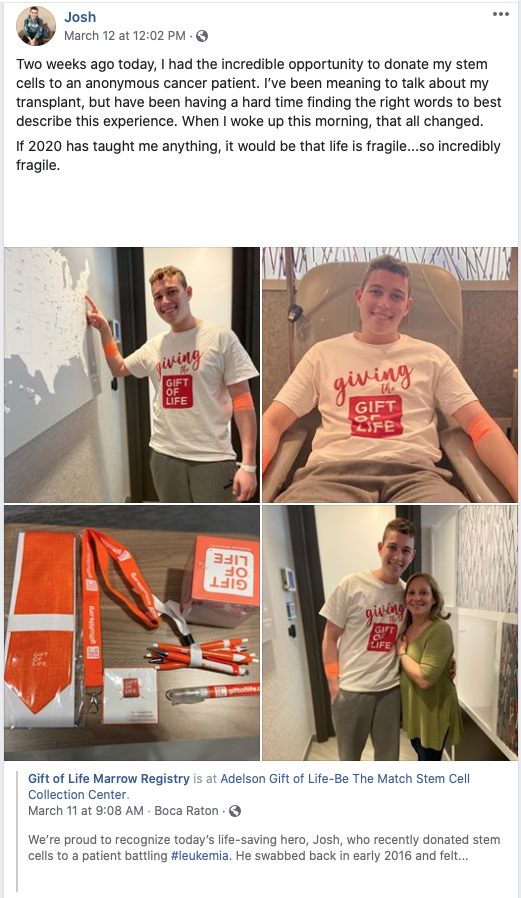 The collection center is the first in the world integrated with a registry and is designed to be an accommodating and comfortable experience, like visiting a high-end spa. Because donors are taking the time to save lives, Gift of Life wants them to be treated like the heroes they are. "Gift of Life's staff treated me like a king," said Josh.
After donating, Josh posted about his experience on Facebook, and the response from his community and friends was tremendous. "People should know it takes little or no time to join the registry," he said. "Donating is completely non-invasive and you go home that day."
"I absolutely want to meet my recipient if possible," said Josh. "I see my good deed as nothing more than treating someone the way I would hope to be treated if our roles were reversed. It takes no more than two minutes to join the registry, and you never know who you can help."
Shortly after donating, Josh started his new job as a sales representative for a major national firm. He's a "people person" and enjoys spending his free time with family and friends; he's also a big Yankees fan.