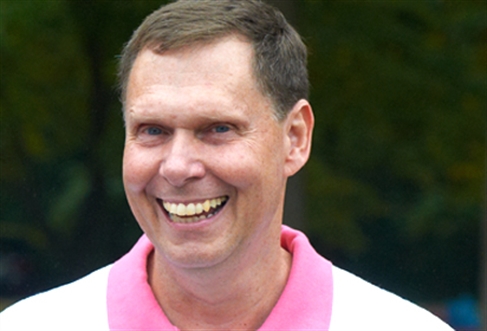 Jeff survived MDS with a bone marrow transplant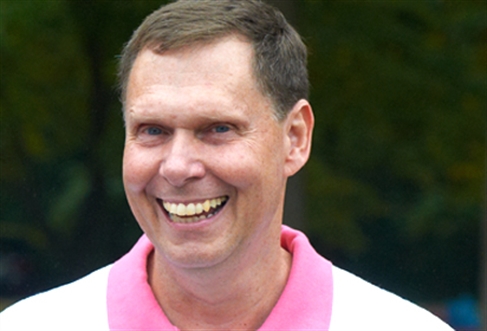 In August 2010, Jeff paid a visit to his family doctor for poison ivy treatment. It had been two years since his last checkup, so his doctor conducted a physical, including bloodwork. His blood counts were low and red blood cells were misshapen, and though he was often fatigued, he felt fine. Two months later, he was diagnosed with myelodysplastic syndrome (MDS). Without treatment, he wouldn't last another year.
The search for a matching donor for the transplant that could save Jeff's life began soon after, starting with his family. Jeff's brother, Greg, and sister, Debbie, matched each other but not Jeff, while another brother, Paul, was an 80% match. Jeff's doctor felt it would be better to look for a 100% match with an unrelated donor, so they turned to the international registry. Luckily, within just a few months, four potential matches were identified for him, including his perfect match with a donor in the Gift of Life marrow registry.
The transplant took place at the Hospital of the University of Pennsylvania in Philadelphia, about 45 minutes from Jeff's home in Morrisville, PA. Friends and family pitched in to help, including driving Jeff to his pre-transplant treatments, cleaning his home and car, bringing meals, and sending prayers and good thoughts.
On the actual transplant day, Jeff and his wife Amy marveled at the large bag of bone marrow that arrived and immediately thought about what the donor must have gone through to provide it. Adding to the excitement was the parade of people who came in to congratulate Jeff on his new life—nurses, the oncology fellow and other hospital staff. His recovery included remaining in the hospital for six weeks and 100+ days of wearing a mask and gloves whenever he left the house. He said, "It was a long recovery and I consider it still in progress."
Though the donation process is anonymous, Jeff and his donor wrote letters (screened by Gift of Life) to each other. In one letter, Jeff wrote:
I have been telling my friends, neighbors, and family that their thoughtfulness in making meals, offering to take care of the dog, the lawn, etc. makes me think that they are more thoughtful than I am. My wife reminds me, however, that I have made wheelchair ramps for people, fixed things for others, and made other contributions by sharing my skills. What you are doing for me, a stranger, will have a bigger impact than any of those things. You will be giving me time to spend with my three grown kids and my wife, my dog, my friends, and extended family.
On a lighter note, we were hoping I would pick up some useful traits from you. For example, perhaps I will be able to dance or play the piano or at least keep a beat. Do you possess any of those skills? The doctor says it doesn't work that way, but my wife hopes I will be able to dance at our son's upcoming wedding (even though I have not been a particularly good dancer in the past).
When asked how he feels about his donor, Jeff explained, "I feel indebted to her and her family even though she downplays her part in my survival. She is wholesome, caring, generous and kind."
Recently, Jeff was invited to meet his donor Nicole at Gift of Life's 5K Walk for Life at Van Saun Park in Paramus, NJ. Amy explained, "There is no gift we could have bought for Nicole to appropriately commemorate the occasion. We decided hand-crafted gifts were the way to go and presented her with a children's book that we began writing for her children. It is based on the transplant experience and is called The Butterfly and the Carpenter Bee. You can probably guess which one is Nicole and which one is Jeff."
Amy kept a blog throughout Jeff's transplant and recovery and shared their experience of meeting Gift of Life staff members, Gregg and Tamara, the night before the Walk for Life event. She wrote, "We talked about the many people who had a hand in the matchmaking: from Nicole's swabbing at an event to the lab technicians who processed her sample to those who identified her as Jeff's match. The Gift of Life staff members tracked down Nicole's aunt and eventually Nicole, the medical staff collected her marrow, a volunteer took the marrow from New York to Philadelphia, etc. Jeff figures thousands of hands had something to do with his recovery. You have to feel a little jealous of people like Gregg and Tamara who get to work daily toward such happy outcomes."
Fifty-four year old Jeff is a carpenter, and enjoys woodworking, model trains, and babysitting his granddaughter, Rosemary. He has three children, Kerry (29), Kim (27), and Keith (21). Keith is a U.S. Marine currently serving in Afghanistan. Jeff said, "I consider God and a good sense of humor essential for handling life's curve balls." He added, "Life is a gift. I try to enjoy the things in life that we tend to take for granted and precious time spent with my children and granddaughter, family, and friends. This is my second chance."