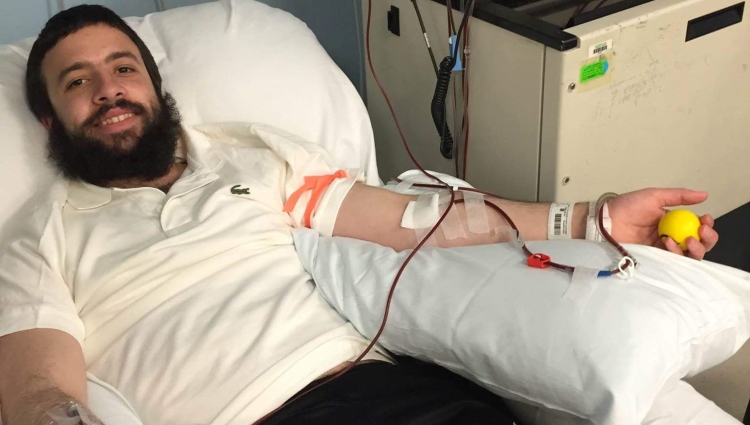 Rabbi donates stem cells to save woman with bone marrow disorder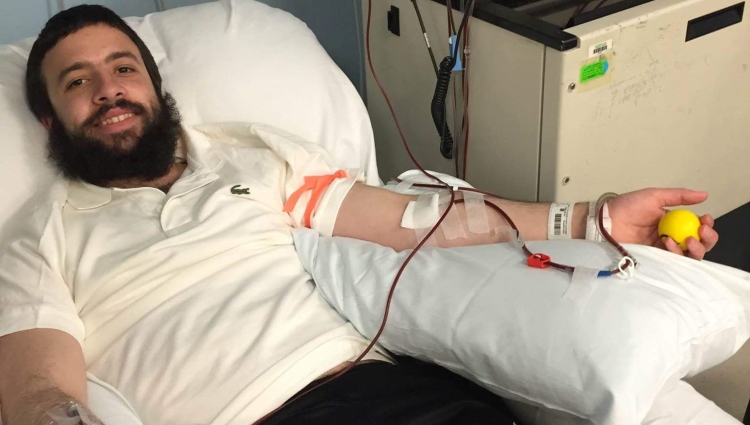 In February 2012, Menachem was studying yeshiva in Israel at the Mayanot Institute of Jewish Studies in Jerusalem when he noticed Gift of Life team members swabbing volunteer bone marrow donors. He decided to join the registry, thinking "if it happens and I'm a match, I'll deal with it then."
He got that opportunity four years later while driving his car – he received a phone call, a text and an email from Gift of Life, all within 30 seconds, so he knew it must be urgent. "I was with my wife and kids when I called back and learned that I was a potential match for a woman suffering from a bone marrow disorder," said Menachem. "To save someone's life? This was not a complicated decision. I made my mind up that if I was the best match that fits, I was going to do it."
That didn't mean Menachem didn't have questions; he did. Gift of Life helped answer them, and even put him in touch with two previous donors. "That was so nice, to hear the experience of people who had actually gone through with the procedure, I found that really helpful." Although he was initially worried that he might be out of commission for several weeks, when he learned that the peripheral blood stem cell (PBSC) donation process only takes a few hours and you can go back to work the next day, he was very reassured. With two small boys in the family, he wanted to make sure he'd be available to help his wife, Chaya.
Menachem's wife was able to spend a few hours with him at the collection center, and fortunately, every Gift of Life donor is accompanied by one of the organization's coordinators. "It was nice having my day of collection coordinator there, and my experience was absolutely perfect, I wouldn't change a thing," said Menachem. "Keep up the great work, Gift of Life."
He also encourages people to consider joining the registry. "Every day is so important and valuable. If you look at the big picture, you're adding another 40 or 50 years to someone's life."
Menachem is an Associate Rabbi at a Chabad Jewish Center is married with two young sons.