Alyssa wanted to be certain that if someone in the world needed her bone marrow, that she could be found. She looked up marrow donation on Google and found Gift of Life's website. After reading about the organization, she ordered a cheek swab kit.
"I played hockey with Mandi Schwartz, who went on to college at Yale and was on the women's hockey team," said Alyssa. "She was diagnosed with leukemia and although they tried a cord blood transplant for her, it was not successful, and she passed away in 2011. I decided to join the registry in the hopes I'd be able to help someone."
And there's another reason Alyssa was so passionate about becoming a donor.
"I'm a police officer in Canada, and one of my fellow officers, Melissa, is now battling Acute Myeloid Leukemia," said Alyssa. "She was diagnosed in 2019 and her brother was a match, but although they did a stem cell transplant with him, the cancer returned, and she is back in treatment."
---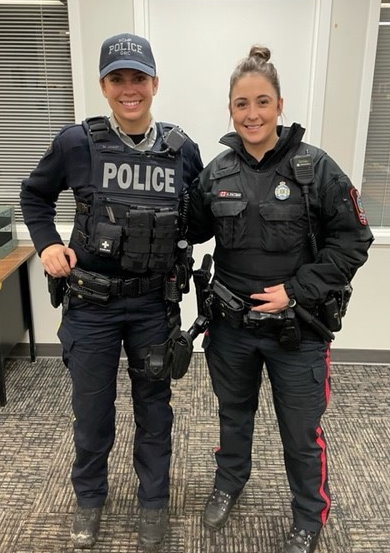 Alyssa (r) and her fellow officer Melissa, who is battling Acute Myeloid Leukemia. Every donor who joins the registry has the potential to save someone's life.
---
In February 2022, Alyssa received a phone call from Gift of Life.
"I was at home on a Sunday when the phone rang, and I wasn't sure if it was a real call since most offices don't usually work on the weekends," said Alyssa. "I continued talking to the lady and realized that I really was a match for someone, a man in his 40s. This is what I went on the register to do."
Alyssa said yes, she would donate, and told her husband and family. She and her husband, Clint, were planning for their second child, but if she became pregnant, she would not be able to donate for about a year, so they delayed their plans in order to help a stranger in the short term.
"What if I were his only match and then he couldn't have a transplant anymore?" she said. "I could never do that to someone; we just pushed our plans back for a time. Even though you don't know the person you're donating to, you are making a drastic impact in their life in a positive way."
Alyssa had no trouble getting time off to fly to Florida for the donation.
"My chief and deputy chief were super supportive, it didn't matter what the timing was, they said they would make it work," she said.
She and Clint flew to Florida for a "donation vacation." While at the hotel, Alyssa received a shot of Neupogen every day for four days to help mobilize her stem cells into her circulating blood for collection. The fifth shot is given right before donating.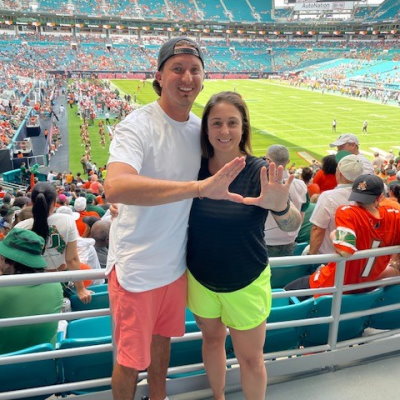 "We decided to do everything we could while we were in Florida," said Alyssa. "We went golfing, and while the temperature was about the same as at home, the humidity was something else! We also went to a Miami Hurricanes football game, a Miami Dolphins football game, and a baseball game as well. My husband is a big football fan so we had a great time."
Alyssa's donation day was a little quieter. After arriving at the collection center and getting set up in her donor suite, she and Clint watched Netflix and chatted, and texted some of their friends.
Fact Check

Donating stem cells or marrow is at no cost to the donor.
Gift of Life arranges travel, accommodations,
transportation, and provides a meal stipend.
"Everyone we talked to said they were so appreciative of my doing this," said Alyssa. "But now that I'm home I just have a feeling of humbleness and gratitude that I could help someone out and hopefully save their life. It really puts your own life in perspective. So many people take life for granted until they're in a situation like this. You can help someone so much with this simple act of kindness – I would do it again in a heartbeat. Be proactive, do the cheek swab because you could save somebody's life. I highly recommend it to anyone who is healthy enough to donate."
Alyssa, 33, is a police officer in Saskatchewan, Canada, and married to Clint. They have one child and are hoping for a second. She received her degree in Social Work from the University of Regina and attended the Saskatchewan Police College. She likes to play hockey and golf, and enjoys spending time with her family.