Sarah was a freshman at Butler University in 2018 when a Gift of Life Campus Ambassador set up a table in her dormitory so students could join the registry.
"Along with a dozen other activities and organizations I joined that day, it was an opportunity that only took a few minutes," said Sarah. "My family also donates blood often, and it sounded a little like that. A few family members have had cancer, so swabbing just seemed like a good idea."
Three years later, Sarah got an email and a text from Gift of Life congratulating her on matching a patient in need, a woman in her early 60s with myelodysplastic disorder, a precursor to leukemia.
"It had been a while since I swabbed and wasn't sure what it meant, and I was finishing up my last semester at college, so it took a few days for me to connect with the donor services coordinator," said Sarah. "When they explained what was going on, I was excited for the opportunity to help someone, and curious about the process. I wasn't sure how the timing would work out, but fortunately I was able to attend graduation before flying out to donate."
---
I feel like I'm a different person after donating. I was able to spend six hours getting stem cells collected, and now I feel like I can genuinely do anything.
---
Sarah's family and friends were excited for her to be able to have this unique and incredible experience, and since she is nervous about anything related to medical procedures, they were proud of her that she decided to proceed.
"I wanted to help someone in need and appreciated the reassurance that my wellbeing as a donor was the important thing for Gift of Life," said Sarah. "I know I made the right choice."
Because she'd had an uncomfortable blood donation in the past, Sarah was a bit nervous about her stem cell collection day, but she decided that helping someone beat blood cancer was more important to her. "They checked my veins twice," she said. "The nurses were certain I would be fine. I was so happy and knew at that moment I could absolutely do the donation."
"My mom Laura came with me as my donation day companion, and we watched a lot of Gilmore Girls during the procedure," said Sarah. "I needed to keep my arms very still, but the collection center staff and nurses at Gift of Life were extremely helpful the entire time."
Back home in Indianapolis, her community was rooting for her.
"My friends are really proud of me," she said. "My parents are prouder that I did this donation than when I graduated college. I think they knew college would not be hard for me, but because blood draws make me nervous, this was the hardest thing I've ever done."
And the benefit of working through her emotions has given Sarah a new perspective.
"I feel like I'm a different person after donating," said Sarah. "I was able to spend six hours getting stem cells collected, and now I feel like I can genuinely do anything. I'm using my newfound confidence to apply to graduate school and plan some big backpacking trips. I've also learned to be grateful for my body because it can not only do things for me, it can also do things for other people. I'm putting a lot more time into taking care of it so I can do more things like this for people in the future."
Sarah thought constantly about her recipient during her donation and hoped they will be able to meet in the future.
"I kept in mind that I was doing this for someone, and their family and friends," said Sarah. "As much as my recipient gained 'the gift of life', I gained a lot of respect for myself and appreciate my life so much more. We helped each other, and I would love an opportunity to thank her."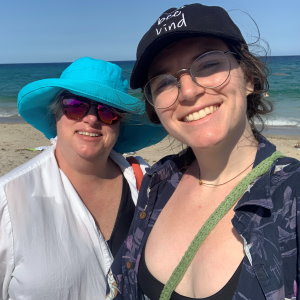 Sarah, 23, is a resident of Indianapolis, Ind., and recently graduated from Belmont University in Nashville, Tenn., with a degree in Environmental Science. She also attended Butler University. She is currently applying to graduate schools. She is learning to crochet and play the guitar, enjoys being outdoors walking or hiking, and is looking forward to some long backpacking trips. She says she would not have been able to donate without the support of her boyfriend David and her cat Bongo.