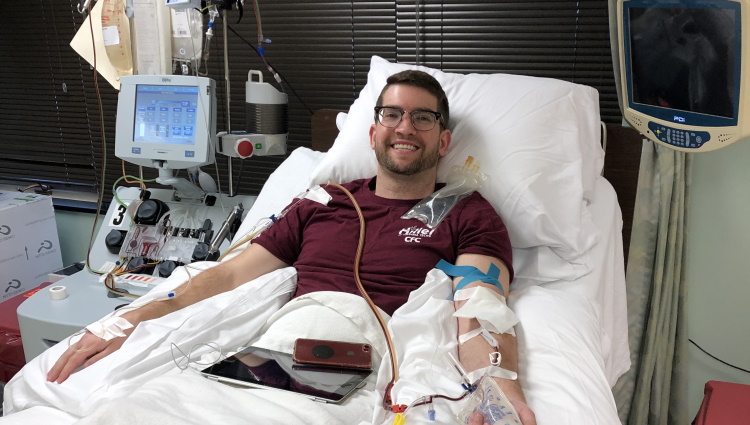 Stem cell donor saves life of leukemia patient and sets example for college students he mentors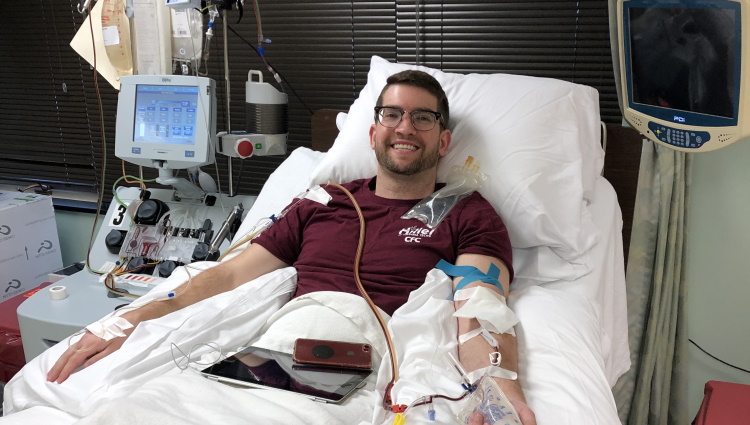 Grant's work often brought him into contact with Gift of Life Marrow Registry for nearly a decade, but it wasn't until 2015 when he was able to complete a swab kit and join. As a highly involved undergraduate at James Madison University, to the years working for Alpha Epsilon Pi (AEPi) Fraternity, to his role today with a chapter of Hillel, Grant was on the move so often he missed out on many swab drives.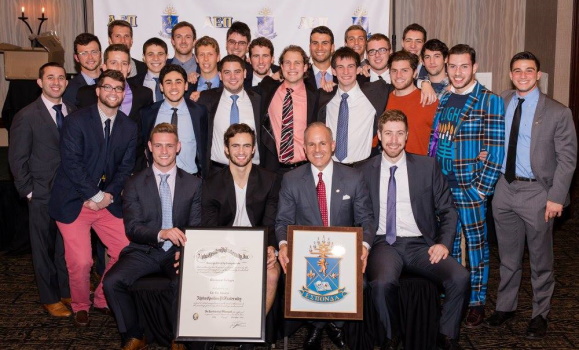 Grant at left, in pink slacks, at the chartering ceremony of the new AEPi chapter where he swabbed.
"In March 2015, I was helping set up a new AEPi chapter, and was there with both future fraternity members and the campus Hillel director at a drive," said Grant. "I thought, 'This is my chance, I might as well swab.' One of my fond memories of my time working with AEPi headquarters is of the two occasions when Gift of Life came to the international convention and introduced a transplant recipient to their donor. I saw the impact being a donor could have right before my eyes."
Due to his involvement with student organizations where so many volunteer donors come from, Grant has seen many others go through the process of donating, but knowing that the odds of matching someone are low, he did not really expect to have the opportunity. That changed in February 2020.
"I now work at Hillel and was in the office when I got the call, and in one of those crazy coincidences, I was talking about Gift of Life when my phone rang," said Grant. "I was talking to our student leaders about holding a swab drive. I realized that being a match and donating was a great opportunity to model the way for my students. A lot of them swab either through Hillel or AEPi or while on Birthright Israel tours, so that motivated me."
Grant was surprised that his recipient is a man also in his early 30s, battling to survive Acute Myelogenous Leukemia.
"I am literally helping someone who is like me," he said. "I told my family I was going to donate stem cells and my mom cried on the phone. This was early in the pandemic and they were in another state, but I had my girlfriend and my dog with me for support."
Because of the pandemic, Grant donated close to where he lives in Virginia. He made a short video of his experience, showing the empty streets and closed shops as he was traveling to the collection center
"I had to drive there twice, once for the medical exam and the second time to donate," said Grant. "Because of the pandemic I didn't actually get to meet any Gift of Life staff in person, but they were here for me during the entire process. They even found a dog-friendly hotel. With the pandemic we had so many questions and being able to bring the dog with us meant not having to place responsibility for her with someone else. Everyone in the hotel knew her name; I'm not sure they knew our names, but they all knew our dog!"
During collection, Grant watched shows on Netflix and chatted with the AANOVA staff, who gave him a box of Girl Scout cookies when their delivery arrived.
"My brother asked why he didn't also get called, since we have the same blood," said Grant. "It was interesting to learn that even though my brother and I are so closely related, we could have different matching factors which is why it's so difficult for people to find donors, even within their own family." In fact, only 25 percent of patients find a donor within their family, and most must rely on the registry to locate a matching donor.
There's still more to Grant's story. Several months after donating, he was exposed to the coronavirus and contracted COVID-19 (unrelated to his donation) and had all the typical symptoms – lost his senses of taste and smell and had a high fever.
"Because of my experience donating stem cells, when I read about giving convalescent plasma to COVID patients, I signed up to donate that, too," said Grant. "I've still never donated regular blood, but I'm getting there – doing it backwards I guess, stem cells first, then plasma, then blood!"
With the academic year going on, although socially distanced and in part online, Grant's team at Hillel is working hard to make sure students feel comfortable on campus.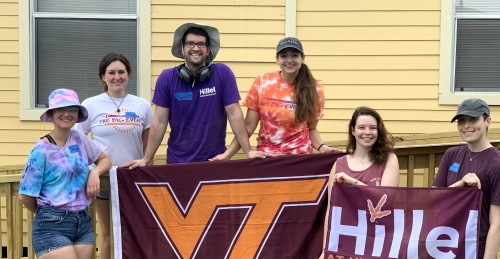 Grant and the Hillel team before the pandemic.
He is also setting up that swab drive he was talking to his students about on the day he learned he was a match.
"I want to continue this connection to Gift of Life and do what I can to help those battling cancer," he said. "It's been a cool adventure to be so close to this organization for ten years and see it through so many lenses, and then get to donate and help someone."
Grant is wishing his recipient the best and hoping for his recovery. His hobbies include spending time in the mountains, hiking, and traveling. His work has taken him to more than 150 college campuses in six countries, and he says, "I can talk to anyone from any major city and say, 'I've been there and I've had your food.'"