At the end of his stem cell collection, Gift of Life's nurses let Jon hold the bag of cells he had just spent several hours donating at the Adelson Collection Center in Boca Raton, Fla.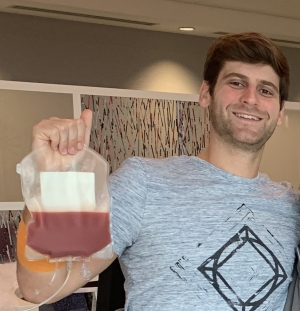 "I felt an overwhelming sense of relief, gratitude and hope that the patient would receive them well and the cells would do the job," Jon said. That patient is a teenager battling an acute form of leukemia who shares a special trait with Jon: their immune systems are so closely matched that this stem cell transplant has a strong chance of curing the blood cancer.
Jon joined Gift of Life as a volunteer donor in 2013, while a student at the University of Miami. A brother of Zeta Beta Tau (ZBT) fraternity, he swabbed at a recruitment drive sponsored by Hillel.
"Swabbing was easy and the opportunity to save a life down the road, if needed, is something we should all step up to support," said Jon. "My mother is a two-time breast cancer survivor, and seeing her battle through chemotherapy twice showed me how awful cancer is. She's a fighter, and if I can play any part in making someone's battle a bit easier, I feel a responsibility to do so."
Jon was working at home on lockdown due to the pandemic when he got the call from Gift of Life. He knew the chance of being someone's match were slim, so he could hardly believe that five years after joining the registry he would be able to donate.
"Although I hate needles, the thought that kept running through my head was, 'If I was on the other side, I sure hope someone would step up to help.' I felt a huge responsibility," he said. "I shared the news with my girlfriend Priscila, my parents and brother – they were all proud and excited and very supportive."
---
If I can play any part in making someone's battle [against cancer] a bit easier, I feel a responsibility to do so.
---
"The staff did an incredible job of making sure I was comfortable while donating," said Jon. "I was watching Netflix and joking with the nurses, and Priscila was right there supporting me every step of the way in between her virtual law school classes."
While Jon was donating, Priscila asked for a swab kit and joined Gift of Life on the spot. She also had a family member who fought cancer – a cousin diagnosed with leukemia had received a transplant after a two-year search.
"I'm very proud to have had the opportunity to donate and I want to let people know it's worth the experience of knowing someone has a second chance at life," said Jon. "There are few feelings like that of saving a life."
Jon is a resident of Miami, Fla. and works at a philanthropic organization supporting startups and entrepreneurship. In his free time, he loves exploring the outdoors through biking, snowboarding, hiking, and going to the beach. He's also a hobbyist glassblower who, along with his brother, created DrinkingVessels, a glass blowing studio and gallery near Vail, Co.