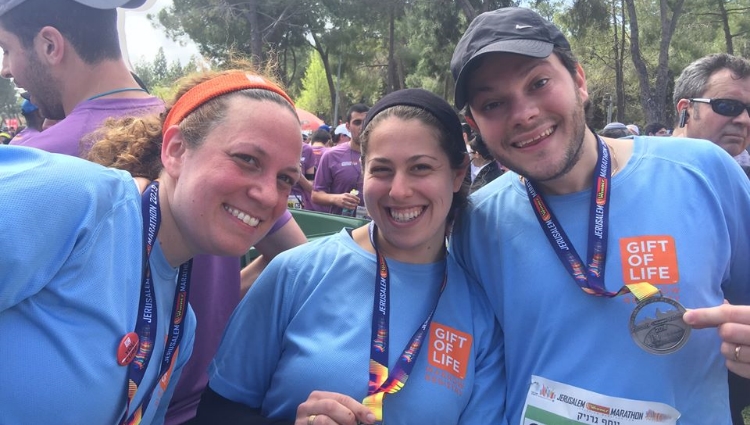 Team Gift of Life raises $30,000 at Jerusalem Marathon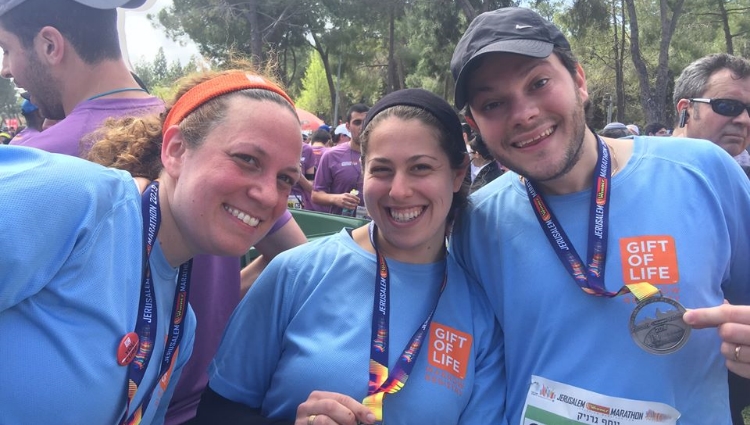 On Friday March 9, 2018 Team Gift of Life ran the Jerusalem Marathon for the fifth year in a row. Gift of Life Israel Recruitment Coordinators Molly Livingstone and Halana Rosenfeld were extremely successful in building a team of more than 70 runners who raised over $30,000.
Molly and her husband David pushed their baby daughter Tzufi the entire route in her stroller. Aaron Kornbluth, a Gift of Life Drive Coordinator, also ran the full marathon. Former Gift of Life George Washington University Campus Ambassador and now Israel Coordinator Izzy Sakhaie ran the 10k race and raised an incredible $8,000.
With over 35,000 people participating this year, the marathon is one of the 50 largest in the world, and includes a half-marathon, 10K, 5K and other events. The highlight is reaching the Old City, entering through the Jaffa Gate and leaving via the Zion Gate.
In the days preceding the race, there is an Expo where runners come for packet pickup. Gift of Life had a booth at the Expo and swabbed new donors.
On Thursday night before the race, Gift of Life held a pasta party, where Rivka Zablocki spoke about her grandson Idan, who received a bone marrow transplant from a Gift of Life donor – whom he and his family hope to meet soon at an upcoming event. Stay tuned!
Ayala Hartman, who stopped by Gift of Life's table at the Expo, was invited to attend the party and speak about receiving her marrow transplant from her brother. Also at the party, a video of Gift of Life Founder and CEO Jay Feinberg and Director of Community Engagement Marti Freund sending their encouragement and well wishes was shown, with Jay promising to come to Jerusalem for next year's marathon.
It was an incredible week, and we are looking forward to next year's race!
---
Thanks go out to our sponsor Holy Bagel, who made a generous donation.