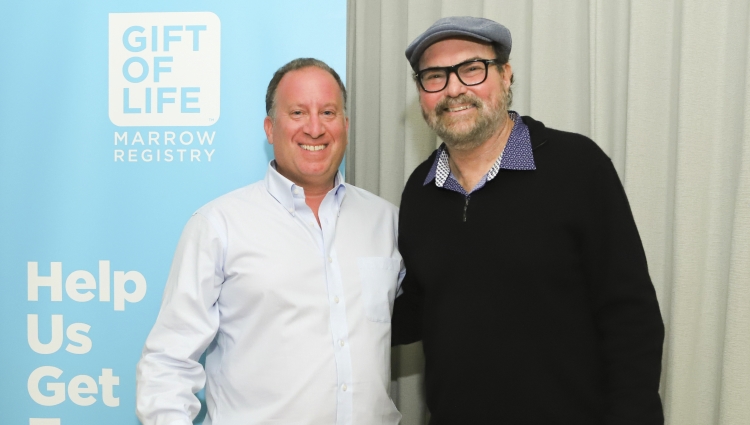 Two men from opposite sides of U.S. now connected by lifesaving stem cell transplant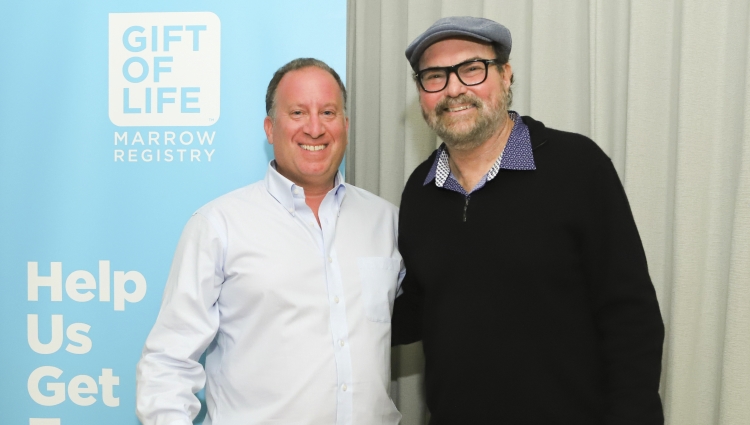 Stem cell donor Jay Matthew (l) was excited to meet the Oregon man whose life he saved, Richard Pepper.
Although transplant recipient and leukemia survivor Richard Pepper is still recovering, he shared his enthusiasm for life and a great sense of humor as he thanked his stem cell donor, Jay Matthew when they met for the first time last month. Gift of Life Board Member Sam Rosen introduced the pair at a private event in Los Angeles on August 15.
Richard, 66, a resident of Ashland, Ore., was thrilled that Jay, 53, could travel all the way from Livingston, N.J., for the party. As the moment of the meeting drew closer, Sam shared Richard's story with those attending the event.
In January 2017, Richard visited his doctor for dizziness and difficulty breathing, along with joint and bone pain. He was diagnosed with myelodysplastic syndrome, but within months this bone marrow disease progressed to become acute leukemia. He was given six to eight weeks to live if he didn't receive treatment.
Richard's doctor retired soon afterward, and his new doctor told him that acute leukemia does have a cure: a stem cell transplant has the potential to create a new, healthy bone marrow system free of disease. "I looked at it from both sides," said Richard. "Six weeks to live and a painful death, or the possible chance of survival – I chose survival."
Although he did not have a match within his family, Richard's donor was quickly found in Gift of Life's registry, and he received a stem cell transplant in October, 2017, and began his recovery.
That donor was Jay, who had joined the registry in 2011 during a function at his children's school, Joseph Kusher Academy in Livingston. When he received the call that he was a match six years later, he was surprised, but said "I never hesitated once the process was explained to me – the Gift of Life people are so nice and make it so easy that it's ridiculous."
Jay even agreed to schedule the stem cell collection during the Jewish High Holidays when he learned that his recipient needed help immediately. "My friends and family think I'm a rock star, but for me, the important thing was when I found out someone lived because of my efforts; that's very, very rewarding."
When they were introduced, the two men shared an emotional embrace and Richard thanked Jay, saying, "This is incredible, to meet somebody who would donate and literally raise me up from the dead."
Richard is retired and enjoys playing the piano, golfing, and RV-ing with his wife, Sarah. He has two children and four stepchildren.
Jay owns an indoor amusement center and he and his wife Liat have four children.