Gift of Life's annual One Huge Night Gala in New York City on June 8, 2022 was an emotional evening and a happy in-person reunion with our many supporters. Gala attendees shared the heartwarming experience of witnessing two bone marrow donors meeting the children whose lives they saved, as well as recognizing Gift of Life's Partners for Life honorees, Board of Directors member Mindy Schneider, and her husband Dr. Michael Lesser. Chairman Emeritus and Co-President William A. Begal was presented with the Lifetime Achievement Award.
Young boy meets the man who donated twice to save his life
Four-year-old Levi Sanders may have found the gala excitement a bit overwhelming, but he was thrilled to accept a giant, stuffed dinosaur from the Gift of Life donor who saved him, Zohar Swaine, a 49-year-old financial services executive from Teaneck, N.J. The two were introduced by Elizabeth Murray, representing the Samuel Freeman Charitable Trust, supporters of Gift of Life for the past eight years.
Levi and his parents, Ashley and Dwight, who recently relocated the family to Tennessee, were emotional and grateful to be welcomed to the stage, having waited two years to meet Zohar. They were originally scheduled to be introduced at our 2020 gala that was canceled due to the pandemic.
Everyone in the room was moved by the story of the little boy who has been ill his entire life, fighting a rare genetic mutation that damaged his ability to produce blood platelets, and who is now recovering thanks to two transplants from his donor.
Zohar, who joined the registry at our Steps for Life 5k in New Jersey in 2016, donated twice to help Levi, first a bone marrow transplant in August 2018, and to aid in the boy's recovery, a blood stem cell donation seven months later.
"The only life Levi knew before the transplants was needle pokes, transfusions, and long days at the hospital," said Ashley. "Zohar, you gave our son and our whole family a second chance at life. We will forever be grateful for your selfless decision."
"I know that blood cancer is devastating to families because my own niece had leukemia, and when she was finally cleared, our family rejoiced," said Zohar. "Seeing this beautiful, healthy boy filled with life and a bright future – who I will forever be connected to – brings joy to my heart."
Mom donates bone marrow to save a stranger's child
Gift of Life board member, supporter and transplant survivor Wendy Siegel had the honor of introducing our second donor and recipient for the evening, and began by inviting 12-year-old bone marrow recipient Brianna Ain and her parents Evelyn and Gary to the stage.
Brianna was first diagnosed with leukemia in 2017, after being extremely ill for the previous eight months. After relapsing twice during treatment, her last option was a bone marrow transplant. With no-one in the family a close enough match to donate to her, the medical team searched the registry to find her a donor.
A few weeks later, Evelyn got an incredible phone call that a perfect matching donor had been found for Brianna.

That Halloween night in 2019, a Gift of Life registry member named Marina Paine, a mother of three who had swabbed her cheek at a business conference 10 years before, also received an exciting phone call: she was a match for a young girl – and her bone marrow could possibly save her life.

"When I learned that my recipient was a child, the blood drained from my head," said Marina. "I am a mother of two little boys and this was not something I could turn down."

Marina donated bone marrow in February 2020, and Brianna received her lifesaving transplant and began her recovery.
"We were so excited the day of the transplant," said Evelyn. "From the very beginning we wanted to know who the donor was. She's Brianna's angel." Brianna's father was also at the gala to meet Marina.

Brianna faced some health challenges during her recovery, but she was excited and happy to meet Marina, giving her a heartfelt hug as the two met on stage.

"Having gone through the experience, donating bone marrow is such an incredible opportunity – a blessing," said Marina.

Brianna also had some words to share.

"Because of my donor, I no longer have leukemia," she said. "The best doctors in the world couldn't fix me, but you fixed me. Thank you, you are my hero."
Partners for Life: Recognizing Mindy Schneider and Dr. Michael Lesser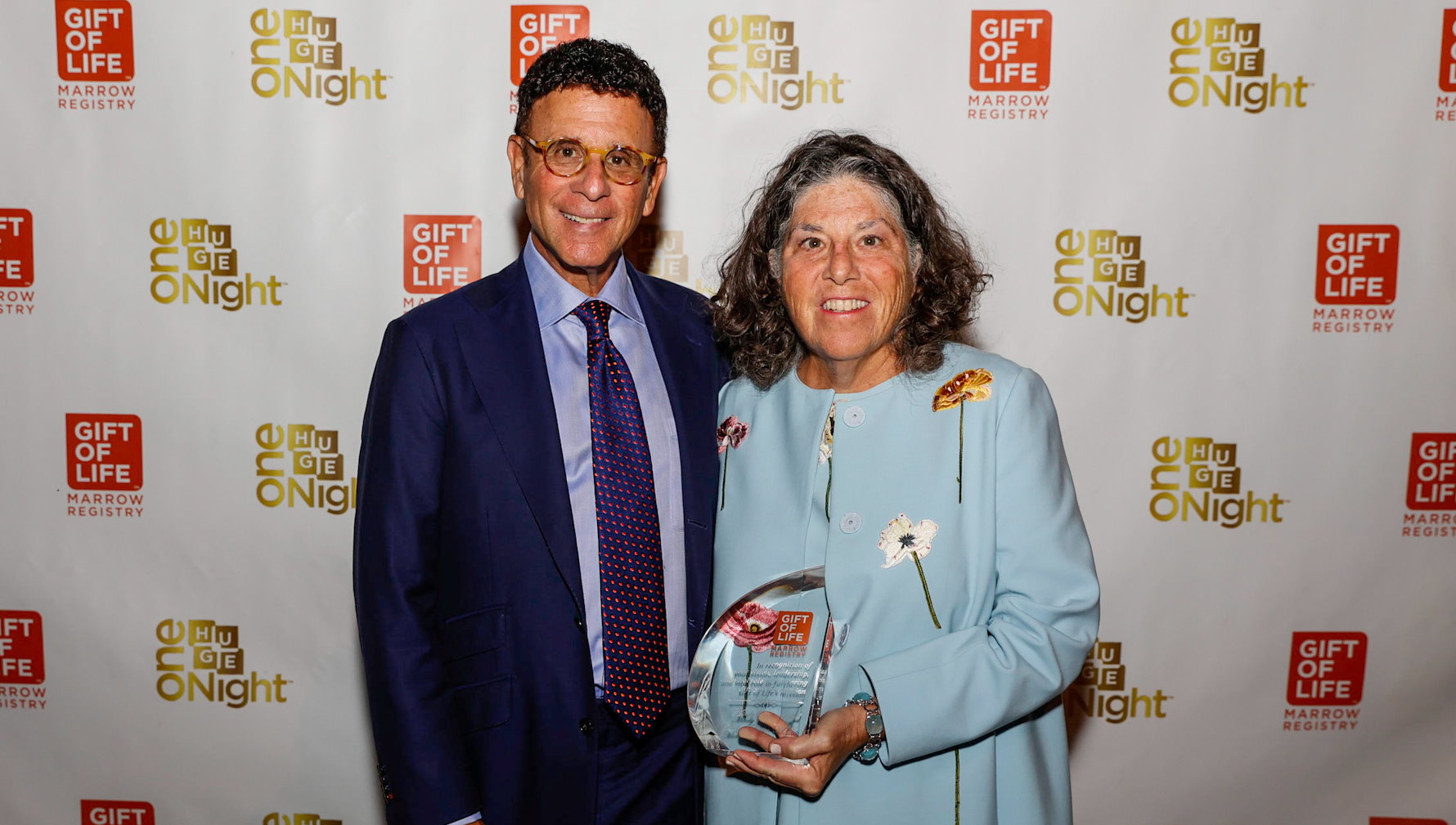 Gift of Life Chairman of the Board Stephen B. Siegel presented the Partners for Life Award to board member Mindy Schneider and her husband Dr. Michael Lesser.

Mindy and Michael began their involvement with Gift of Life a decade ago by running donor recruitment drives when their friend, Wendy Siegel, was diagnosed with leukemia.

"When Wendy was looking for a donor, we got out the troops in every way we could," said Mindy. Their daughter, who was in college at the time, also ran drives on campus, and their son has become involved as part of the family's endeavors supporting nonprofits.

"I'd never heard of Gift of Life before Wendy was diagnosed, but over time we've become more and more involved," said Michael.

As their support for Gift of Life grew over the years, Mindy was invited by Steve Siegel to join the board of directors, where she plays an active role, including involvement in the Gift of Life Celebrity Golf Tournament each year.

"Michael and I are humbled to receive the Partners for Life Award," said Mindy. "When we were introduced to Gift of Life 10 years ago, it was love at first sight."
Lifetime Achievement Award: Honoring William A. Begal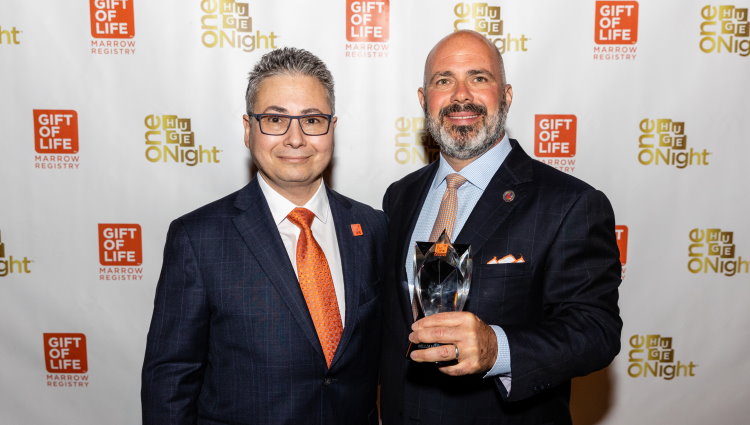 Jay Feinberg (above, left) presented the Lifetime Achievement Award to William A. Begal, Chairman Emeritus and Co-President of Gift of Life's Board of Directors. The award is given to those who have made a significant impact on Gift of Life for many years.
Bill's involvement began almost 30 years ago, in the early 1990s, when he was tested for and participated in searches for a matching donor for his friend, Allison Atlas.
On learning of Jay's need for a donor, in late 1994 Bill and his uncle boarded a jet to Minsk, Belarus to visit the ancestral home of Jay's family. They searched the region for a "genetic needle in a haystack," as Bill says, and tested hundreds of people as potential matches.
Bill continued his involvement with Gift of Life, advocating for its lifesaving mission around the world, serving as a courier delivering stem cells and marrow to transplant centers in a dozen countries, and after joining the board of directors, he served as chairman for ten years. He has helped grow many of Gift of Life's partnerships with other organizations, visited numerous donors on their donation day, held drives all over the United States, and when he married Kira, their wedding registry was a bone marrow registry, dedicated to growing Gift of Life.
"If you will it, it is no dream; and if you do nothing about it, a dream it will remain," said Bill, quoting Israel's founding father, Theodore Herzel. "With the efforts your parents, Arlene and Jack Feinberg, took to find your match, it certainly did not remain a dream."
"I have been involved with Gift of Life for 28 years, just over half of my life," said Bill. "I wrote a note to Jay after returning from Belarus, saying that I did all I could to test as many people as possible and make my mission successful, and that the skills I learned on that trip would help me throughout my life. Little did I know I would still be advocating three decades later. I am fortunate to have found such a worthwhile cause."
"Gift of Life's Got Talent" winner performs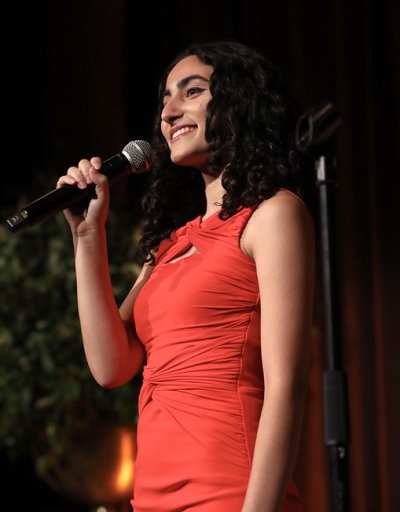 To close out the evening we presented a special musical performance by 19-year-old Emily Rubinstein. She was the Season One winner of "Gift of Life's Got Talent," our virtual talent show now in its third season. Emily sang the Miley Cyrus hit, "The Climb."
"Gift of Life's Got Talent" is a fun, donate-to-vote contest that highlighted the varied talents of Gift of Life donors, recipients, and supporters as they joined with us to celebrate our mission and raise much-needed funds. In Season One, Emily highlighted her talents as a singer and figure skater during her performance, which launched her to the top of the standings.
Emily is a student at Cornell University where she is studying biology. She hopes to become a doctor in the future. Her family became involved with Gift of Life in the early 1990s during the search for a match for Founder and CEO, Jay Feinberg. Her grandparents, who lived near Jay in New Jersey, were tested as matches for him and joined the registry. Years later, when Emily's grandfather needed a transplant, the family was relieved to find his donor in Gift of Life's registry.

Actress Jackie Burns served as emcee
Famed for her role as Elphaba in the musical "Wicked", bi-coastal actress Jackie Burns served as our master of ceremonies for One Huge Night.
She has been in numerous Broadway and traveling productions, including "If/Then", "Hair", "Rock of Ages", and many others.
Jackie previously served as Gift of Life's emcee for both the opening and closing ceremonies of our Virtual Steps for Life 5k Run and Walk in 2021.
Her involvement began when a close friend was diagnosed with leukemia and needed a match.
Thank you, Jackie, for your ongoing support.
Lighting New York in Gift of Life's honor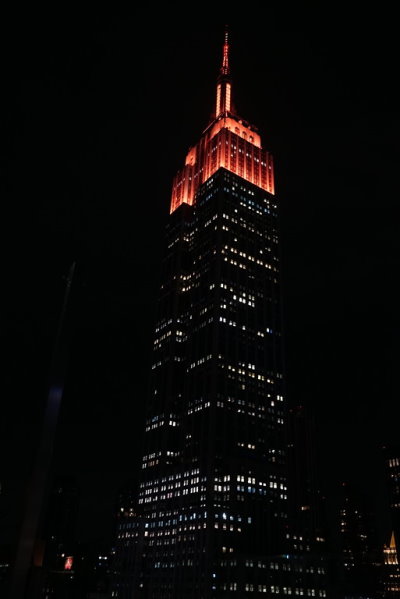 In honor of One Huge Night, the Empire State Building was lit orange, along with the East River Plaza, 425 Park Avenue, and the Helmsley Building at 230 Park Avenue.
Photo Gallery
To view and download photos in the gallery,
click here
.