Just days before the pandemic lockdown began in 2020, Aaron saw an interesting video during his lunch hour that prompted him to act. It was about saving a life through Gift of Life Marrow Registry.
"I think I was watching a video on YouTube and up came some information about Gift of Life," said Aaron. "I went online and read about the organization, told my wife and she said, 'Go ahead if you want to do this.' So, I ordered a swab kit."
Aaron not only works as an HVAC technician, but he is also a volunteer fireman in his hometown in Iowa and is always looking for ways to help others.
"I donate blood when I can, and like to be part of the solution," he said. "I wanted to do my part."
He did not have long to wait. Less than a year after swabbing, Aaron got a phone call from Gift of Life – he was a match for a woman in her 60s who was diagnosed with Myelodysplastic Disorder, a type of blood disease that can lead to leukemia.
"I was surprised, I didn't think I'd hear back for a while," said Aaron. "The first person I told was my wife and she was shocked it was so soon. I also encouraged some friends to join the registry and they were surprised at the opportunity."
When it came time to donate, Aaron and his wife Jessica flew from Iowa to South Florida, where they enjoyed a "donation vacation". For several days Aaron and Jessica enjoyed the hotel, went to the beach, and even rented a tandem bike and rode around the area.
"I didn't have any side effects from donating," said Aaron. "The day was great, everyone was very accommodating and nice, it was all a pleasant experience."
After returning home his family and friends were all excited and wanted to know more about what it was like.
"Don't be afraid of donating stem cells," Aaron told them. "It's a very simple and straightforward process."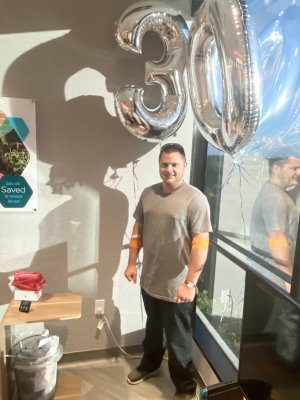 But the story wasn't over. Several months later, Aaron's recipient needed an infusion of antibodies to boost her recovery, and as her matching donor, he was asked if he would help her a second time by giving what is called a "donor leukocyte infusion", a mix of white blood cells and related immune system components from the blood. Of course, he said "Yes" and once again he and Jessica flew to Florida. This trip coincided with Aaron's 30th birthday, an occasion that Gift of Life's collection center staff helped to celebrate.
"I'm glad I was able to do my part and help a complete stranger," he said. "She needed help to be cured from a disease and to better her life. I hope it gave her peace of mind to know that someone out here cares enough to help her. I most definitely would like to meet her someday."
A resident of Iowa Falls, Iowa, Aaron is an HVAC technician and serves his community as a volunteer fireman. In his free time, he enjoys camping and hiking with his wife and two daughters.