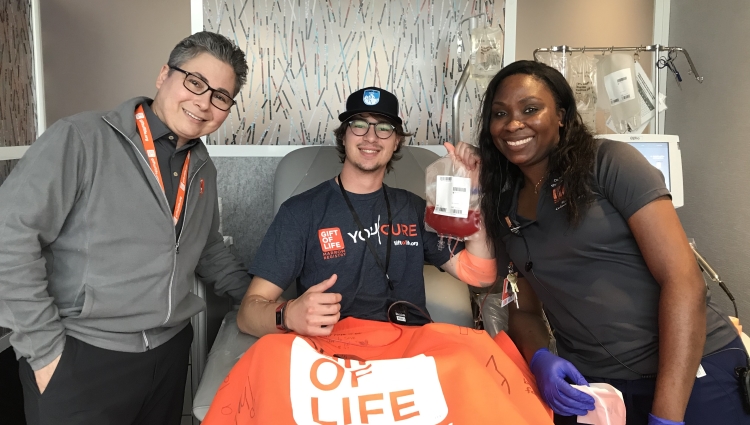 The world's first registry-integrated stem cell collection center has opened at Gift of Life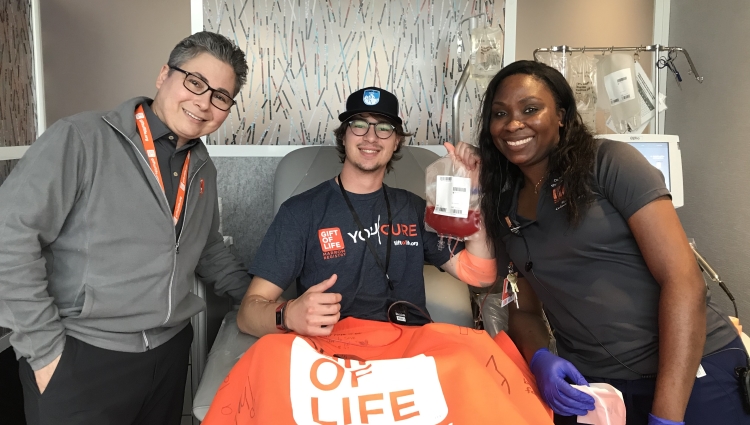 (l-r) Gift of Life Marrow Registry Founder and CEO Jay Feinberg, stem cell donor André, and Collection Center Director, Omardeen Woodley, BSN, RN.
Gift of Life Marrow Registry has begun stem cell collection procedures at the newly opened Dr. Miriam and Sheldon G. Adelson Gift of Life–Be The Match Stem Cell Collection Center at Gift of Life's headquarters in Boca Raton, Fla.
Not only is this collection center the first to be integrated within a registry, it features a beautiful spa-like environment and premium concierge services to create an incredible donation experience. The facility is the result of a long-held dream of CEO and founder Jay Feinberg. When the opportunity came to relocate Gift of Life's headquarters to a larger facility, that dream took shape.
"One of our primary goals is to bring stem cell donors to collection faster once the match is found so that patients have a better chance of recovery" said Jay. "Most patients have a limited window of time when a transplant has the potential to cure them, and the sooner that happens, the better."
A peripheral blood stem cell transplant has the potential to cure nearly 100 diseases, including blood cancer, sickle cell disease and inherited immune disorders. Once the stem cells are collected, couriers deliver them to transplant centers across the United States and around the world.
The stem cell donation process (apheresis) takes from four to six hours and is similar to donating blood platelets. Donors spend the time in reclined chairs designed to be comfortable for this length of time. Blood is drawn from one arm, passes through the apheresis machine which collects the needed amount of stem cells, then the remaining blood is returned to the other arm. During the procedure donors may watch movies, read, visit with a companion, or take a nap. Gift of Life even provides the option of playing computer games using a Nintendo Switch™.
"We are proud to offer a donation experience like no other," said Jay. "Our center is warm and inviting, with a spa-like feel. Our highest priorities are the safety and wellbeing of our donors, along with a best-in-class personalized experience in a beautiful setting with outstanding service."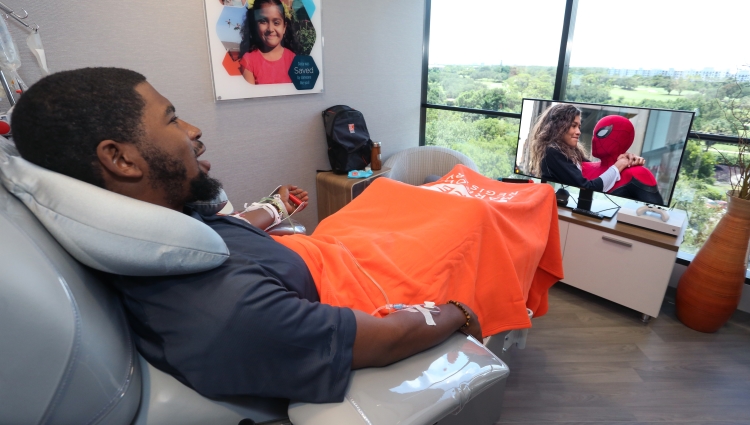 Donors come from both Gift of Life's registry and the National Marrow Donor Program, Be The Match. Transplant physicians find donors through an international database system comprising volunteers from more than 75 countries. When a patient needs a lifesaving transplant, the doctor enters their Human Leukocyte Antigen (HLA) profile into the database. A transplant can only be successful when the HLA are closely matched between the patient and donor. If the patient has an HLA matched donor in the registry, that donor's code number appears in the results, and a blood test is scheduled to confirm the accuracy of the match.
With its own collection center, Gift of Life will also be able to participate in medical research projects, and is currently planning a BioBank of off-the-shelf stem cells so that some patients will be able to receive transplants almost immediately.
Equipment for the collection center has been donated or sponsored by many individuals and organizations, including Dr. Miriam and Sheldon G. Adelson for whom the facility is named, FloridaBlue, the Saul and Theresa Esman Foundation, PSI-CRO, HJ Sims, the Hoffman family, and Ken and Gail Oliver.
To learn more about the Adelson Gift of Life—Be The Match Collection Center, please visit the center's website.
---
Donating stem cells is the best chance most of us will have to save someone's life. If you are between 18 and 35 years old and in good health, you too can join the registry, just click here to order your free cheek swab kit.