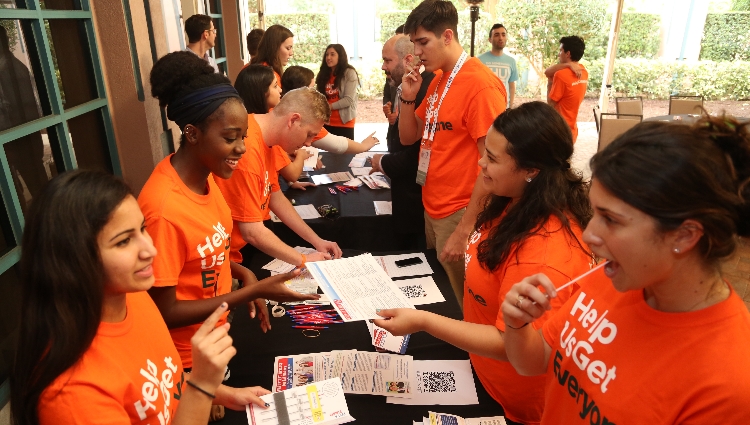 Joining the Registry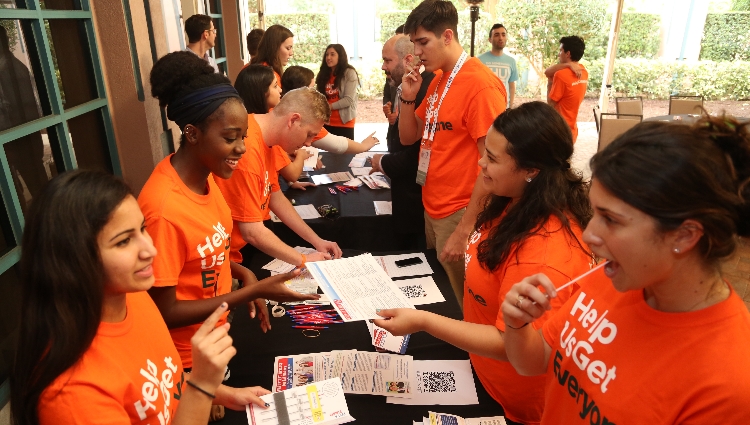 You have the power to save someone's life, but you don't need to leap into an icy river or a burning building to do it. All you need is the compassion, kindness and dedication to become someone's hero on the day you get the call that you are the perfect lifesaving match!
Joining is as simple as spending five minutes to complete a cheek swabbing kit, and returning it in a prepaid envelope. The cheek swabs will go to a laboratory for tissue typing, and that information will be entered in the international registry. Transplant centers can search the registry to find matching donors for their patients. This process, from why donors are needed to cheek swabbing to transplantation is explained within this section of our website, and we always welcome your questions.
---
Confidentiality: Gift of Life uses robust electronic security measures to safeguard the registry's database. Facilities are secured using limited locked access for authorized personnel only. You have a right to your medical information and we are happy to send it to you or your designee with a signed medical release form. Just as your identity is kept strictly confidential, so is that of your recipient; we only know your recipient's age, sex and diagnosis. Testing of swabs is for Human Leukocyte Antigens (HLA).
---
Why are donors needed?
For many blood cancers, immune system disorders and some inherited conditions, chemotherapy and radiation therapy are not enough to bring about a cure. When no other treatment works, a physician may recommend a bone marrow or peripheral blood stem cell (PBSC) transplant to save a patient's life. Transplants are the only cure for some diseases.
For the transplant to work, the donor and the patient need to have matching immune system factors, called Human Leukocyte Antigens (HLA). The process of identifying these factors is called tissue typing. With thousands of possible HLA combinations, finding a perfect match can be difficult and some people never find a match. The more people who join the registry, the more people who will find matches and be saved. To learn more about tissue typing and HLA, click here.
Even though HLA are inherited, only 30 percent of patients have a matching sibling, therefore 70 percent of patients must search the public worldwide registry for a volunteer donor who is a match. This registry contains HLA data for nearly 31 million people, but they are only a tiny fraction of the world's 7 billion people. Some patients find multiple matches, but some patients do not find any match. This does not mean that a match doesn't exist, but that a potential match is with someone who has yet to join the registry.
Age matters
When it comes to bone marrow and PBSC donations, transplant centers and physicians tend to prefer donors 18 to 35 years old because success rates are higher than for other demographics. Gender can also matter, with more men called upon to donate than women due to their generally larger physical size and bigger bone structure, which means they generate more marrow and stem cells.
Ethnicity matters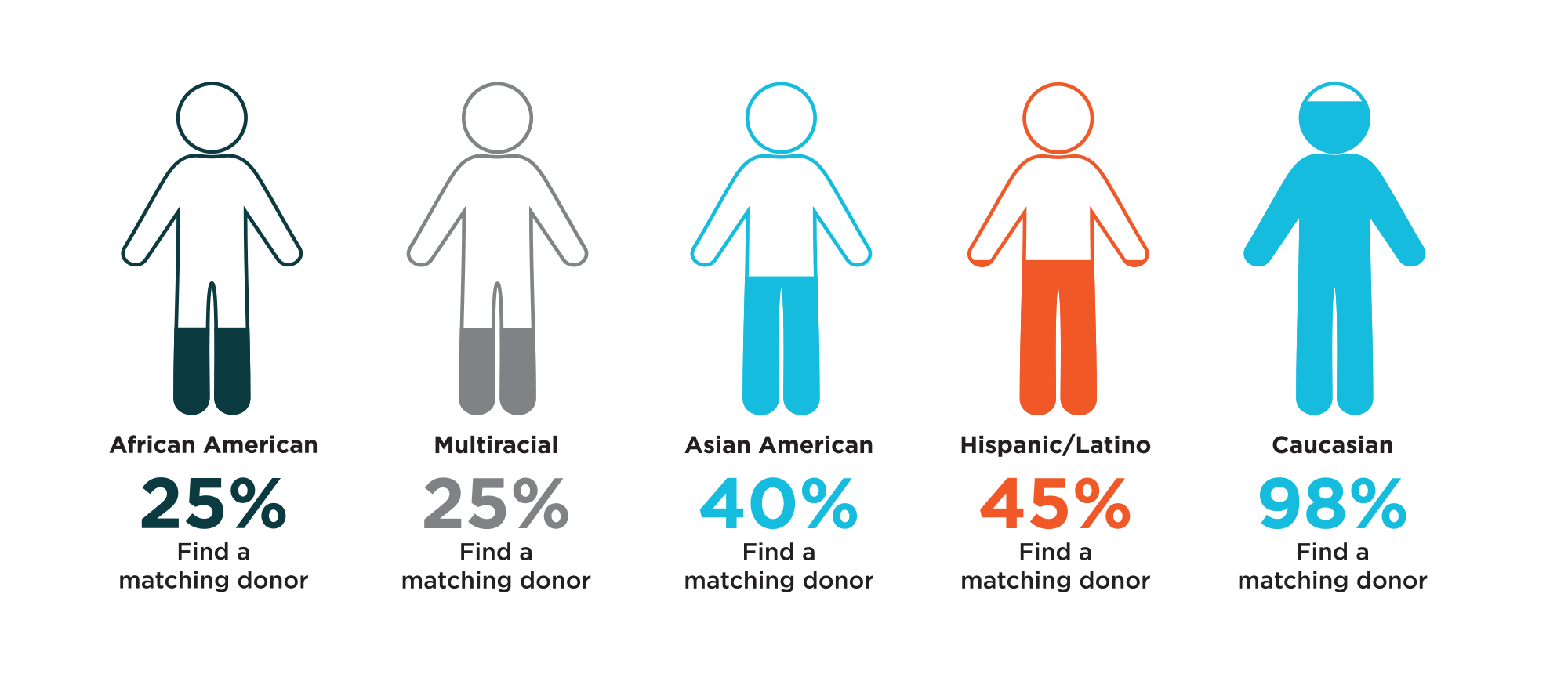 The factors used to match donors with recipients are inherited, like hair and eye color. This means that the best chance of finding a match is between two people with a shared ethnicity. There is an urgent need to diversify the registry, so that all patients can find a donor when one is needed. Currently, many ethnic groups are underrepresented, making it difficult to find matches. For multiracial individuals, this is a particularly difficult challenge. No matter your ethnic background, we encourage you to join the registry, as you could have the amazing opportunity to save someone's life.
Increasing marrow donor representation in the Jewish Community
Even though the underrepresentation of some ethnicities makes it difficult for many to find a donor, changing the odds of finding a donor from nearly zero to a high probability can be done.
In the early 1990s, Gift of Life's founder Jay Feinberg was seeking a donor, but doctors told him to make his bucket list and do what he could while he had time left. As an Ashkenazi Jew, there were so few donors of Jewish ancestry in the registry they believed no donor would ever be found for him. The chance of his finding a donor was nearly non-existent.
Jay's family would not take no for an answer, and neither would the family of Allison Atlas. Jay's family alone registered tens of thousands of Ashkenazi Jews, and between their efforts, the family of Allison Atlas, and many others who took up the cause, the odds were changed dramatically. Today, the chance of finding a matching Jewish donor for a patient is more than 75 percent. To learn more, please visit Gift of Life's Matnas Chaim initiative.
Today, Gift of Life is actively working to replicate its successful model of community outreach to help make a definitive positive impact for other underrepresented populations. In 2017, Gift of Life launched a national program to recruit new donors in the Hispanic and Latino community. Currently the odds of a Hispanic/Latino patient finding a donor are only 45 percent. To learn more about this outreach, please contact Gift of Life, and for Spanish-language information, visit Regalo de Vida.
Gift of Life is deeply committed to changing the odds for every underrepresented population. No patient should have to search for years to find a matching donor, or pass away because one cannot be found. Please contact us to become a part of these initiatives.
Who can join the registry?
Any citizen of the United States between 18 and 60 years of age may join the Gift of Life registry. Those between 18 and 35 may register at no cost. Because transplant centers are much less likely to request older donors, we ask those 36 and older to donate the laboratory processing fee for their swabbing kit. Currently that cost is $60 per kit.
All volunteer donors can remain in the registry until their 61st birthday. Learn more.
If you are a citizen of another country, you must register with the marrow registry in that country, as transplants are regulated by international laws and agreements. To look for a registry in your country, click here.
What conditions prevent donation?
During the registration process, a prospective donor is asked many questions about medical history and physical conditions. Some conditions or diseases can disqualify a person from donating, either temporarily or permanently. A preliminary guideline to conditions that may prevent volunteers from joining the registry can be reviewed on the Conditions Search page, click here.
Temporary conditions and pregnancy
Some temporary conditions may prevent a volunteer from donating at a particular time, but they may donate at another time. For example, a pregnant woman may not donate during her pregnancy because changes in the immune system during pregnancy can cause complications for transplant recipients. A female donor is considered temporarily unavailable if called as a match, though she will remain in the registry. Once the child is born she can return to available status.
What are the chances of being someone's match?
Considering all the donors in the registry, about 1 in every 250 donors is called as a match during any given year. Being called as a match means you are a close HLA match for a patient, but this does not always result in a transplant. First it must be determined exactly how closely aligned your HLA are with the patient's.
If you are requested by the transplant center for the next step, Confirmatory Typing, there is a 20 percent chance of going forward to Work Up, which is the preparatory process for actual donation.
If there is more than one match for a patient, which happens in some cases, the transplant center and physician evaluate the matches based on what they feel will work best for that particular patient. Gift of Life does not control which donor is selected.
How do I join the registry?
There are two primary ways to join the registry: order a cheek swabbing kit or visit a donor recruitment drive in your area.
Am I already in the registry?
If you are already registered, there is no need to register again. If you are unsure if you have previously joined, you can search the registry and find out. Click here to search.
Order a swab kit
You can easily order a swab kit by clicking here and following the instructions. You will receive your kit in the mail. It only takes about a few minutes to complete your kit.
How to use your swab kit
Your kit will arrive in the mail within five business days. Each kit contains four sterile cotton swabs, two for each side of your mouth. The kit will also have a postage paid return envelope – which may be folded up. Do not discard the return envelope.
Each kit has instructions printed on the inside:
Complete all the information on the swab kit's upper flap. Please print legibly.
Open the swabs, being careful not to touch the cotton to any surface other than your inner cheek. You may want to open one packet at a time. Only you should touch the swabs to prevent contamination.
Swallow before swabbing! This is not a saliva test.
Use each of the swabs in a different quadrant of your cheek, as shown in the diagram printed on the kit.
Brush the swab against the inside of your cheek in a circular motion for approximately ten seconds.
Drop the first swab inside the envelope and go to the next one, until all four are completed.
Once the four swabs are inside the envelope, peel the adhesive strip and seal the envelope to prevent contamination.
Do not remove the perforated section of the flap. Please double-check your information for completeness and legibility. Your telephone number and email address are essential for contacting you if you are a match.
Place the entire kit inside the postage paid return envelope. If you have misplaced the envelope, please call our office to have a new, postage paid return envelope sent to you. Or, you can place your kit inside an envelope and mail it to our office at 5901 Broken Sound Parkway NW, Boca Raton, FL 33487.
If you have any questions about properly completing your swabbing kit or how to return it to Gift of Life, please call 800-962-7769 during business hours, 8:30 a.m. to 5 p.m. Eastern Time, and we'll be happy to assist you.
---
How to use your swab kit
---
​​Complete the online registration process
In addition to swabbing, you must complete the online registration process to be added to the registry. After you turn in your kit, you will receive an email from Gift of Life containing a link to finish registering. Your information cannot be added to the registry until you complete the online registration step! Your kit cannot be processed without this information. The registration information helps us ensure that you are qualified to donate, and that Gift of Life is able to reach you quickly if you're found to be a match for a patient.
What happens to my swab kit?
The swabbing kit is processed at Gift of Life, then sent to a laboratory. The laboratory will test the swabs in a process called tissue typing to determine your Human Leukocyte Antigens (HLA) which are the immune system factors used to match donors and recipients. (Learn more about how matches are found by
Once the tissue typing is completed, that information will be entered in the worldwide registry. Only your unique donor number and HLA factors are shared in the database; your personal information is held in strict confidence by Gift of Life, which follows rigorous security procedures.
Register at a Gift of Life donor drive
If there is a donor drive happening near your location, you can register at the drive. To find a drive near you, click here. To save time, you can pre-register for the drive on the event web page for that drive – just click the "PRE-REGISTER FOR THIS DRIVE" button
What happens at a drive?
A donor drive will have swabbing stations set up to help people complete their kits. The swabbing process is exactly the same as that described in detail above, except that the drive volunteers will return all the kits from that drive to Gift of Life in a batch; there will be no need for you to mail your kit.
Drives may be held as part of a larger event, for example, a community health fair, or may be privately organized for many reasons – an Eagle Scout project, to celebrate a wedding or family reunion, or at a workplace or for any other reason.
Patient drives: Patient drives are held to find a matching donor for a specific patient who does not currently have a match in the worldwide registry. Gift of Life offers support for those organizing patient drives to determine a strategy that offers the best possibilities of finding a matching donor.
I want to run a drive!
If you want to organize a drive at your house of worship, community organization, workplace, or during a family event or special occasion, we'll provide you with the training and resources to make your drive a success. Running a drive is tremendously rewarding. All you have to do is:
Call Gift of Life at

800-962-7769

Select a date
Secure a venue
Recruit volunteers
Publicize the event
Set up and volunteer the day of the drive
Pack and return the competed swab kits to Gift of Life
Gift of Life will support you by:
Training you and your volunteers how to run your drive (training is by telephone)
Supplying a pre-designed flyer you can complete with details, copy and distribute
Sending all the testing kits and drive supplies to your venue
Providing a pre-paid shipping air bill to return all completed kits, unused kits and supplies at the end of the drive
One of the greatest things you can do for your community is to help register volunteer donors. One in every 200 Americans will require a bone marrow or peripheral blood stem cell transplant during their lifetime, and every three minutes, someone is diagnosed with blood cancer. The more donors who join the registry, the more lives we can save.
To proceed to the next section, Confirmatory Typing, click here.