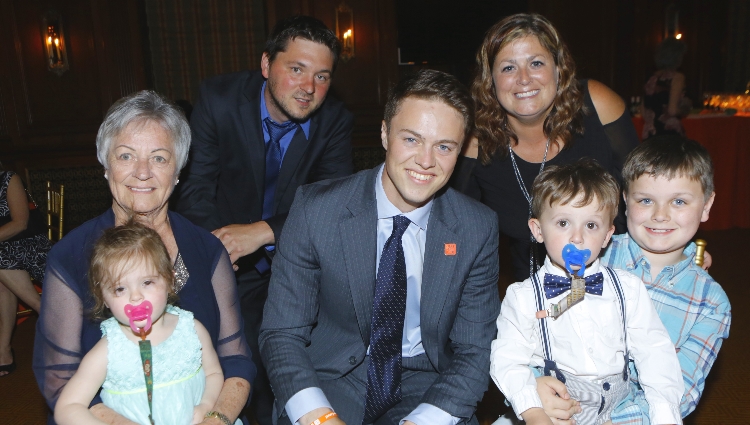 The Transplant and The Future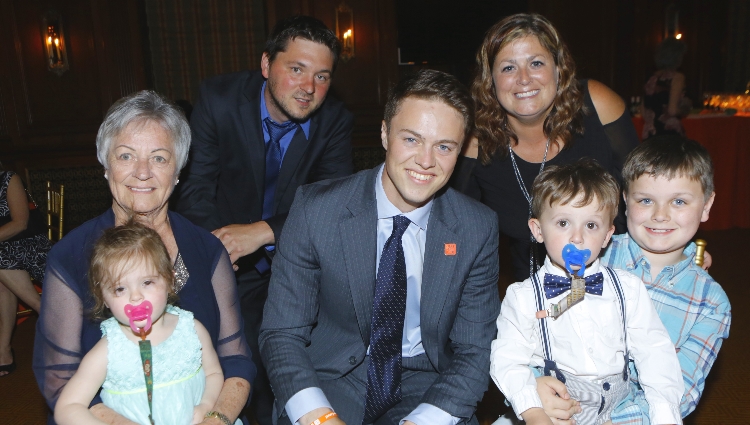 Former Gift of Life Campus Ambassador and Tufts graduate Nick Judson (center) donated bone marrow to save the life of a baby with a rare immune disorder. Nick met his young recipient A.J. (wearing bowtie), now a healthy and happy two year old, at the Gift of Life Gala in May 2017.
After the collection of bone marrow or peripheral blood stem cells is complete, the bag of cells is packed in a cooled box for transport and given to the courier. The box never leaves the courier, who will personally carry and hand deliver it to the transplant center. By the time the courier arrives, the recipient is usually fully prepped and ready for transplantation. The transplant process is simple: the donated cells are infused through an IV into the patient's blood. The bone marrow or PBSC naturally find their own way into the cavities of the recipient's bones, and settle in to begin creating new bone marrow, blood cells, and an immune system. This process is called engraftment.
Risk of infection is higher during engraftment
During the engraftment process the patient typically remains in a clean room, as, without a functioning immune system, the risk of infection is high. The length of recovery time for each patient varies, depending on many factors, including the type of treatment they are receiving.
The transplant center will test the recipient's blood frequently for indicators that the marrow is functioning and producing new cells. The first sign that engraftment is successful is usually an increase in neutrophils, a type of white blood cells, which can start to appear after 10 to 20 days. Platelet counts usually begin to rise in the weeks after neutrophil engraftment occurs.
Transfusions and growth factors
Occasionally, the recipient may need additional transfusions of red blood cells or platelets. Growth factors may be administered to help stimulate the marrow to make more blood cells, and to encourage engraftment by the transplanted cells. Some patients may require a second transplant to ensure engraftment or to help the recovery process.
Graft vs. host disease
Should the recipient experience graft vs. host disease, where the transplanted cells see the recipient's cells as possible enemies, treatment is given to control the condition.
Recovery
Once the patient's immune system has recovered sufficiently, he or she can return home and gradually resume normal activities and go on with life. Every patient is different, and so is their recovery.
How is my recipient doing?
Gift of Life receives periodic updates on the recipient's recovery, usually after 1 month, 6 months, and then annually, and can share this information with the donor.
Communicating with your recipient
Under current regulations in the United States, the donor and recipient may exchange anonymous letters for the first year. These are transmitted by the donor registry through the transplant center; no direct contact is permitted and any identifying information in the letters is removed. Both the donor and recipient may participate in correspondence, but neither is obligated to do so.
International recipients may be subject to different rules. If your transplant recipient is outside the United States, international agreements and regulations apply, which may be the same as or different from those inside the U.S. Some countries only allow the exchange of anonymous letters, and several do not permit any contact.
Meeting your recipient
If the required waiting period has passed and both donor and recipient are agreeable to learning each other's identities, this information can be shared by the donor registry and the transplant center, and you are then free to contact each other.
Donating was so rewarding! How can I be more involved with Gift of Life?
Gift of Life is proud of our donors — you are part of our family. We have many opportunities for you to be more involved and help share Gift of Life's mission with others. Donors are also most welcome at the numerous events Gift of Life holds at locations around the country, including donor drives, 5Ks, fundraising events and public celebrations.
Donor Alumni Network: Join the Gift of Life Donor Alumni Network on our Facebook page and connected with other donors in the Gift of Life family. Feel free to share your personal experiences with us and other life-saving heroes.
Campus Ambassador Program: If you are a college student, you may want to become a Campus Ambassador for Gift of Life. Visit www.campusambassador.org to apply!
Coaching new donors: Now that you have been through the experience, you can help other prospective donors by helping to answer their questions or coach them through their donation. Let your Gift of Life transplant coordinator know if you are willing to talk to new donors about what to expect.
Sharing your story: We welcome you to tell your story and hope that you will feel comfortable sharing your personal experience. We may interview you to write a story about you for our main website, and you may wish to contact the news media in your area about your donation story. If you'd like support from Gift of Life in sharing your story with your community, we are here to help you. We can also provide information, photos, statistics and other supplemental materials to the media.
Running drives: Help us find more lifesaving donors by running donor recruitment drives. We have all the tools you need to run drives in your community.
Fundraising: It costs $60 to process and add each donor to the registry. As Gift of Life receives no government funding, these costs are entirely paid for through the contributions of our supporters. Anyone can set up a fundraising drive to benefit Gift of Life.
Social Media: Social media is a powerful tool for educating others. Follow us on Facebook, Instagram, Twitter and LinkedIn, and invite your friends to do the same.
Donor Circles: Donor Circles allow anyone to create a team fundraising page on Gift of Life's website and invite a group of financial supporters to join your efforts. Donor Circles track activity in real time, including the numbers of potential donors sponsored, matches made, and transplants facilitated, as well as offering social media tools.
Thank you for being a donor – and our hero!
Whether you ever meet your recipient or not, you are a hero for having stepped forward and saved the life of another human being. This is an incredible gift, and means so much not only to that person, but to their family, friends, co-workers and community.
Thank you for donating. Every donor is a hero to us!