September 8, 2022 saw the return of Gift of Life's annual Celebrating Life New York event to the Edison Hotel Rooftop Ballroom, as a large crowd of donors, recipients, volunteers and supporters gathered in-person for the first time since 2019.
The event was organized by the New York Young Professionals Committee, with Evan Dolgow, Sydnie Spector, and Jennifer Winick serving as Event Chairs. Attendees were entertained by DJ Scott Silverstein, and Gift of Life's Got Talent winner, Joshua Kirschenbaum.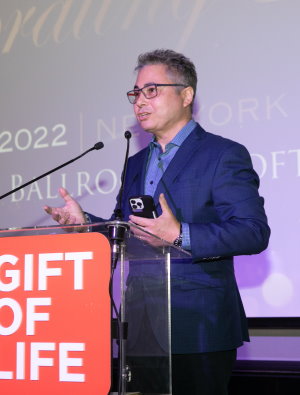 Jay Feinberg, Gift of Life's founder and CEO, took the stage to explain how the organization has grown tremendously in the past two years, including the newest division, Gift of Life Biologics.
"We looked at the cell therapies field and identified a critical gap: the need for cells from healthy donors to be used in developing groundbreaking, next generation medications," said Jay. "Where can you find these healthy donors? On Gift of Life's registry. It was a no-brainer for us to establish Biologics to do our part in the creation of these amazing new drugs, helping to bring them from research to medical use."
The highlight of the evening was when Event Co-Chair Sydnie Spector welcomed 17-year-old Hailey, a high school senior from New Jersey, to the stage to meet her lifesaving hero, stem cell donor Ethan. Sydnie recalled the incredible emotions she felt when her mother, Ruth, also a transplant recipient, met her donor Josh Hoffman at a Gift of Life gala, then shared Hailey's story.
Diagnosed at only four months old with Severe Congenital Neutropenia, Hailey spent a childhood receiving daily injections to increase her neutrophils, a type of white blood cell, and stave off infections.
Then, in April 2020, at 15 years old, a routine blood test showed that Hailey was now battling Acute Myeloid Leukemia. She was rushed to the hospital to receive chemotherapy, and a search was immediately started to find her a matching stem cell donor.
That donor, Ethan, had joined Gift of Life's registry in 2019 while he was in Jerusalem on his Birthright Israel trip. He learned he was a match for a patient in May 2020, only weeks into the pandemic lockdown, and was initially nervous about donating during a healthcare emergency, but was committed to helping his recipient, no matter what it took.
Finally, the big moment arrived, and Ethan came to the stage to give Hailey a hug and share a few words with event attendees.
"I just empathized so much with her that even though I didn't know her, and couldn't imagine what she was going through, I thought of her as if she was one of my little sisters," said Ethan. "I knew I would do anything to help if I could."
"I'm just so grateful for having a second chance at life," said Hailey. "I'm so grateful that Gift of Life found me a 10/10 match, and now meeting you in person, it really feels full circle – I'm just so happy!"
Ethan, 23, is a resident of New York City, where he is a consultant at a global strategy and communications firm. He graduated from the University of Michigan in 2021, enjoys playing sports in his free time, and keeps his Gift of Life orange blanket at the foot of his bed to remind him of the whole process.
Hailey, 17, is a student and camp counselor from New Jersey, and her interests include skiing, making videos, and playing tennis. She is a high school senior and is considering pursuing a degree in Biology in college.

To view the photo gallery from Celebrating Life, click here.