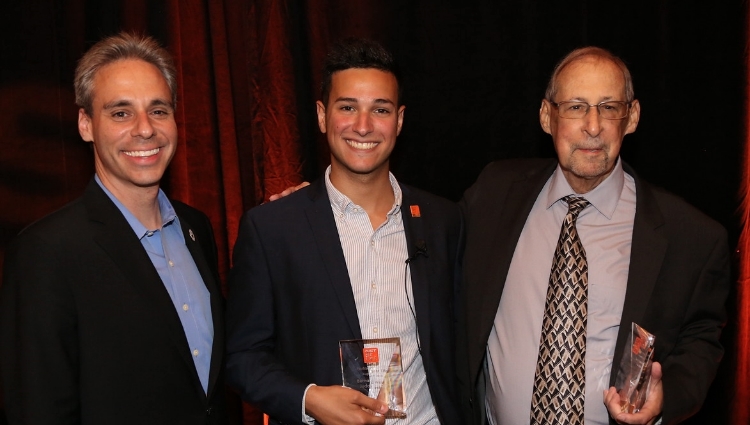 Campus Ambassador Symposium trains 100 college interns to hold marrow donor drives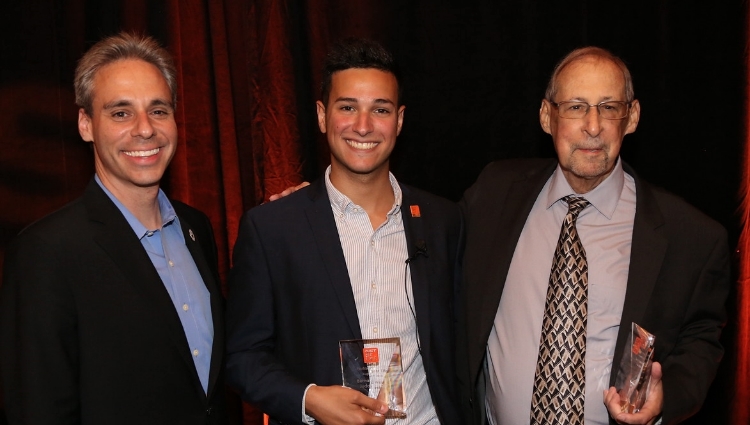 Boca Raton Mayor Scott Singer (l) introduced stem cell donor Judah Berger (c) to the man whose life he saved, Bernie Weiner (r) during the Symposium banquet.
On August 5, 100 college students from across the United States arrived at the Boca Raton Marriott at Boca Center to attend Gift of Life Marrow Registry's annual Campus Ambassador Symposium. Over the next two days, they attended seminars to prepare them to run marrow donor drives on their college campuses during the fall 2018 and spring 2019 semesters. A total of 166 new and returning Ambassadors participated.
"Our programs included the science of transplantation, recruiting and leading a team of volunteers, organizing and promoting a donor drive, and more," said Gift of Life Community Engagement Coordinator Russell Lowe. "The CAPs [campus ambassadors] will be fully prepared to work with their university to set up a program and hold drives."
The keynote speaker was Hubble Contacts Co-Founder/Co-CEO and CAP program sponsor Jesse Horwitz. "When I was a college student I did a lot of volunteer work for non-profits, and learned that it's often difficult for organization to find productive work for student volunteers even though they want to be useful," said Jesse. "Here at Gift of Life there is an obvious, important need that students are actually filling – lives are being saved."
Gift of Life launched the Campus Ambassador Program in 2014 to take peer-based recruitment directly to the large numbers of potential donors on college campuses. Each CAP or group of CAPs on a campus is self-organizing, and reports to Gift of Life regularly to help them stay on track and achieve their goals.

Marrow donor who became CAP meets his recipient
During the symposium banquet, Boca Raton Mayor Scott Singer introduced a courageous transplant recipient to the stem cell donor who saved his life. Singer, whose mother-in-law received a marrow transplant from a Gift of Life donor more than ten years ago, expressed the city's pride in being Gift of Life's home. He then welcomed 70-year-old transplant recipient Bernie Weiner to join him on stage.
Bernie was diagnosed with Chronic Myelodysplastic Syndrome in 2006, but did not show typical symptoms and mystified his hematologist. He never felt sick and went about his normal life for years. Then in 2017, his platelet count suddenly dropped into the danger zone and doctors recommended a bone marrow transplant.
Atlanta native Judah Berger, 22, (above right) was found to be Bernie's perfect match. He joined the registry while a senior in high school, but never expected to find himself actually donating stem cells. He thought he was being pranked when he got the call from Gift of Life, but the moment he understood that someone needed his help to survive, he was incredibly excited. On his day of donation he learned about CAP, and applied to join, becoming the Ambassador at Binghamton University before graduating in 2017. He is now a recruiter in New York City.
Judah shared a long, affectionate hug with Bernie, who thanked him many times. Bernie then took the microphone to tell his story, adding that he had been a member of the National Stuttering Association for 25 years, but since having the transplant and chemotherapy, his stutter had vanished.
Judah told attendees that his family taught him the value of helping others by inviting someone to their Friday Shabbat dinners every week. "There were people in the synagogue who were very popular and had Shabbat invitations for many months in advance. But others were not so lucky, and these were the people my parents chose to invite, to open their home to week after week," said Judah. "I want my parents to know that their effort has paid off."
To the new Campus Ambassadors Judah added, "Go out, make a difference, and save lives. Bernie and I are living proof that it can be done."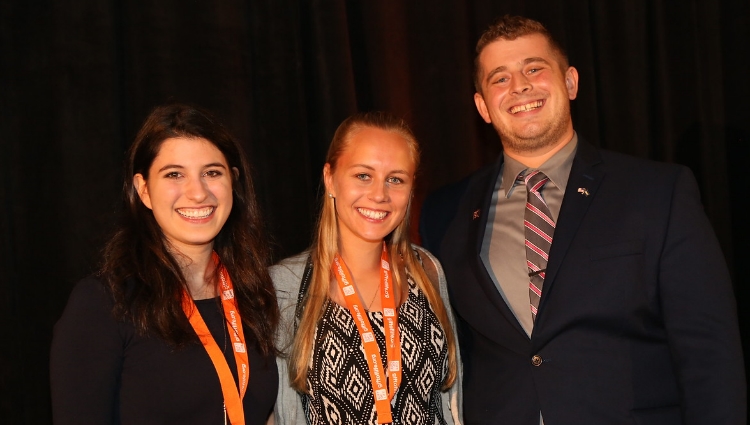 MVC (Most Valuable CAP) and CAP Rookie of the Year are recognized
Hadassah Bitterman (above left), Campus Ambassador at the Stern College for Women at Yeshiva University was recognized as Gift of Life's 2018 MVC – Most Valuable CAP. Hadassah has been a CAP since January 2017, and in that 18 months has swabbed 2,028 new donors, resulting already in 7 matches for patients and one transplant..
Jamie Katz (above center), Campus Ambassador for the University of Richmond, was recognized as the 2018 CAP Rookie of the Year. Since becoming a CAP in January 2018, Jamie has swabbed 449 new donors and one match for a patient has already been found. Her entire family are incredible supporters of Gift of Life's mission – one of her sisters is a former CAP and now a Gift of Life employee, another sister is currently a CAP, and her younger sister is organizing high school donor drives as a "Senior Swabber."
The awards were presented by Gift of Life Community Engagement Coordinator, Russell Lowe (above right).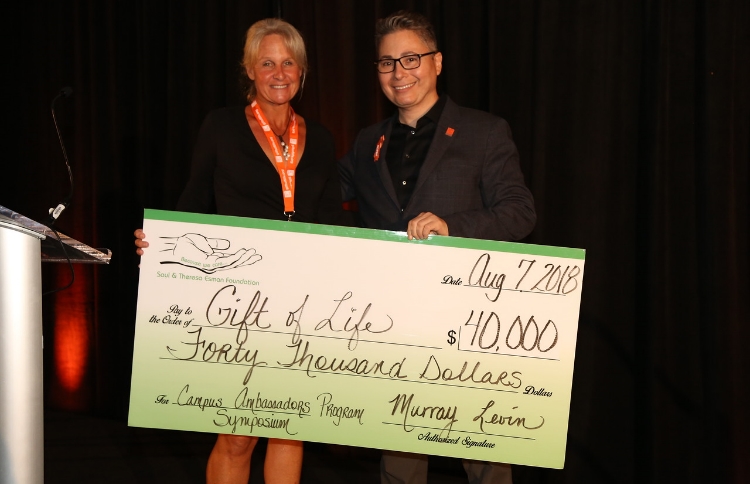 Symposium sponsor Esman Foundation contributes $40,000
Vice President of Charitable and Corporate Communications of The Saul and Theresa Esman Foundation Katie Boeck (above left) presented Gift of Life CEO and Founder Jay Feinberg with a check for $40,000. The foundation has sponsored the Campus Ambassador Symposium for the past three years, making it possible to fully educate and train the Ambassadors during the three-day program.
---

Want to become a Campus Ambassador?
The Campus Ambassador Program has been wildly successful, adding more than 33,000 new donors, and resulting in 343 matches for patients with 49 lifesaving transplants completed to date. Donors 18 to 25 are requested most often by transplant centers because they produce a better outcome for patients, due in part to producing a higher number of stem cells and being healthier in general.
"The diversity of student populations also helps Gift of Life to increase the diversity of the registry," said Gift of Life Community Engagement Coordinator Krissy Kelly. "Our goal is that every person in need of a transplant will be able to find a donor. During this academic year, 166 new and returning CAPs will hold donor drives at 98 different campuses across the United States."
Are you a college student? Would you like to save someone's life? Apply to become a CAP for the spring 2019 semester. To learn more, visit www.campusambassador.org.